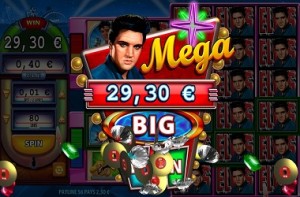 Elvis The King Lives er en herlig spilleautomat, som leveres av Williams Interactive. Den vil trolig komme til stor glede for de spillerne som er veldig interessert i musikk. Det er en flott presentasjon av et tema som virkelig omhandler musikk. I tillegg til et flott tema, har spilleautomaten et unikt oppsett, som ikke har blitt sett så mye tidligere. Det ser rett og slett ut til at Williams Interactive har gått inn for å imponere med denne spilleautomaten. Spilleskjermen er flott å se på, og spilleren har helt klart nok underholdning foran seg. Innsatsnivåene som er lagt inn er inne i kategorien for lav innsats, men det er likevel et godt utvalg. For de spillerne som liker å satse høyt, er dette kanskje ikke den mest optimale spilleautomaten. For å se hva Elvis The King Lives handler om, så er det bare å få satt i gang hjulene.
Oppsettet
Unike oppsett er noe som Williams Interactive er kjent for. De har flere ganger vist at de er glad i å overraske sine spillere med spesielle oppsett. Oppsettet som man finner i Elvis The King Lives er faktisk satt sammen av tre hjuloppsett. På spilleskjermen finner man tre hjul helt til høyre. På disse tre hjulene, er det seks rader med symboler. Til venstre for de tre hjulene, finner man to mindre hjuloppsett. Den ene er plassert øverst på spilleskjermen, og den andre er plassert nederst. Disse to oppsettene er like, og består av to hjul, og to rader med symboler.
Innsatser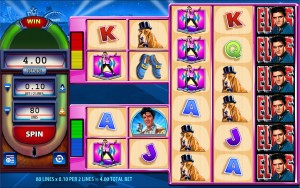 Innsatsene for en spillerunde i Elvis The King Lives, blir satt gjennom en jukeboks. En jukeboks er en gammel musikkspiller, som man ofte fant plassert ut på restauranter eller kafeer. I Elvis The King Lives er jukeboksen satt inn for å skape plass til justeringsknappene. På jukeboksen, som er plassert lengst til venstre på spilleskjermen, finner man to justeringsknapper. Den ene kan spilleren bruke for å justere på innsatslinjene, mens den andre brukes til å sette innsatsen man ønsker å ha per to innsatslinjer. På toppen av jukeboksen finner man en oversikt over den totale innsatsen for en spillerunde. Nederst på jukeboksen finner man den røde spinnknappen, som setter i gang spilleautomaten. Det totale antallet med innsatslinjer er satt til 80, og hvis spilleren velger å justere de ned, blir det gjort i grupper på ti. Innsatsen per innsatslinje kan ligge på mellom 0,01 og fem i kreditt. Den laveste mulige innsatsen for en spillerunde ligger på 0,40 i kreditt.
Tema og symboler
Temaet i Elvis The King Lives, er selvfølgelig Elvis selv. Elvis var, og er fortsatt for mange, kjent som kongen av rock and roll. Det er en musikksjanger som har vært tilstede i mange år, og er fortsatt veldig populær. Elvis har kommet til live igjen gjennom denne spilleautomaten. Det er neppe noen spillere som klarer å sitte stille når de begynner å spille Elvis The King Lives, for det er lagt inn mye god musikk, som løfter opp hele spilleopplevelsen.
Symbolene som spinner rundt på hjulene er i ulike former. De fleste av dem er satt inn som symboler i forhold til temaet. Det er flere av symbolene som er i form av Elvis selv, i tillegg til at det er lagt inn en gitar, en lilla bamse, og en hund. Noen av symbolene har unike funksjoner når de er synlige på hjulene.
Spesialfunksjoner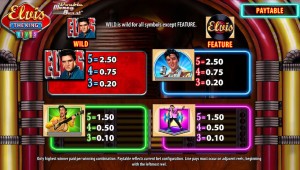 Blant spesialfunksjonene i Elvis The King Lives, finner man wildsymboler og scattersymboler. Wildsymbolene fungerer som en joker, og øker sjansen for at spilleren får en vinnende kombinasjon på hjulene. Scattersymbolene dukker opp spredt over hjulene, og de må dukke opp i spesifikke kombinasjoner for at spilleren skal få tildelt noen gratisspinn. Det er til sammen syv forskjellige kombinasjoner man kan få på hjulene, og de vil alle kunne aktivere et antall gratisspinn. Dette er en funksjon som kan bli aktivert flere ganger av samme spiller.