She's a Rich Girl er en spilleautomat med rikdom som tema. Det er jo passende i et spill der man kan vinne penger. Hovedpersonen i spillet er selvsagt en rik jente, men det dukker også opp velkjente fruktsymboler i spillet. Dette er et spill som egner seg veldig fint til nybegynnere, ettersom spillet bare har ni gevinstlinjer. Det gjør spillet oversiktlig, og innsatsen per spinn er heller ikke spesielt stor, dersom man velger en lav myntverdi. Man kan redusere antallet linjer, men med færre linjer i spill, har man færre sjanser til å vinne. Musikken i spillet spilles bare mens hjulene spinner, og er en rask liten melodi som blir gjentatt. Når man vinner, spilles andre musikksnutter.
Utbetalingsprosent
Spillet har en teoretisk utbetaling på mellom 92,52 % og 96,18 %. Dette er det man kan forvente å få tilbake av innsatsbeløpet, men utbetalingsprosenten er basert på spill over en lang periode. Dersom man bare spiller noen få spinn, kan den prosentvise utbetalingen variere ganske mye.
Symboler og gevinster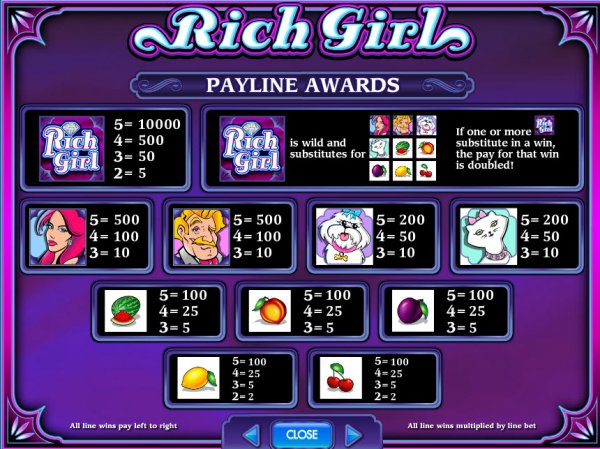 I spillets gevinsttabell finner man alle symbolene, og bak hvert symbol ser man hvor mye man får med 3, 4 eller 5 like av symbolet. Man trenger 3 like av de fleste symbolene for å få gevinst. Unntaket er spillets logo, sitronen og kirsebæret, som gir gevinst med bare to like. Logoen er jokeren i spillet, og kan erstatte både fruktsymbolene og de unike symbolene i spillet. Alle vinnerrekker som har en joker i seg gir dobbel gevinst.
Spillets unike symboler er en jente, en mann, en hund og en katt. Jenta og mannen gir 500 mynter for fem like, mens hunden og katten gir 200 mynter for fem like. Alle de unike symbolene gir 10 mynter for tre like. I stedet for kortsymboler, er det fruktsymboler som deler ut smågevinstene i dette spillet. Vannmelonen, ferskenen og plommen gir 100 mynter for fem like, 25 mynter for fire like og 5 mynter for tre like. Sitronen og kirsebæret gir også de samme utbetalingene for fem, fire og tre like, men disse to symbolene gir også gevinst for to like. Da får spillerne 2 mynter.
Spesialsymboler
Spillet har et scattersymbol som viser edelsteiner og ordet Scatter. En scatter kan være hvor som helst på spillskjermen, og likevel telle med. Disse symbolene trenger altså ikke å være tre på rad på samme gevinstlinje for å gi gevinst. De kan være plassert hvor som helst, og likevel telle som tre like. Tre scattere gir 2x totalinnsatsen, fire scattere gir 10x totalinnsatsen og fem scattere gir 25x totalinnsatsen. Man får bare utbetalt den høyeste scattergevinsten.
Diamantsymbolet deler ut gratisspinn. Dette symbolet teller også med uansett hvor på spillskjermen det plasserer seg, men diamantene finnes bare på de tre midterste hjulene (hjul 2, 3 og 4). Med tre diamanter, vinner man 3 gratisspinn. For hver diamant som dukker opp under gratisspinnene, vinner spillerne et ekstra gratisspinn. Det meste man kan få, er 100 gratisspinn på rad.
Gratisspinnsymboler
Gratisspinnene spilles med helt andre symboler enn grunnspillet. Under gratisspinnet dukker det opp vakre edelsteiner. Alle edelsteinene gir den samme gevinsten, som er 50 mynter for fem like, 20 mynter for fire like, 5 mynter for tre like og 2 mynter for to like. Men selv om alle symbolene har samme verdi, må vinnerrekkene naturligvis være satt sammen av identiske symboler. Diamanten fungerer som jokersymbol under gratisspinnene. De tre gratisspinnene man får utdelt når kan kommer til bonusrunden, virker kanskje ikke spesielt sjenerøst. Men man må huske at det er langt færre symboler på hjulene under gratisspinnene, derfor er det større sjanse til å vinne noe.
Oppsummering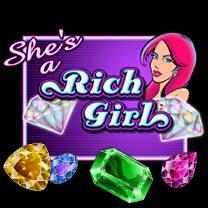 She's a Rich Girl er en fin spilleautomat for nye spillere, ettersom den er oversiktlig. Symbolene er fine og holder seg til temaet. Fruktsymbolene minner spillerne på de klassiske fruktmaskinene, som alle dagens videoautomater stammer fra. Gratisspinnene byr på egne symboler, og færre symboler på hjulene. Dermed er det lettere å få vinnerrekker.