Nydelig tematisk spilleautomat fra Betsoft Gaming
Betsoft er en stor spillutvikler som har skapt seg et godt rykte på grunn av alle de fargerike, tematiske spilleautomatene med 3D-grafikk de lanserer med jevne mellomrom. Paco and the Popping Peppers er en av de nyere maskinene de har sluppet ut, og denne har som vanlig fått utrolig mye oppmerksomhet på nettet. Introduksjonsvideoen forklarer historien bak Paco and the Popping Peppers. Spillet finner sted i en forlatt meksikansk by som ser ut til å være på randen av totalt forfall. Heldigvis har vi Paco, den festglade meksikaneren, som aldri vil gi opp sin landsby. Paco er kledd i en tradisjonell meksikansk drakt, en såkalt poncho, og har funnet sin lykke blant frukt og grønnsaker. Han er stadig å se på stranden med sine underlige venner, der han danser og synger meksikanske sanger. Spillskjermen på Paco and the Popping Peppers er vakkert tegnet, og selveste Paco står på venstre side og følger med, i hvert fall når han ikke tar en høneblund. Bakgrunnsmusikken og lydeffektene er i beste Betsoft-stil. Meksikanske rytmer og nydelige effekter spilles av når ulike ting skjer på skjermen. Paco-figuren er festlig, og setter virkelig prikken over i-et på denne tematiske spilleautomaten. Området rundt spillskjermen ser ut til å være baren Paco og hans venner henger i, med tradisjonelle meksikanske hatter, trommer og gitarer i området rundt bardisken. Meksikansk tequila og frisbeer er også en del av omgivelsene – Betsoft Gaming vet hvordan man skaper en bra atmosfære.
Spennende spillfunksjoner på Paco and the Popping Peppers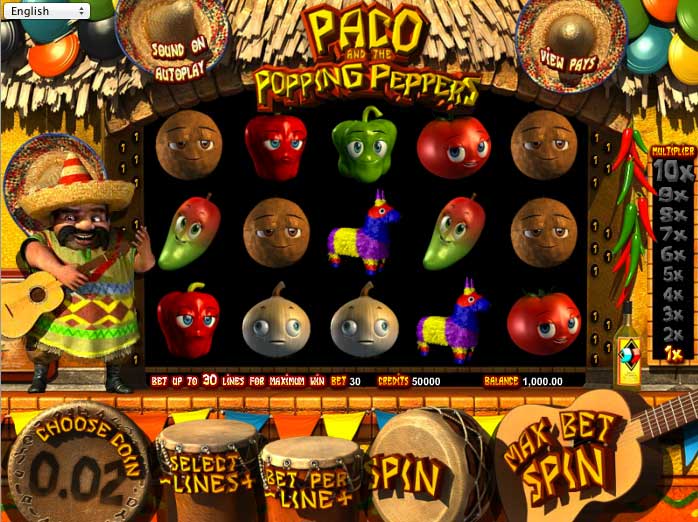 Betsoft har alltid inkludert kule funksjoner i sine spill, og historien om Paco er ingen unntak. Det første du som spiller vil legge merke til er måten symbolene faller på plass. Symbolene er forresten formet som ulike grønnsaker og frukt – løkhoder, grønn og rød paprika, chilipepper, kokosnøtter, tomater og ananaser. Disse spinner ikke rundt på skjermen, slik mange kasinospillere er vant til. De faller derimot ned fra oven, mens de 30 gevinstlinjene avgjør hvilke kombinasjoner man setter. Hver gang man treffer en kombinasjon, vil de vinnende symbolene bli borte og gjøre plass til nye symboler. Disse vil fortsette å dale ned, helt til ingen kombinasjoner er funnet. For å hjelpe spilleren har Betsoft inkludert et wildsymbol i form av en piñata – det er også denne som kan gi den største gevinsten per gevinstlinje, hele 500 mynter. Innsatsnivåene er brede nok til at alle og enhver kan prøve ut Paco and the Popping Peppers. Siden symbolene blir borte så fort man setter en kombinasjon, har ikke Betsoft valgt å inkludere gratisspinn som en bonusfunksjon. Dette fordi man uansett kan vinne flere ganger på ett spinn – og så lenge symbolene fortsetter å forsvinne uten at nye penger settes som innsats, vil en multiplier stige på høyre side av skjermen. Altså vil hver neste gevinst du vinner på samme spinn bli doblet flere ganger – vinner du ti ganger på rad vil den siste gevinsten tidobles!
Bli med til stranden og vinn ekstra utbetalinger!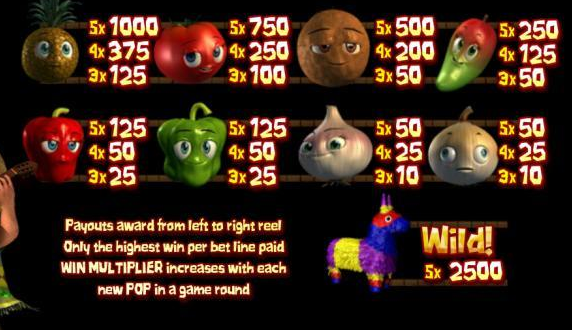 Paco and the Popping Peppers har kanskje ikke like mange funksjoner som andre tematiske spilleautomater fra Betsoft, men mangedoblingen av gevinster og det hyppige wildsymbolet er mer enn nok til å fryde de fleste kasinospillerne der ute. Derfor har Paco fått så mye oppmerksomhet i media. For å sette kirsebæret på kremen har Betsoft samtidig valgt å glede oss med en liten bonusfunksjon som gjør utbetalingsraten enda høyere. Tre eller flere hyttesymboler på skjermen setter nemlig i gang en bonusrunde der vi får blir med Paco og hans venner ned til stranden, hvor de danser og synger dag ut og dag inn. På en vegg vil et kort komme opp, og din jobb blir å gjette om det neste kortet som kommer opp vil være høyere eller lavere enn dette. Husk at Paco følger med, og husk at jo flere kort du gjetter riktig, desto større gevinster vil du kunne kreve inn på slutten. Paco and the Popping Peppers venter på deg hos en av de utallige nettkasinoene som tilbyr spill fra Betsoft Gaming.