OMG! Kittens er trolig den søteste spilleautomaten på markedet. Det er en av de nyeste utgivelsene fra spillutviklerselskapet Williams Interactive. Temaet de har satt inn kan ikke beskrives som noe annet enn søtt. Presentasjonen er utrolig god, og temaet er veldig tydelig. Oppsettet er veldig enkelt, og er
gjenkjennelig for de aller fleste. Spilleskjermen er flott å se på, og gir spillerne god underholdning mens de spiller. Det er enkelt for spillerne å justere innsatsen for en spillerunde og det er et godt utvalg av innsatsnivåer. For å se hva OMG! Kittens har å tilby av spesialfunksjoner, må man bare få satt innsatsen og sette i gang hjulene.
Oppsettet
Oppsettet i OMG! Kittens viser at Williams Interactive har valgt å sette inn noe klassisk i spilleautomaten. Oppsettet er satt sammen av fem hjul og fire rader med symboler. Det er lagt på 40 innsatslinjer, som spilleren kan legge sin innsats på. Innsatslinjene er lagt inn som faste. Det betyr at spilleren ikke kan endre noe på antallet. Innsatsene for en spillerunde blir satt ved at spilleren tar i bruk justeringsknappen, og den er plassert nederst på spilleskjermen.
Innsatser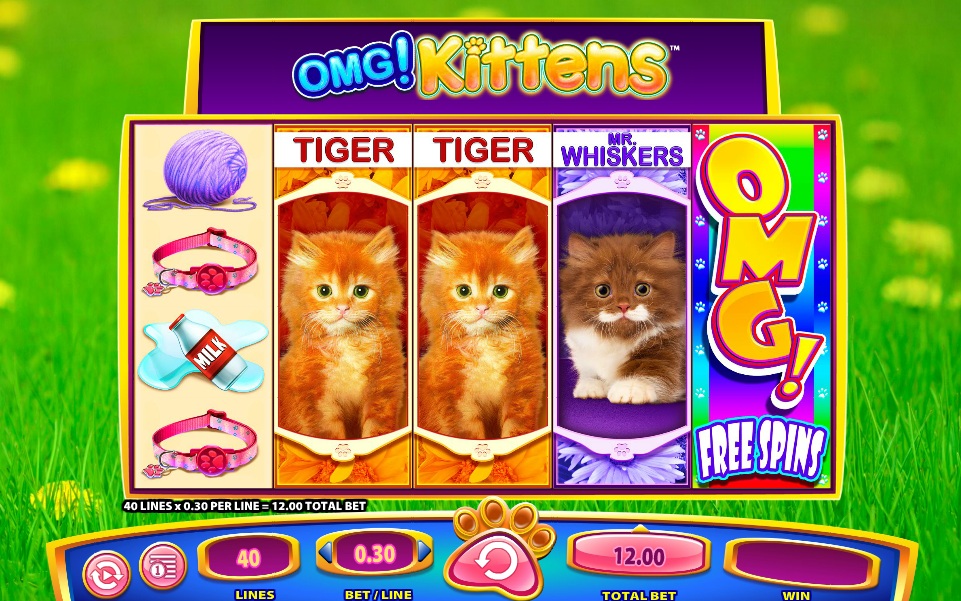 Innsatsene i OMG! Kittens er veldig enkle å sette. Det er kun en justeringsknapp, og den bestemmer innsatsen per spillerunde. Spilleren bruker to piler, for å justere innsatsen enten opp eller ned. Laveste innsatsen er satt til 0,01, men kan selvfølgelig justeres oppover. Det er verdt å legge merke til at OMG! Kittens er en spilleautomat med lav innsats. Innsatsnivåene går med andre ord ikke like høyt som det man kan finne i andre spilleautomater. Når spilleren har funnet et innsatsnivå som de er fornøyde med å spille på, skal man bare trykke på den rosa spinnknappen. Den vil sette i gang hjulene.
Temaet
Temaet i OMG! Kittens handler om søte små kattunger. For katteelskere er denne spilleautomaten helt optimal. Hjulene på spilleskjermen er pyntet opp med forskjellige bilder av nydelige kattunger. Det er også lagt inn symboler som er i form av diverse katteutstyr, slik som garnnøste, halsbånd og en flaske med melk. Kattungene som er lagt inn som symboler har også blitt tildelt navn, så man kan blant annet se Tiger og Mr. Whiskers.
Spilleskjermen
Spilleskjermen i OMG! Kittens er veldig fargerik. Bakgrunnen er veldig enkel, og viser kun et bilde av en grønn eng med noen gule blomster som titter frem. Logoen for spilleautomaten er plassert helt øverst. Den er i form av blå og gule bokstaver, som er satt opp mot en lilla bakgrunn. Hjulene i spilleautomaten finner man midt på spilleskjermen. Det er lagt på en gul ramme, for å gjøre hjulene enda litt tydeligere. Knappene som er satt nederst på spilleskjermen er farget i rosa, og de er satt mot en blå bakgrunn. Det er flere fine detaljer på spilleskjermen, slik som spinnknappen, som er satt inn i en pote.
Spesialfunksjoner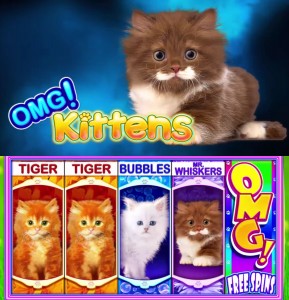 Det er flere gode spesialfunksjoner å aktivere når man spiller OMG! Kittens. Det er også flere av dem som har fine effekter på hjulene. Kattesymbolene som er lagt inn kan alle dukke opp som stablet på hjulene. Når det skjer vil hjulet bli dekket av et helt bilde av den nydelige kattungen. Hvis denne funksjonen blir aktivert på det femte hjulet, vil det også aktiveres en multiplikator. Multiplikatoren ganger gevinsten man får med mellom to og 100. De ulike kattesymbolene kan også aktivere en nydelig bonus. Bonusen må aktivere på det femte hjulet, og antall kattesymboler vil blant annet avgjøre hvor mange gratisspinn spilleren får. I tillegg til gratisspinnene, vil det også aktiveres en multiplikator, og det vil utdeles en tilfeldig kontantgevinst. Det er en ekstra bonus å få aktivert, hvis kontantgevinsten man får ikke er høyere enn 10 ganger innsatsen for spillerunden. Den ekstra bonusen vil automatisk øke gevinsten som spilleren har fått, slik at spilleren alltid sitter igjen med en kontantgevinst som har en god verdi. Denne bonusen aktiveres helt tilfeldig etter en spillerunde.