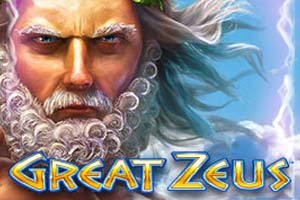 Zeus er en av de mest spilte spilleautomatene i landbaserte kasinoer. Spillet er utviklet av WMS, og er en ekte klassiker innen kasinoverdenen. Det finnes flere varianter av spillet, og flere av dem er også tilgjengelige på nettet. Great Zeus er en nyere versjon av det klassiske spillet, og byr blant annet på en progressiv jackpot, som er en av tingene som har gjort spillene i Zeus-serien så populære. Great Zeus dukket først opp i landbaserte kasinoer, men er nå også tilgjengelig på nettet.
Spillene fra WMS har høy utbetalingsprosent. De store gevinstene kommer ikke spesielt ofte, men når de først kommer, kan det bli veldig lønnsomt. Det lønner seg å være litt tålmodig og spille flere spinn på dette spillet.
Spillets oppbygging
Great Zeus kan spilles på nettkasinoer som har spill fra WMS. Øverst på skjermen ser man størrelsen på to progressive jackpotter. Disse er ikke koblet til andre automater, slik at det er bare spillere på Great Zeus som bidrar til at jackpotten vokser. Men det betyr også at gevinstene alltid går til spillere som spiller på nettopp denne automaten. Jackpottene betales alltid ut før de når maksimumsbeløpet, så dersom de nærmer seg maksimumsbeløpet, er det større sjanse for at de blir utbetalt.
Symbolene på hjulene er store og tydelige, og hjulene er har fått størst plass på skjermen. Bakgrunnsbildet består bare av blå himmel og skyer. Det er ingen bakgrunnsmusikk i spillet når hjulene står stille, men det spilles musikk når hjulene spinner, og når man får gevinst.
Slik spiller man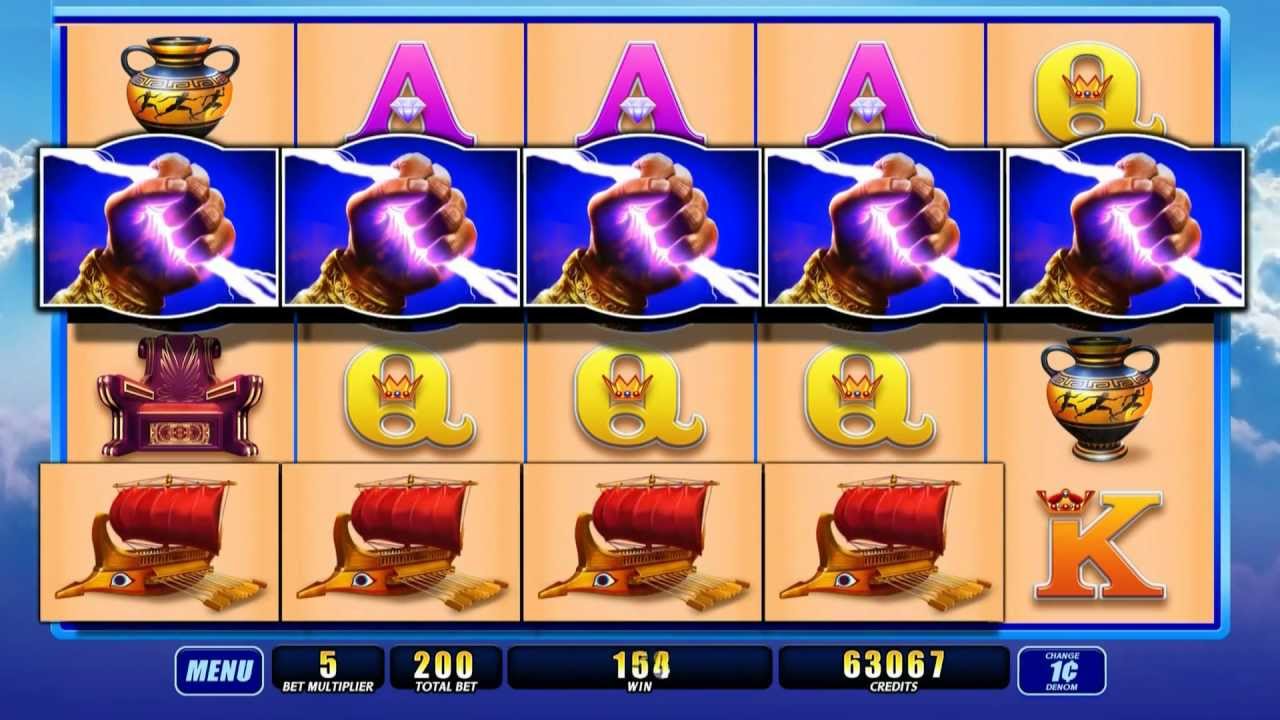 Spillet har totalt 40 gevinstlinjer, og for å vinne jackpotene, må man spille med alle linjene aktivert og maksimalt antall mynter. Man kan velge ulike myntverdier, og satse inntil 5 mynter per linje. Maksimumsinnsatsen er altså 200 mynter i den valgte myntverdien.
Det første man må gjøre før man spiller, er å velge myntverdi. Det beste er å velge en myntverdi som er litt lavere enn man tror man har råd til. Da har man råd til å spille litt flere spinn. Hvis man velger en altfor høy myntverdi, går man kanskje tom for penger før man vinner nok til å erstatte tapene sine.
Symboler og gevinster
Spillet har både vanlige symboler og spesialsymboler. Zeus er selvsagt det mest verdifulle av de vanlige symbolene. Fem symboler av Zeus verdt 2000 mynter. Det nest mest verdifulle symbolet er Helena, som gir 1500 mynter for fem like. Fem symboler av Pegasus gir 1250 mynter, fem troner gir 1000 mynter og fem skip gir 750 mynter for fem like. Den greske vasen gir 625 mynter for fem like, og kortsymbolene fra knekt til ess deler ut smågevinster. Alle kortsymboler gir 500 mynter for fem like.
Jokere og gratisspinn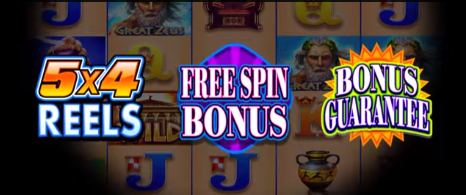 Det er mulig å vinne inntil 25 gratisspinn på Great Zeus spilleautomat. For å vinne dem, trenger man minimum tre lynsymboler. For tre lynsymboler belønnes man med 10 gratisspinn, for fire lyn får man 15 gratisspinn, og med fem lyn på skjermen, vinner man 25 gratisspinn. Under gratisspinnene dukker det opp et ekstrainnslag i form av en rød Zeus på det femte hjulet. Dette symbolet kan utvide seg horisontalt, og gi inntil 60 Zeus-symboler på skjermen samtidig.
Jokersymbolet kan erstatte de andre symbolene. Dermed kan jokeren fullføre vinnerrekker som ikke er komplette. Jokeren kan ikke erstatte lynsymbolet, og kan dermed ikke hjelpe spillerne med å vinne gratisspinn, men jokeren kan være til god hjelp når man mangler ett symbol i en rekke. Spillet har også en bonusgaranti, der man er garantert minimum 10x innsatsen i gevinst, dersom man spiller med alle linjene aktivert.
Oppsummering
Great Zeus er et spill fra WMS som allerede har blitt en suksess i landbaserte kasinoer. Spillet har jokere og gratisspinn, i tillegg til to progressive jackpotter. Under gratisspinnene får man ekstra mange jackpotsymboler, som øker sjansen til å vinne en av jackpottene. Spillet har høy utbetalingsprosent, men det kan gå litt tid mellom de store gevinstene.