Asiatiske og kinesiske temaer har dukket opp i flere spilleautomater, men Emperor's Garden er virkelig en spilleautomat som skiller seg ut. Spillet har utrolig fin grafikk, som umiddelbart skaper den rette stemningen, og når spillet i tillegg byr på spennende ekstrainnslag som jokerhjul og gratisspinn, er det mye å glede seg til i dette spillet fra NYX Gaming.
Om spillets oppbygging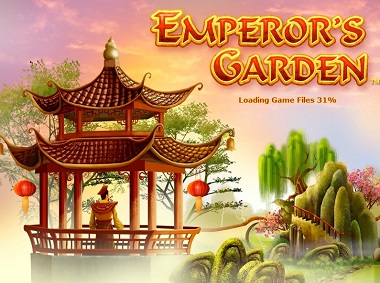 I Emperor's Garden blir spillerne møtt av fuglesang og en vakker kinesisk hage. De fem hjulene har tre rader, og selve spillet er plassert med en murvegg i bakgrunnen. Foran hjulene er det en dam med vakre lotusblomster, og ved siden av hjulene står blomstrende trær. Insekter summer rundt, over hjulene er det et par drager, og utenfor hagemuren skimter man himmelen, trær og bambusplanter.
Musikken starter når hjulene spinner, og denne er også inspirert av Kina, med vakre fløytetoner som hovedinnslag. Når man vinner, spilles det andre små melodier. Den vakre spillskjermen og den fine musikken gjør at dette spillet er virkelig behagelig. Symbolene på hjulene er selvsagt også inspirert av den kinesiske kulturen. Det er 25 valgfrie gevinstlinjer i spillet, og innsatsen per linje kan selvsagt justeres etter eget ønske. Ettersom man bare kan vinne på aktive linjer, kan det være lurt å aktivere alle linjene, og heller velge lav myntverdi. På den måten blir det ikke så veldig kostbart per spinn. Den laveste myntverdien er på bare 0,01 euro, mens den høyeste myntverdien er på 2 euro. Dette gir en totalinnsats per spinn på mellom 0,25 og 50 euro.
Symboler og gevinster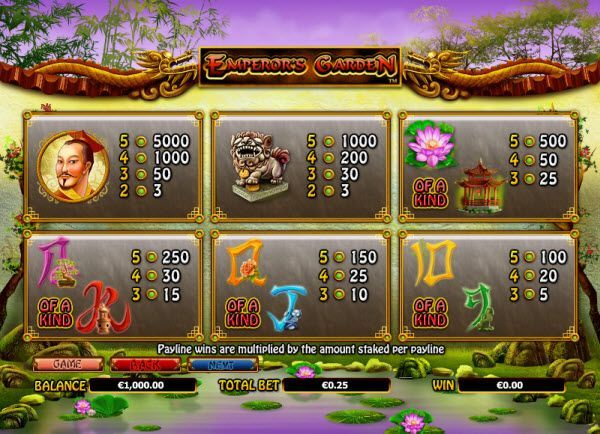 Når man åpner spillets gevinsttabell, møtes man også av vakker musikk og fuglesang. Keiseren som eier hagen er det mest verdifulle symbolet. Både keiseren og løvestatuen gir gevinst for minimum to like på rad. Fem symboler av keiseren på samme gevinstlinje, betyr at man vinner 5000 mynter. Fem statuer gir 1000 mynter i gevinst. De andre unike symbolene er en lotusblomst og en pagode. Begge disse symbolene krever minimum tre like for å gi gevinst, og med fem like, vinner man 500 mynter.
Spillet har også kortsymboler fra 9 til ess, og de har pyntet seg med litt ekstra. Tallene og bokstavene passer faktisk veldig fint inn i temaet. Disse symbolene gir gevinst for tre eller flere like på samme linje, og alle gevinstlinjer må starte på hjul 1. Fem tiere eller fem niere gir 100 mynter i gevinst, fem knekter eller damer gir 150 mynter i gevinst, og fem konger eller fem ess gir 250 mynter i gevinst.
Jokeren viser et bilde av en vakker hage. Dette symbolet utvider seg til å dekke hele hjulet, og kan erstatte alle de vanlige symbolene. Jokeren kan ikke erstatte symbolet med de to karpene. Jokersymbolet finnes bare på de tre midterste hjulene, og jokerne utvider seg bare dersom det opprinnelige jokersymbolet inngikk i en vinnerkombinasjon.
Gratisspinn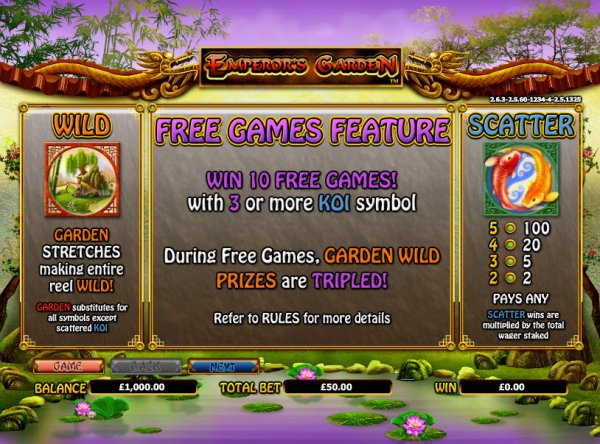 Det er de lykkebringende karpene som kan gi spillerne gratisspinn. Man trenger tre karpesymboler for å vinne 10 gratisspinn. Under gratisspinnene blir alle jokergevinster tredoblet. Karpene deler også ut egne gevinster, og da får man gevinst for bare to like. Dette gir 2x totalinnsatsen. Fem karpesymboler gir 100x totalinnsatsen i gevinst. Det er mulig å vinne nye gratisspinn mens man spiller med gratisspinn. da trenger man tre nye karpesymboler, og vinner i så fall 10 nye spinn. Alle gratisspinn spilles automatisk, og med de innstillingene som var valgt da de ble vunnet. Under gratisspinnene forvandler himmelen i bakgrunnen farge, og blir gyllen.
Automaten har ingen bonusspill, men man kan gamble om alle gevinstene, gjennom å gjette på kortfarge eller korttype. Spillerne kan også velge å spille inntil 500 automatiske spinn, med den innsatsen de selv ønsker.
Oppsummering
Emperor's Garden er kanskje en relativt enkel spilleautomat, men den er veldig vakkert oppbygd, og den fredelige musikken bidrar til en avslappende stemning. Dette er et perfekt spill dersom man vil stresse ned og slappe av, og minste innsats er bare 0,25 euro per spinn.