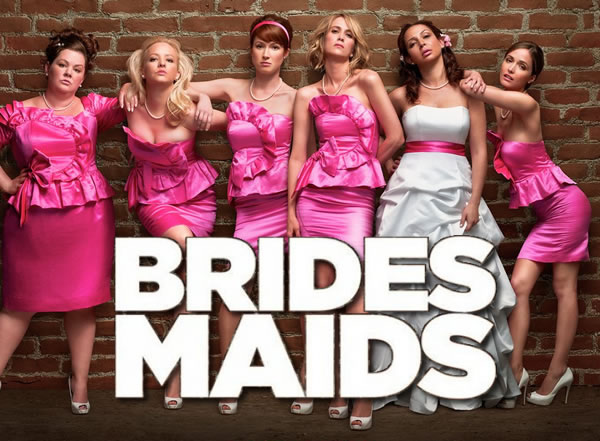 Å være brudepike er stor stas i USA, noe man kan se på amerikanske filmer og TV-serier. Filmen Bridesmaids ble en stor suksess, og nå har det også kommet en spilleautomat til norske nettcasino basert på filmen. Selvsagt møter spillerne de kjente karakterene fra filmen, og spilleautomaten byr også på mange morsomme innslag. Det er Microgaming som står bak spillet, så her snakker vi kvalitet.
Spillets oppbygning
Bridesmaids har fem hjul og fire rader, og i bakgrunnen høres stemmer, latter og svak musikk. Bakgrunnsbildet er rosa, og symbolene kan være både enkle og stablede. Mens man spiller kan det også komme innslag fra filmen. Spillet har 40 faste gevinstlinjer, så det eneste man trenger å gjøre før man spiller, er å velge totalinnsatsen per spinn. Den kan være fra 0,40 euro til 300 euro. Det er også mulig å velge inntil 100 autospinn med den valgte innsatsen. Faktisk kan automaten spille et ubegrenset antall autospinn, men da må man velge en lav totalinnsats, slik at man ikke går tom for penger.
Symbolene inkluderer selvsagt de seks hovedpersonene fra filmen. Man trenger alltid minst tre like for å få gevinst, og gevinstene er listet opp i den dynamiske gevinsttabellen. Logoen er spillets jokersymbol både under grunnspillet og under gratisspinnene. Smågevinstene deles ut av fine kortsymboler som viser spar, hjerter, ruter og kløver.
Ekstrainnslag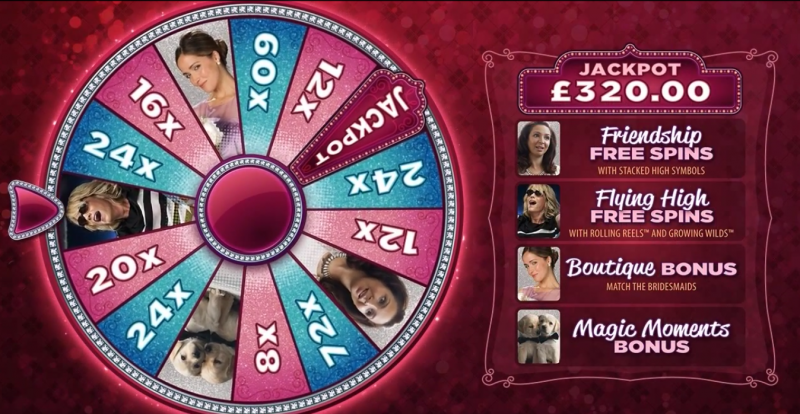 Bridesmaids har mange ekstrainnslag, og ekstrainnslag gjør alltid et spill ekstra morsomt. Scattersymbolet er en vakkert pyntet muffins, eller cupcake, som det har blitt så populært å kalle det. Med to scattere på skjermen, vinner man 2x totalinnsatsen. Man vinner enda større gevinster med flere scattere på skjermen, og med tre eller flere scattere på skjermen, kommer man også til hjulbonusen. I hjulbonusen kan man vinne både gratis spinn og bonuser. Det er fire innslag som kan vinnes ved å spinne det magiske lykkehjulet. I tillegg har innslaget noe som kalles cupcake-booster. Der kan man vinne multiplikatorer gjennom å velge en cupcake. Rosa multiplikatorer øker alle rosa gevinster, blå multiplikatorer øker alle blå gevinster og de tofargede multiplikatorene øker alle gevinstene på hjulet. Man kan også vinne 2 ekstra piler på lykkehjulet.
Free spins
Hjulbonusen kan dele ut to typer gratisspinn. Friendship gratisspinn gir 10 gratisspinn med gevinst begge veier. Under disse gratisspinnene kan vinnerrekkene altså starte både helt til venstre på skjermen og helt til høyre på skjermen. I tillegg får man stablede jokere og ekstra jokere under disse spinnene. Gratisspinnene kan gjenutløses. Det andre gratisspinninnslaget heter Flying High. Her vinner man også 10 gratisspinn, som spilles med rullende hjul og voksende jokere. Rullende hjul betyr at man kan vinne flere gevinster etter hverandre ved at vinnersymboler forsvinner og gir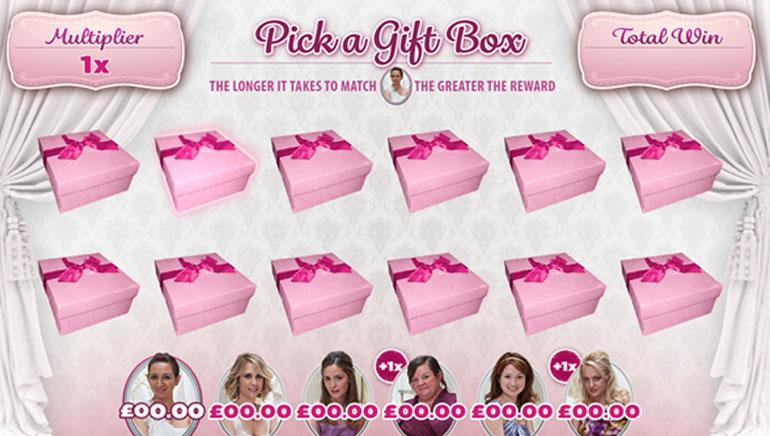 plass til nye symboler. Voksende joker betyr at jokersymbolene stables oppå hverandre, og man får 1 ny joker i stabelen for hvert spinn. Det meste man kan få, er 13 stablede jokere oppå hverandre.
Andre bonuser
Boutique bonusen er et annet innslag man kan vinne på bonushjulet. I dette bonusspillet skal spillerne matche symboler av brudepiker. Et av symbolene avslutter spillet når man har avdekket to slike symboler. Fram til det skjer, kan man fortsette å plukke og velge, og samle med seg bonuser. To av symbolene skjuler til og med multiplikatorer som kan øke gevinsten enda mer. Magic Moments er det andre bonusinnslaget. Her skal man velge magiske øyeblikk, og spillerne kan velge inntil 10 øyeblikk. Dersom de avdekker gulroten, er bonusinnslaget over.
Oppsummering
Bridesmaids er en spilleautomat med mange ekstrainnslag. Selve automaten er enkelt oppbygd. Den har 40 faste gevinstlinjer, men man kan justere totalinnsatsen mye, for å finne en innsats man er komfortabel med. De mange ekstrainnslagene kan vinnes ved å spinne på bonushjulet. Da kan man få både gratisspinn og komme til bonusspill der det skal klikkes og velges. Spillet har også innslag fra filmen, og alle som likte filmen, kommer nok til å sette pris på denne spilleautomaten. Det er Microsoft som har laget denne spilleautomaten for online casino.