The King is back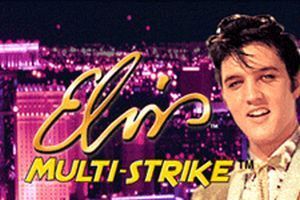 Elvis Multi-Strike er en dritkul spilleautomat fra IGT med fokus på ingen ringere enn Kongen selv. Kongen, altså Elvis, selvfølgelig. For hvem ellers kan skryte av å være kjent som Kongen verden rundt? Nettopp! Elvis Multi-Strike er en spilleautomat fra IGT, en av de eldste spillutviklerne på markedet. IGT var en av pionerene i spilleautomatenes verden, og det er mye takket være dem at vi nå har et såpass stort mangfold av pengespill å velge mellom. Elvis Multi-Strike er altså en kul spilleautomat med fokus på Elvis Presley, Kongen av Rock and Roll. Denne maskinen er fullspekket med kule funksjoner og spennende detaljer. Her finner du 60 gevinstlinjer, 2 bonusspill og flere funksjoner du neppe vil finne andre steder. Forresten finnes Elvis Multi-Strike også til mobilen, altså kan du ta med deg Elvis uansett hvor du er på vei. Symbolene består av bilder med Elvis i ulike livsperioder, samt en klassisk bil, Kongens autograf, en teddybjørn, en mikrofon, Kongehuset (Graceland), et fansymbol, samt et symbol med abbreviasjonen TCB. For du vet vel hva TCB er, du som liker Elvis? Riktig, det er hans første band, med navnet Taking Care of Business. Spilleautomaten har også flere bokstavsymboler – om du er heldig nok til å se disse danne kombinasjonen E L V I S på skjermen, vil du få en saftig gevinst spyttet rett ut på spillkontoen. IGT har skapt andre spilleautomater med Elvis i fokus, men det er Elvis Multi-Strike som er den mest populære per dags dato, og det med god grunn. Bare se på denne spilleautomaten – har du sett noe lignende før? Tre rader med spinnende skjermer, alle med sine uavhengige gevinsthjul og gevinstlinjer. Det er derfor maskinen kalles for Multi-Strike, ser du.
Tre nivåer, tre muligheter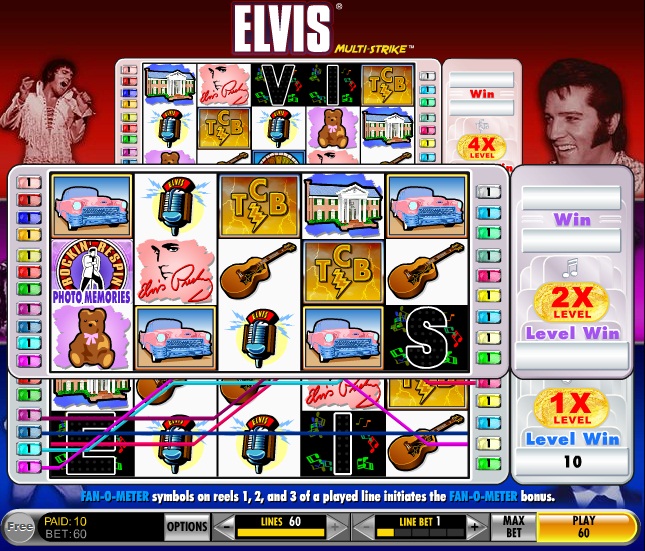 Som nevnt har Elvis Multi-Strike tre ulike spillskjermer på toppen av hverandre. Nivåene er avhengige av hvor mange gevinstlinjer du vil satse på. De første 20 er det første nivået, de neste 20 (opp til 40) er det andre nivået, og de siste 20 (opp til 60) er det høyeste nivået, altså den øverste delen av skjermen. Du kan enten gå videre til neste nivå ved å vinne på et spinn, eller ved å treffe på runden med gratisspinn. Husk at du må indikere ditt ønske om å satse på opp til 60 gevinstlinjer for å kunne gå videre til de høyere nivåene. Det kule med disse tre nivåene er at andre nivå vil doble alle gevinster, mens det tredje nivået vil firedoble alle utbetalinger. Dermed er utbetalingsraten veldig høy, noe som har gjort denne klassiske spilleautomaten til en storfavoritt på mange landbaserte kasinoer, spesielt i Las Vegas. Ja, IGT har utplasser hundretusener av forskjellige fysiske spilleautomater rundt omkring i Las Vegas og Atlantic City. Det er scattersymbolet som står for gratisspinn på Elvis Multi-Strike, og scattersymbolet er enkelt å finne. Det heter nemlig «Rockin Respin» – treffer du disse symbolene på de første hjulene, vil de andre spinne på nytt helt gratis inntil du treffer en saftig gevinst.
Bonusspill og jackpot på Elvis Multi-Strike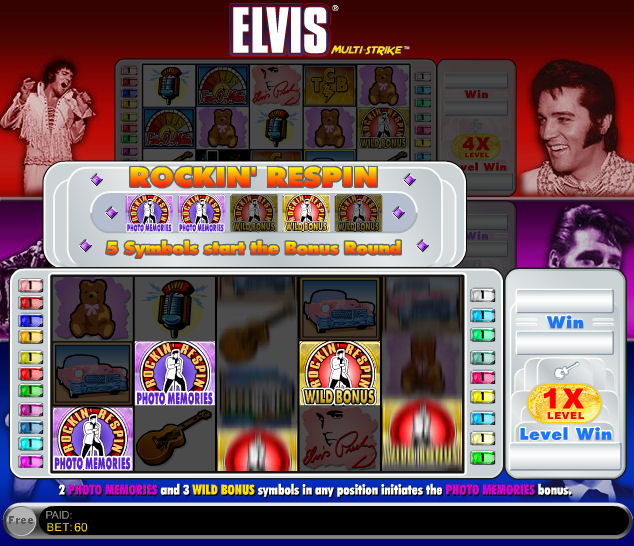 Vi har allerede nevnt de ulike spesielle funksjonene på denne heftige, actionfylte spilleautomaten. Den har flere kule bonuser du bør prøve ut selv, men vi kan fortelle om klikkbonusen og jackpotten. Klikkbonusen aktiveres av et symbol med ordene «Fan-O-Meter». Flere TV-apparater vil dukke opp, med videoklipp fra Elvis-konserter. Velg hvilken TV du stoler mest på, og se hvor høyt fansen vil rope. Jo høyere de skriker og hoier, desto flere penger vil rulle inn på spillkontoen. Elvis Multi-Strike har dessverre ingen progressiv jackpot på nettet, men med en skyhøy utbetalingsrate og så mange kule funksjoner er det ingen grunn til å inkludere en jackpot. Prøv ut Elvis Multi-Strike på en av de utallige nettkasinoene IGT samarbeider med, eller enda bedre – ta turen til Las Vegas og ta noen spinn på den fysiske maskinen. Er du en Elvis-fan, vil du garantert sette pris på denne unike spilleautomaten og alle dens funksjoner. Man kan ikke ære Elvis nok for det han har gjort for musikken. Flere ulike maskiner i hans ære har blitt lansert, men denne klassikeren fra IGT er mest sannsynlig den aller beste av dem.