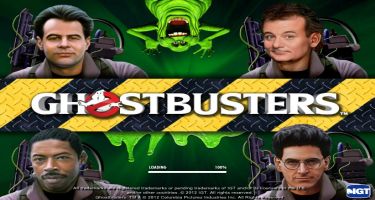 Mange husker Ghostbusters fra 80-tallet. Det hele startet med en film om en gjeng spøkelsesjegere, men filmen ble også til et spill for Commodore 64. Derfor er det slett ikke nytt at spøkelsesjegerne dukker opp i spillenes verden. Men til tross for dette, er karakterene fortsatt aktuelle, og filmen har blitt en ekte kultklassiker. IGT har gitt spøkelsesjegerne en egen spilleautomat som kan testes ut både som gratisspill og med ekte penger.
Symboler og gevinster
Som i de fleste spilleautomater, trenger man minst tre like symboler på rad på samme gevinstlinje for å få gevinst. Symbolene i dette spillet er unike, så man møter innen av de klassiske og litt kjedelige kortsymbolene. Her er spøkelsesjegerne i sentrum, og de er de mest verdifulle symbolene. Alle de fem hovedpersonene fra filmen er med. Spøkelsesjegerne er verdt 150, 200 eller 250 mynter for fem like, avhengig av hvem av dem man får på samme linje.
Smågevinstene deles ut av spøkelsesjegernes utstyr, som har tatt plassen til kortsymbolene. Spøkelsesfellen, bilen og ryggsekken gir 125 mynter for fem like, mens de to andre symbolene gir 100 mynter for fem like. For tre like, vinner man fra 5 mynter til 25 mynter, alt etter h ilket symbol det er snakk om. Man finner den komplette oversikten i spillets gevinsttabell.
Spesialsymboler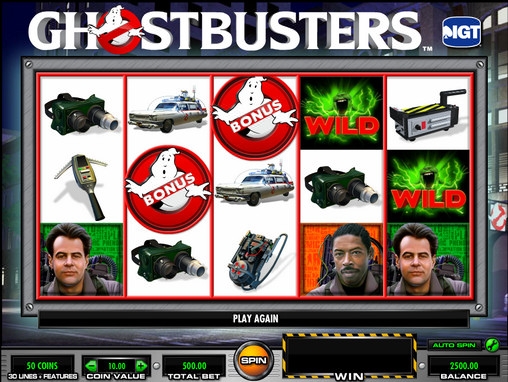 Ghostbusters har to ulike wildsymboler. Det ene er et grønt spøkelse, og det andre er et lilla spøkelse. Begge wildsymbolene har ordet Wild skrevet på seg, så det er lette å kjenne igjen. Disse symbolene kan også danne vinnerrekker dersom det dukker opp tre eller flere av dem på rad på samme gevinstlinje. Da vinner man 40 mynter for tre like, og 500 mynter for fem like. Wildsymbolene kan erstatte de vanlige symbolene, for å danne ekstra mange vinnerrekker.
Det tredje spesialsymbolet er bonussymbolet, som er spøkelsesjegernes logo. Hvis man får to slike symboler, i tillegg til et symbol av spøkelset Slimer, kommer man til bonusinnslaget Ballroom Busters. Dersom man får to spøkelsesjegerlogoer i tillegg til et bilde av det hvilte spøkelset, kommer man til gratisspinnrunden.
Mysterieinnslag
Spillet har også fire mysterieinnslag, som kan utløses etter ethvert spinn i grunnspillet. Man kan ikke vinne et mysterieinnslag under et spinn der man vinner et bonusinnslag. De fire mysterieinnslagene er multiplikatorer, pengepremier, wildhjul og ekstra wilds. Man kan vinne en multiplikator på mellom 2x og 5x. Pengebonusen kan være på mellom 50 og 1000 mynter. Hvis man vinner wildhjul, blir både hjul 1 og hjul 3 dekket av wilds. Dersom man vinner ekstra wilds, blir 1 til 4 felter erstattet med wilds. Et felt som deler et hjørne eller en kant med wild, kan også bli til et wildsymbol.
Bonusinnslag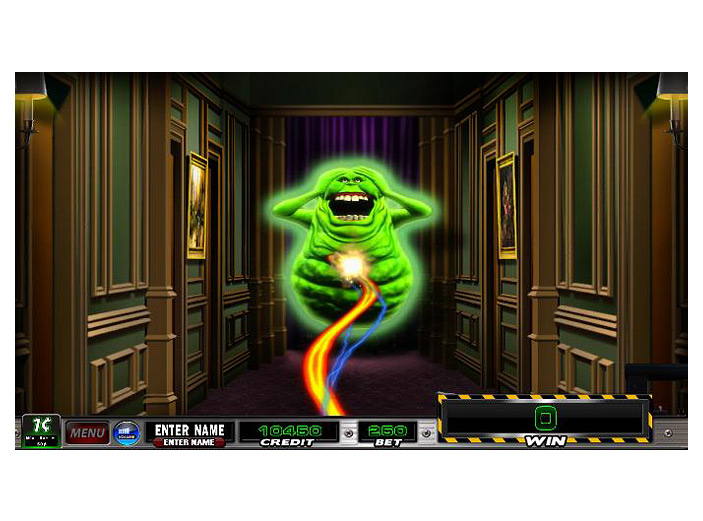 Ballroom Busters Bonus går ut på at man skal jakte på spøkelser i ballsalen. Man kan bruke 5 våpen og prøve å treffe 6 spøkelser. Spøkelsene gjemmer seg godt, men de finnes bak noen av de markerte objektene i salen. Hvis objektet man skyter på skjuler et spøkelse, vinner man noe. Noen av spøkelsene skjuler bonuser, og man kan også vinne fra 2x til 5x multiplikator. Dersom man skyter på et objekt som ikke skjuler et spøkelse, får man prøve enda en gang, helt til man har avfyrt alle de 5 våpnene.
Gratisspinn
Spillerne kan vinne 8 gratisspinn, der de også kan få låste wilds. Under gratisspinnene spiller man med helt andre symboler. De fire spøkelsesjegerne spiller fortsatt hovedrollen, og deler ut fra 100 til 125 mynter for fem like. Noen av de andre symbolene har blitt byttet ut med symboler fra marshmallowmannen, og til og med symbolene som viser utstyret til spøkelsesjegerne, har blitt tilklisset av marshmallowskum. De to wildsymbolene som dukker opp under gratisspinnene viser marshmallowmannen og en marshmallow som blir ristet på bålet. Det er marshmallowen som blir ristet som kan bli en låst wild. Man kan også vinne bonuser under gratisspinnene. Begge wildsymbolene kan danne egne vinnerrekker, der de gir 250 mynter for fem like.