Kongens slott er fullt av gull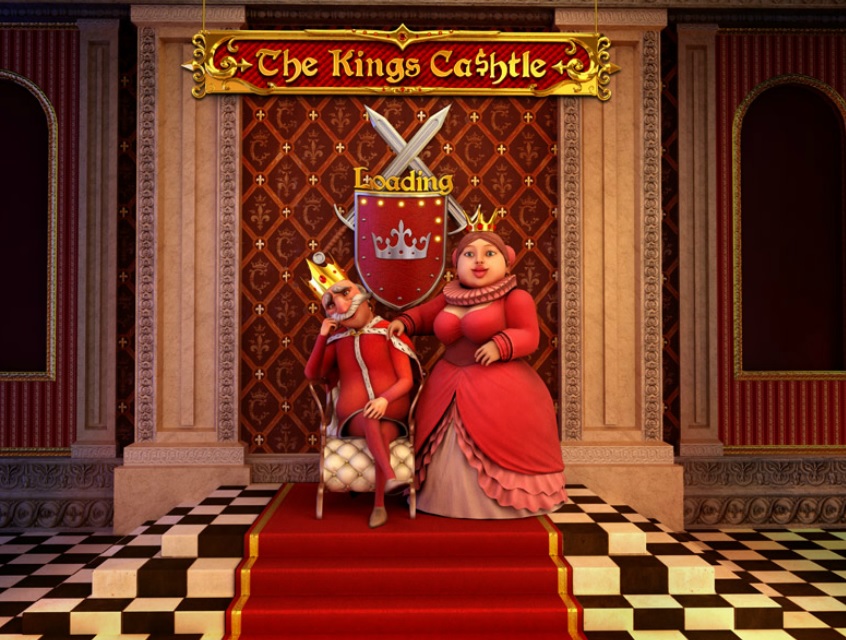 The Kings Ca$htle er en spilleautomat fra en noe ukjente spillutvikleren Blue Gem Gaming, som har satset på tematiske maskiner fra starten av deres kasinokarriere. Navnet på spilleautomaten er et ordspill – «cash» betyr kontanter og «castle» betyr slott. Blandingen av disse ble til Ca$htle. Kongens Ca$htle. Her blir spilleren tatt med til kongens slott, der hans rikdom er gjemt. Spillskjermen er utformet som en borg, med tårn og vinduer. På venstre side av skjermen står kongen selv og følger med på hvert spinn som foretas. Han heier på spilleren og jubler når store gevinster spyttes ut. Aldri har man sett en konge bli så glad når hans rikdom deles ut til vanlige mennesker. The Kings Ca$htle er en tematisk 3D-spilleautomat, altså kan man forvente haugevis med kule animasjoner og spennende detaljer hver gang hjulene spinner av gåre. Temaet er middelalderen, et av de mest populære i kasinoverdenen. Kings Ca$htle har 20 gevinstlinjer over fem hjul, og innsatsnivåene er veldig enkle å velge. Mulighetene for innsats er brede nok til at alle og enhver kan ta noen spinn – alt fra et par kroner og opp til tusenlappen godtas for å ha alle gevinstlinjer aktivert, men om man vil prøve seg på den progressive jackpotten må man gå for den maksimale innsatsen. Denne adelige spilleautomaten bruker en blanding av kortsymboler og andre tilpassede symboler for å gjøre temaet så reelt som mulig. Kortsymbolene har gulldetaljer og edelstener, men spytter kun ut små gevinster som så vidt dekker innsatsen. Kongens egne krone er det best betalende vanlige symbolet i spillet, med maksimalt 400 mynter som gevinst.
Bonusspill og wilds på Kings Ca$htle
Den tjukke dronninga står for scatterbonusen på denne tematiske 3D-spilleautomaten. Så fort man treffer på tre eller flere av dette symbolet, kan man glede seg til å få flere ganger innsatsen tilbake på spillkontoen. Spesielt deilig er dette når man spiller med maksimal innsats – satser man en tusenlapp og får 50 ganger innsatsen som gevinst, kan man enkelt regne seg frem til den saftige utbetalingen. Om dette ikke er nok, kan man bruke gamblefunksjonen som Blue Gem Gaming ofte inkluderer i sine spilleautomater. Her får du prøve lykken i et simpelt spill med krone eller mynt – vær dog forsiktig, siden du taper den opprinnelige gevinsten hvis mynten faller feil. Dermed anbefaler vi ikke å prøve gamblefunksjonen på Kings Ca$htle med mindre gevinsten er så liten at den ikke spiller noen rolle. Wildsymbolet kommer i form av rikseplet og kongestaven. Disse dukker kun opp på de tre midterste hjulene, men hver gang de er på spillskjermen vil store kombinasjoner dannes og saftige gevinster kommer på rad og rekke. Siden Kings Ca$htle er en av de eldre tematiske spilleautomatene fra Blue Gem, har man ingen ordentlige bonusspill eller klikkbonuser å se frem til. Gamblefunksjonen er den eneste med en annerledes spillskjerm. Gratisspinn kan dog vinnes om kongesymbolet dukker opp – tre eller flere setter i gang en runde med opp til 20 gratisspinn. Når man spinner hjulene gratis vil de vanlige symbolene plutselig begynne å spytte ut høyere gevinster enn normalt, en hyggelig overraskelse de fleste spillere vil være veldig fornøyd med. Nyere spilleautomater fra denne spillutvikleren har heftigere bonusspill som virkelig viser hvor stort fokus Blue Gem har på den moderne teknologien og alle mulighetene den medbringer.
Progressiv jackpot på Kings Ca$htle – milliondrømmen lever
Selv om Kings Ca$htle har både gratisspinn, gamblefunksjon, scatterbonus og wildsymboler, er det den progressive jackpotten som virkelig har fanget oppmerksomheten til kasinospillere fra alle verdens hjørner. Fem symboler med juvelboksen på samme gevinstlinje vil forandre livet ditt totalt – den progressive jackpotten er nemlig ofte på flere millioner kroner, altså blir man millionær på flekken. For å ha muligheten til å stikke av med den progressive jackpotten på Kings Ca$htle må man dog satse maksimalt på hvert spinn, altså bruke nesten ett tusen kroner hver gang man spinner hjulene.