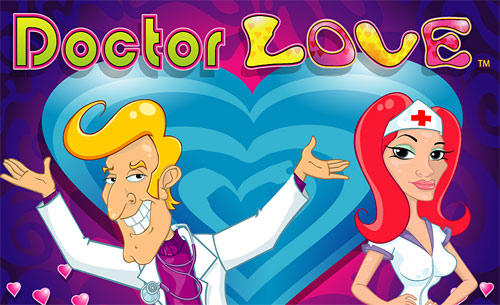 Doctor Love er en videoautomat fra Microgaming. Spillet har fem hjul og 20 gevinstlinjer. Spillet er ikke progressivt, men har en jackpot på 5000 mynter. Det er både jokersymboler, spredte symboler og gratisspinn i spillet, og automaten har også et gamblingspill der man kan prøve å doble eller firedoble gevinstene sine. Dette er en fargeglad og morsom spilleautomat, med herlige symboler. Spillet er kanskje ikke nyskapende, men det er veldig underholdende.
Innsatser
Spillerne kan satse bare én mynt per linje i dette spillet, men myntverdien kan stilles fra 0,01 euro til 2 euro. Ettersom spillerne også kan velge hvor mange gevinstlinjer de vil aktivere, blir totalinnsatsen fra 0,01 euro til 40 euro per spinn. Det lønner seg vanligvis å aktivere flest mulig gevinstlinjer, ettersom man bare får utbetalt gevinst for vinnerrekker som dukker opp på aktiverte linjer. Spredte symboler teller med selv om de ikke er på aktive gevinstlinjer.
Symboler og gevinster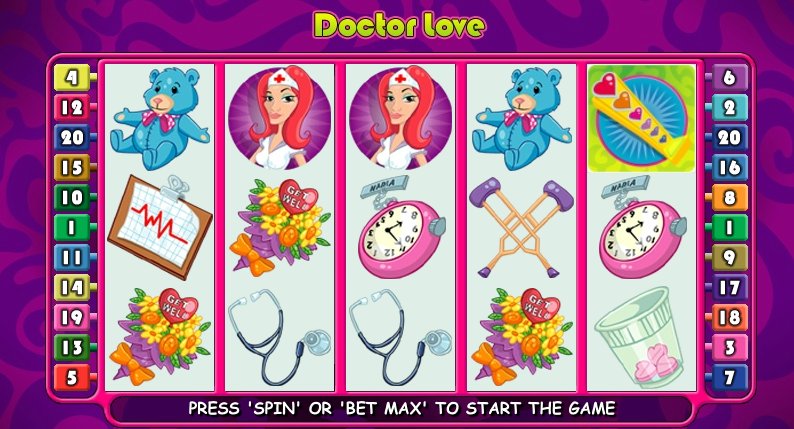 Dette sykehuset er verken trist eller kjedelig. De fargerike symbolene gjør spillet ekstra underholdende. I tillegg til legen, dukker det opp pilleglass, et termometer med hjerter, en graf, en ambulanse, en klokke, et stetoskop, krykker, en blomsterbukett, en pasient, en bamse og en attraktiv sykepleier. Doctor Love er spillets jokersymbol. Han kan erstatte andre symboler for å fullføre vinnerrekker. Doctor Love danner også egne vinnerrekker, og man får faktisk gevinst for bare ett slikt symbol! For fem jokersymboler på samme gevinstlinje, vinner man spillets toppgevinst på 5000 mynter.
Termometeret, eller kjærlighetsmeteret, som det kalles i dette spillet, er det spredte symbolet. Man får gevinst med minst to slike symboler hvor som helst på skjermen. Med minst tre spredte symboler, vinner man også gratisspinn.
Både sykepleieren og pasienten gir gevinst for minimum to like. Sykepleieren gir hele 1500 mynter for fem like, mens fem pasienter gir 750 mynter. Bamsen og ambulansen gir 400 mynter for fem like, blomsterbuketten og klokken gir 200 mynter for fem like, grafen og krykkene gir 150 mynter for fem like, og pilleglasset og stetoskopet gir 100 mynter for fem like. Spillet har ingen kortsymboler, bare unike symboler for dette spillet. Spillets utbetalingstabell finner man ved å trykke på infoknappen, og der får man en komplett oversikt over symbolene og gevinstene man kan vinne. Alle vinnerrekker må starte ytterst til venstre, og man får bare utbetalt én gevinst per linje. Hvis man får flere vinnerrekker samtidig, på flere gevinstlinjer, får man utbetalt én gevinst fra hver linje. Man får alltid utbetalt den høyeste gevinsten per linje.
Gratisspinn
Spillerne kan vinne inntil 20 gratisspinn med tredoble gevinster. Hvor mange gratisspinn man vinner, avhenger av hvor mange spredte symboler som dukker opp på skjermen samtidig når man vinner gratisspinnene. Med tre spredte symboler vinner man 10 gratisspinn. Fire spredte symboler gir 15 gratisspinn, og fem spredte symboler gir 20 gratisspinn.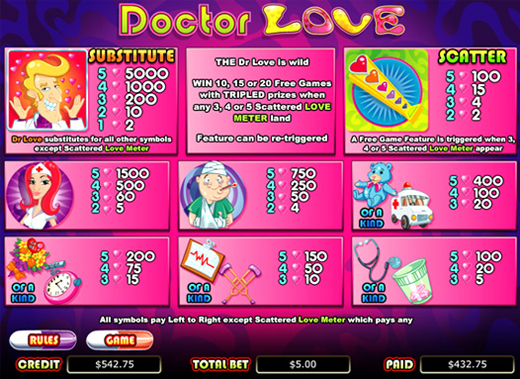 Gratisspinnene kan gjenutløses, og gratisspinn spilles alltid med den myntverdien og innsatsen man spilte med da man vant dem. Man kan verken endre myntverdi eller antall gevinstlinjer under gratisspinnene.
Gamblingspill
Hver gang man vinner, kan man velge om man vil gamble om gevinsten. Dersom man lykkes med gamblingen, kan man doble eller firedoble gevinsten. Selvsagt kan man også tape gevinsten, derfor bør man bare gamble en gang i blant. Gamblingspillet er enkelt å forstå, og ligner på gamblingspillene i mange andre automater. Et skjult kort dukker opp på skjermen. Spillerne kan gjette på om kortet er rødt eller svart. Korrekt svar betyr at gevinsten dobles. Spillerne kan også gjette på hvilken korttype kortet er (spar, hjerter, kløver eller ruter). Korrekt svar betyr at gevinsten firedobles.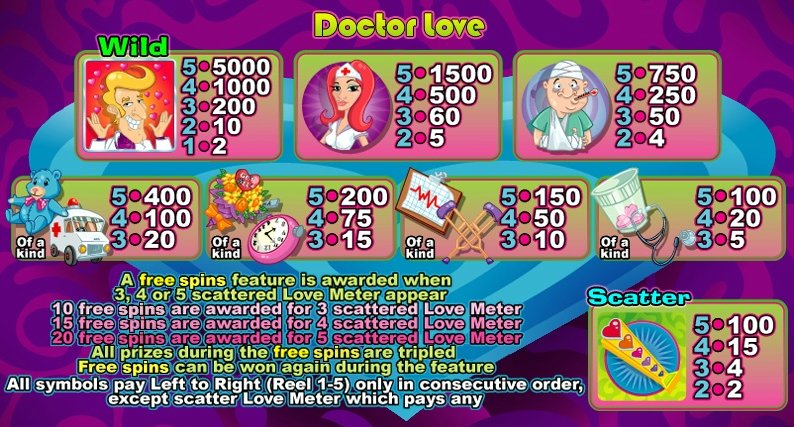 Oppsummering
Doctor Love har forholdsvis enkle symboler og grafikk, men symbolene er fargerike og morsomme. Spillet er ikke blant de beste som er laget av Microgaming, men det har en komisk vri, og spillet er veldig underholdende. Ettersom spillet er så enkelt og ukomplisert, kan man kose seg med spillingen, uten å bekymre seg for kompliserte regler, bonusspill og spesialinnslag.