Om spillet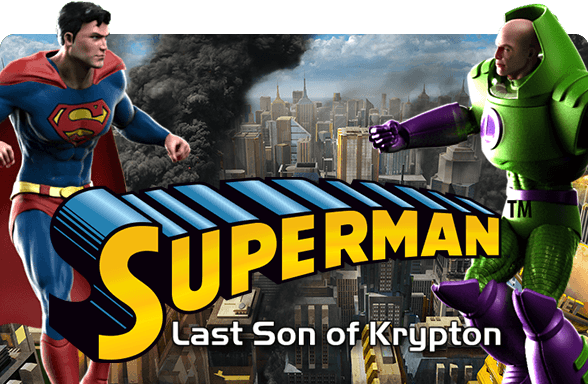 Få superhelter har så høy status som Superman, og Amaya Gamings spill Superman: Last Son of Krypton er en hyllest til Superman med ikoniske symboler som viser til velkjente ingredienser i historien om den unge journalisten Clark Kent med det heroiske alter egoet Superman. Dette er en spilleautomat med fem hjul og tre rader, to forskjellige gratisspinn og både vanlig wild og bonuswild ved to eller flere Clark-symboler på ett brett.
Spillets detaljer
Superman: Last Son of Krypton lar deg velge en myntverdi på mellom 0.01 og 1, og du kan satse mellom 25 og 125 mynter for hvert spinn, hvilket tilsvarer fra en til fem mynter for hver av spillets 25 innsatslinjer. Autospinnfunksjonen lar deg spinne fra fem til 100 ganger etter hverandre.
Bonusfunksjoner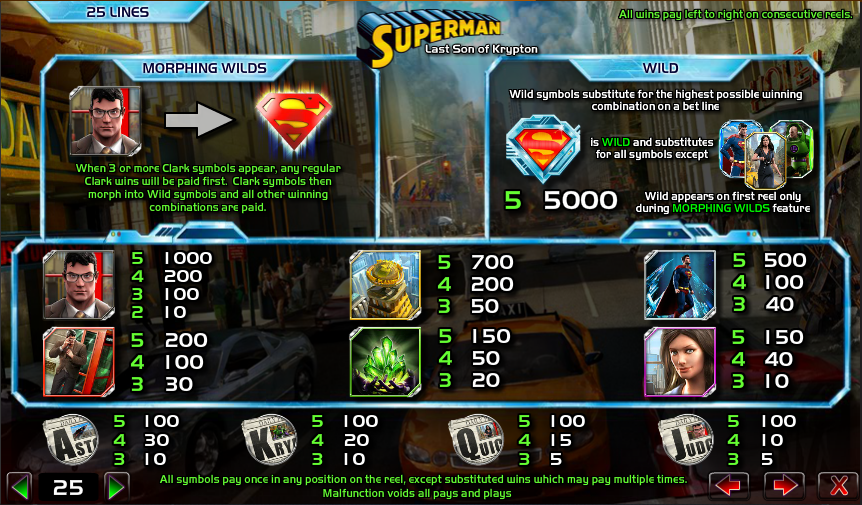 Det fins tre unike symboler som i seg selv ikke gir utbetaling, men som setter i gang en av to bonus-gratisspinn-runder. Disse symbolene skiller seg fra de andre ved å være litt større enn de andre. På første hjul kan det dukke opp et unikt Superman-bonussymbol som viser Superman i helfigur. På hjul fem kan du være så heldig å treffe på enten Lois Lane eller Lex Luthor i helfigur.
Lois Lane Wild Hearts settes i gang av å få Superman-bonussymbolet på første hjul, Lois Lane på femte. Du får så velge ett av fem Loissymboler, som avgjør hvor mange gratisspinn du får, hvor stor multiplikatoren blir og antall wild heart-symboler du får. Disse siste vil legge seg på hjulene to til fem.
Lex Luthor Frozen Wild startes ved Supermanbonussymbol på hjul en og Lex på det femte hjulet. Du velger ett av fem Lexsymboler og får se hvor mange gratisspinn du får, samt hvor stor multiplikatoren blir. Superman og Lex Luthor inntar plassene sine på hver sin side av brettet. De er i helfigur, i livaktig animasjon. Superman angriper med sin ispust, og treffer tilfeldige hjul som blir til is – det vil si at hele hjulet blir wild. Han kan fryse opp til tre av de fire siste hjulene om gangen. Lex knuser isen med sin grønne laser og Superman angriper igjen, helt til bonusrundene er over.
Begge bonusrundene gir nye gratispinn dersom bonusfigurene dukker opp på riktig plass i løpet av bonusrundene.
Spillets gang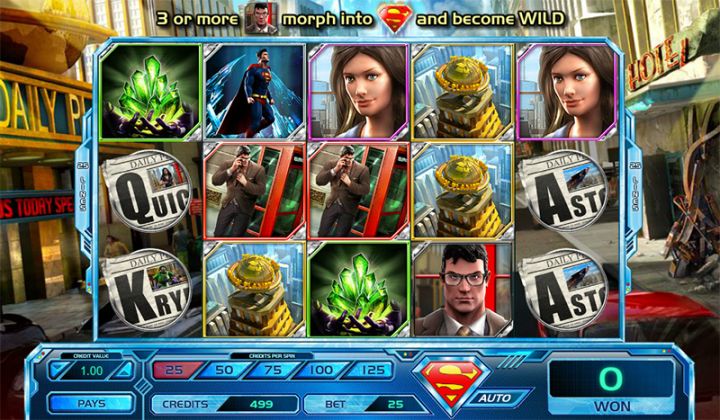 Du vinner ved at tre eller flere like symboler legger seg langs en eller flere av spillets 25 innsatslinjer, fra venstre mot høyre. Wildsymbolet ertatter alle andre symboler utenom bonus-symbolene av Superman, Lois og Lex. I tillegg gir to eller flere Clark-symboler ekstra wilds, ved at han drar til side skjorta og viser frem S-logoen på brystet. 5 av de vanlig wildsymbolene gir for øvrig en utbetaling på 5 000 om du satset 25 mynter for spinnet, og hele 25 000 om du satset 125 på ett spinn.
De ulike symbolene gir ulik gevinst, som selvfølgelig øker med hvor mye du satser i hver runde. Disse eksemplene er basert på at du satser minste mulige, 25 mynter, pr spill. Satser du 125 kan alle gevinster ganges med fem! Clark er den eneste med utbetaling på to like, i form av 10 mynter. Tre like gir 100, fire 200 og fem like gir 1000 mynter. Daily Planetsymbolet gir fra 50 til 700 for tre til fem like. Superman som stiger opp fra isen gir 40 til 500, mens Clark som kommer ut fra telefonkiosken gir 30 til 200 for tre til fem like. Kryptonittsymbolet gir 20 til 150, mens Lois Lane gir 10 til 150 for tre til fem like.
Fire avissymboler med ulike bokstaver gir 5-10 for tre, 10-30 for fire og alle sammen gir 100 mynter for fem like.
Konklusjon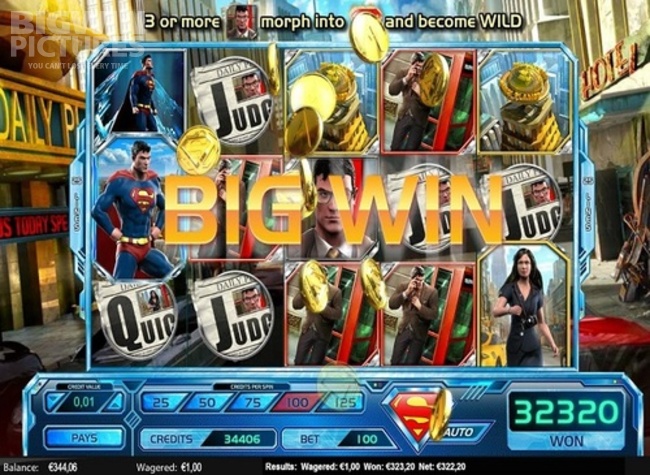 Det kan være litt forvirrende med hele fire symboler med Clark Kent/Superman på, men etter noen spinn blir det lettere å skille dem fra hverandre. Superman: Last Son of Krypton henter tittelen fra den første romanen skrevet om Superman, av Elliot S. Maggin i 1978. Bakteppet for spillet er en scene fra Metropolis, utenfor avislokalene til Daily Planet, der byen nettopp har blitt utsatt for et angrep fra Lex Luthor. Litt mindre dramatisk er det å spille spillet, men like spennende!