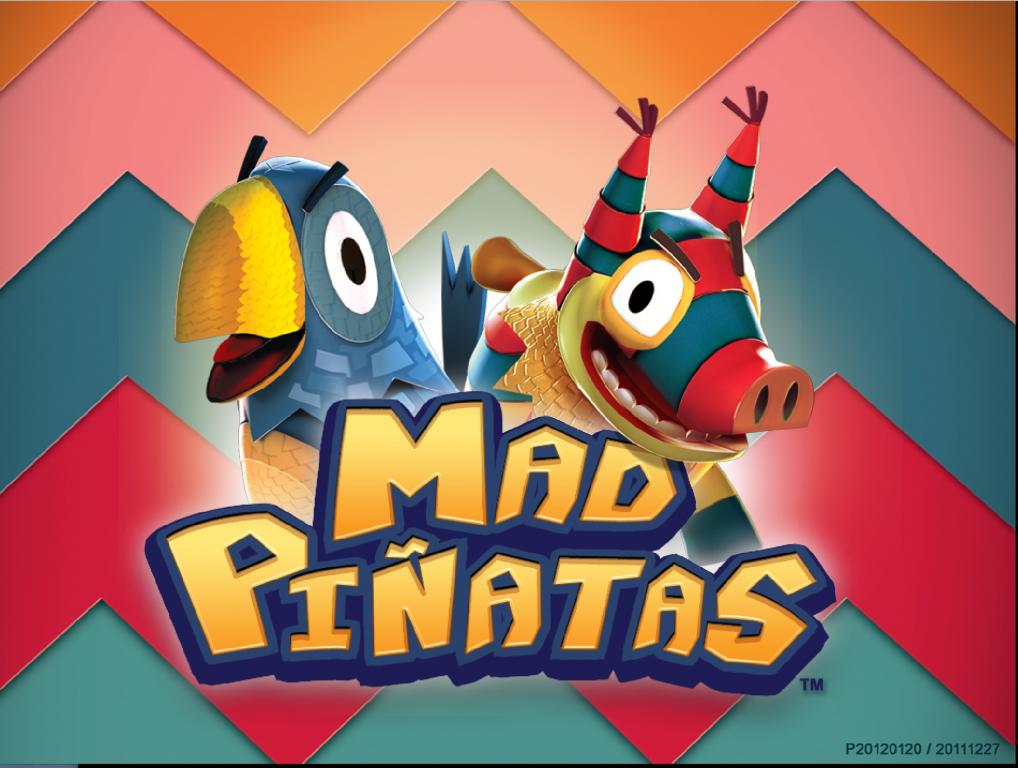 Det er kanskje ikke alle norske spillere som vet hva en piñata er. En piñata er en figur av pappmasjé. Figurene er fylt med godter og små leker. En piñata dukker ofte opp i et barneselskap. Da blir piñataen hengt opp i en snor. Barna får bind for øynene, og en kjepp i hånden, og så skal de prøve å slå etter piñataen. Som regel står en voksen og trekker i snoren, slik at det blir vanskeligere å treffe. Barna bytter på å slå etter figuren, og når de endelig lykkes med å treffe, faller godtene og lekene ut, og barna kan forsyne seg. Nå er piñataene lei av å bli slått, og hevner seg i spillet Mad Piñata.
Mer om spillet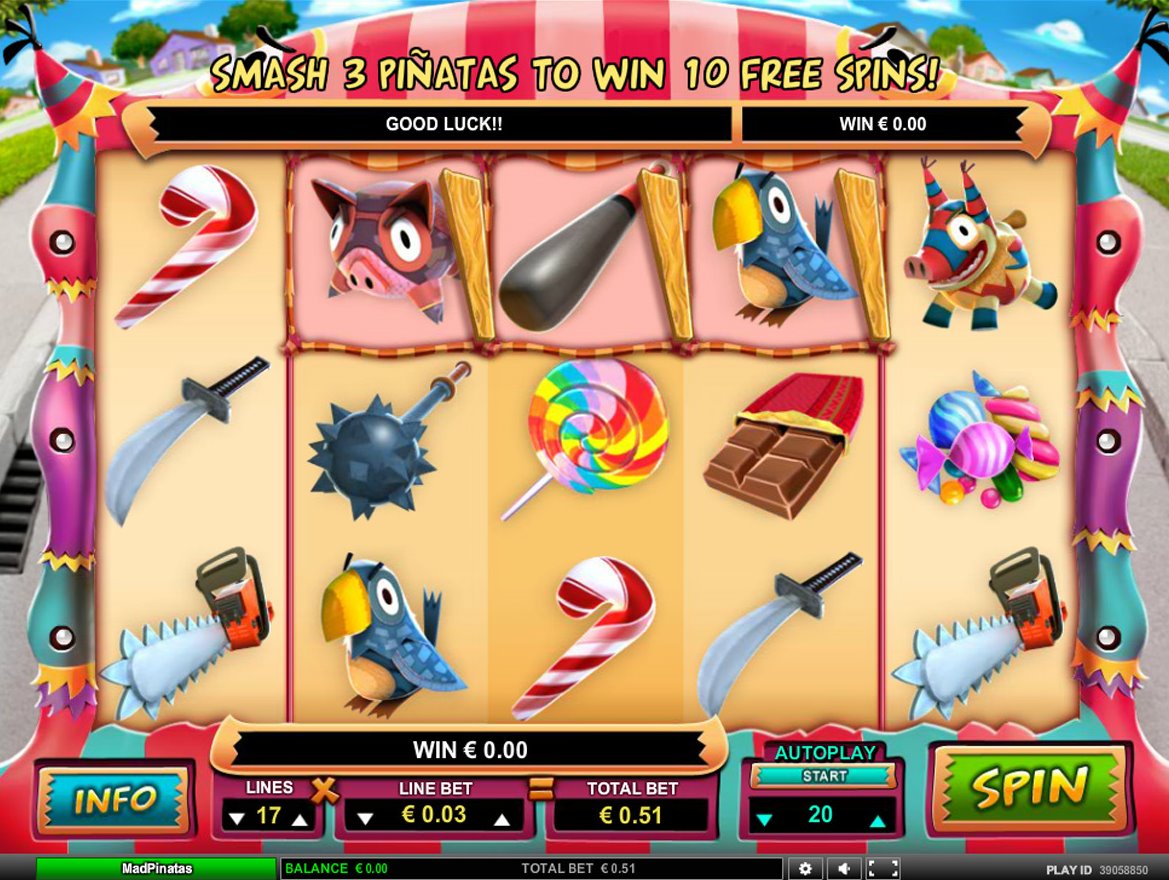 Mad Piñata er et fargerikt spill med fem hjul, tre rader og morsom musikk. Figurene på hjulene skal forestille piñataer. De er morsomme figurer, men de er også sinte. I tillegg til piñataer, er det også ulike våpen og godter på hjulene. Bakgrunnsbildet viser en gate, med trær og hus. Musikken er glad. Spillet har 25 linjer, men man kan også velge å spille med færre gevinstlinjer. Da er det viktig å huske at man bare får gevinst på aktive linjer. Hvis man velger å deaktivere noen av linjene, har man dermed færre vinnersjanser per spinn. Da er det bedre å redusere myntverdien.
Spillets myntverdi kan justeres fra 0,01 euro til 10 euro. For å få totalinnsatsen, blir innsatsen per linje ganget med antall aktive linjer. Med alle linjene aktivert, er minsteinnsatsen 0,25 euro per spinn, noe som burde være overkommelig for de fleste. Maksimums innsats er 250 euro per spinn. Her er innsatsene altså tilpasset både hobbyspillere og storspillere. Hvis man vil spare penger, kan man selvsagt også velge gratisvarianten av spillet. Spillerne kan også velge inntil 25 automatiske spinn, som spilles med den myntverdien og det antallet aktive linjer man har valgt.
Symboler og gevinster
I gevinsttabellen finner man alle de morsomme symbolene. Wildsymbolet er en metallisk piñata med ordet Wild skrevet på seg. Dette symbolet kan erstatte de andre symbolene, men det kan også danne egne vinnerkombinasjoner. Da trenger man bare to like for å vinne noe. To wildsymboler gir 10 mynter i gevinst, og hvis man lykkes med å få fem wilds på samme gevinstlinje, vinner man 10  000 mynter, som er den største gevinsten.
Alle andre symboler må være minst tre like på rad for å gi gevinst. Den hestelignende piñataen er det nest mest verdifulle symbolet, og gir 1500 mynter for fem like. Grisen gir 1200 mynter for fem like, og papegøyen gir 1000 mynter for fem like. Det er også fire våpen og fire godterier i spillet. Våpnene deler ut de mellomstore gevinstene, og gir fra 150 mynter til 600 mynter for fem like. Godtene deler ut smågevinstene, og gir 50 eller 60 mynter for fem like. Alle gevinstene finnes listet opp i gevinsttabellen, som man finner ved å trykke på Inforknappen.
Ekstrainnslag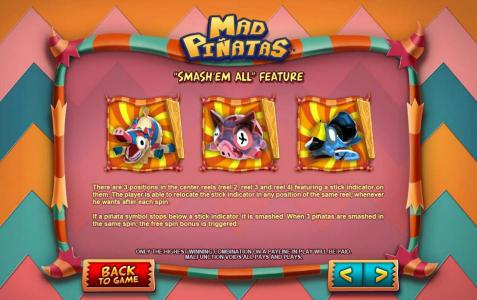 I ekstrainnslaget skal spillerne knuse de stakkars piñataene. Det er tre kjepper på skjermen, på de tre midterste hjulene, og spillerne kan velge hvor på de tre hjulene de vil plassere kjeppen. Den kan omplasseres etter hvert enkelt spinn. Hvis tre piñataer stopper under de tre kjeppene, blir piñataene knust, og spillerne vinner gratisspinn. Wild-piñataen teller ikke med i dette innslaget, og blir ikke knust dersom den havner under kjeppene.
Spillerne vinner 10 gratisspinn, og ekstrainnslaget er også aktivt under gratisspinnene, men da kan ikke spillerne flytte kjeppene. De blir værende på de plassene de sto på da man vant gratisspinnene. Men hver gang en piñata stopper under en av kjeppene, blir den knust, og man vinner 1 ekstra gratisspinn. Klarer man å knuse 3 samtidig, vinner man 10 nye gratisspinn.
Bonuser
Det er også et bonusinnslag i spillet, der man skal velge et våpen. Deretter begynner man å knuse piñataer for å vinne priser eller multiplikatorer.