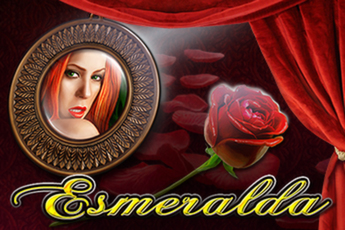 Det kan noen ganger være vanskelig å fastsette et tema i en videoslot. Det kan være fordi det ikke er presentert godt nok på hjulene eller så kan det være at det ikke er et så spesifikt tema i spillet. Playtech, som er spillutviklerselskapet som står bak Esmeralda, pleier å være gode på å få frem tema i en videoslot, men i Esmeralda så har de gjort ting litt annerledes. Her er det opp til spilleren selv å vurdere hva slags tema det skal være i spillet. For mange så vil Esmeralda få de til å tenke på eventyret om Ringeren fra Notre Dame. Selv om navnet er kjent gjennom dette eventyret så ser det virkelig ikke ut som det er tema i spillet. Det ser heller ut som det er vridd til et spansk tema, med en vakker kvinne og en kjekk mann som er satt i fokus. Uansett hva tema egentlig er tenkt ut til så har man en god videoslot foran seg. Det er en god grafikk og noen artige spesialfunksjoner som er lagt på og det er mer enn nok underholdning for spilleren.
Spillets spesialfunksjoner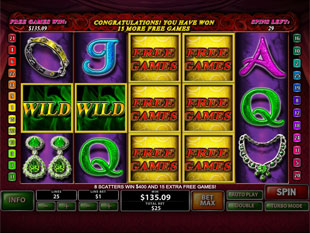 Det finnes to spesialsymboler i spillet, i tillegg til at man kan få aktivert gratisspinnrunder og man har mulighet til å vinne den progressive jackpotten i spillet. De to spesialsymbolene er wildsymbolet og scattersymbolet. Wildsymbolet er i form av Esmeralda selv, altså den vakre kvinnen. Wildsymbolet er spillets joker, og den kan derfor erstatte andre symboler på hjulene. Den kan erstatte alle symboler i gratisspinnrundene men i hovedspillet så kan den ikke erstatte scattersymbolet. Det er wildsymbolet som kan brukes til å aktivere den progressive jackpotten i spillet. Kravene for å aktivere det er at man får fem wildsymboler i en kombinasjon og man må også spille med høyest mulig innsats i spillet. Det andre spesialsymbolet i spillet er scattersymbolet. Scattersymbolet er i form av en rose og den kan aktivere gratisspinnrundene i spillet, i tillegg til at den gir ut kontantgevinster. Antall gratisspinnrunder og verdi på kontantgevinst vil variere ut i fra hvor mange scattere man får på hjulene. På det meste så kan man få 70 gratisspinnrunder.
Spillets hjul og innsatser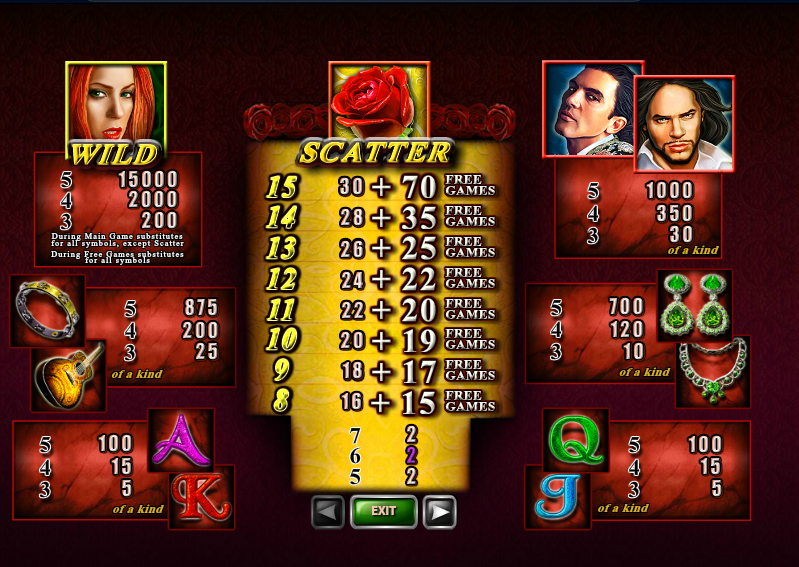 Foran seg i Esmeralda så har man 25 innsatslinjer som er fordelt over fem hjul og tre rader med symboler. Det er et vanlig oppsett når det kommer til videoslots. Det Playtech har valgt å gjøre er at de har latt alt innen innsatsen være opp til spilleren. For eksempel så kan spillere først justere innsatslinjene, for så å justere innsatsen man skal ha per innsatslinje. Innsatsen per linje blir lagt i form av at man plasserer ut mynter som har en fastsatt verdi. Verdien bestemmer spilleren og hver mynt kan ha en verdi på mellom 0,01 og opp til 1. Det må påpekes at hvis man ønsker å ha sjansen til å vinne den progressive jackpotten i spillet så må man spille med høyest mulig innsats. Når man er ferdig med å justere innsatsen sin så kan man spinne i gang hjulene ved å trykke på spinn knappen. Ønsker man å gjøre spillingen enda litt enklere så kan man bruke bet maks knappen, auto play knappen eller turbo mode knappen. Disse gjør at man spiller med høyest mulig innsats, at spillet går av seg selv eller at hjulene spinner enda fortere enn det de pleier.
Spilleskjermen i spillet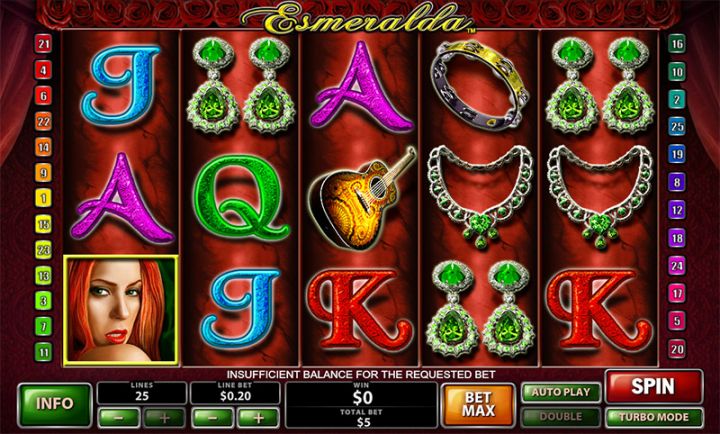 Spilleskjermen i Esmeralda kan nesten kalles forførende. Bakgrunnen ser ut som rødt fløyel og skaper en flott bakgrunn for hjulene. Hjulene er plassert oppå den bakgrunnen og på hjulene så finner man spillets symboler. Symbolene er i ulike bilder, slik som en gitar, et par øredobber, et halskjede, en kjekk mann og en vakker kvinne. De resterende symbolene er i form av ulike bokstaver, som er hentet fra en vanlig kortstokk. På toppen av hjulene så har man spillets logo, som er formet i en enkel tekst.