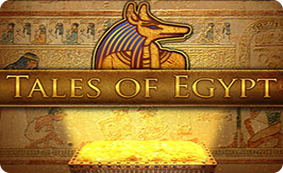 Tales of Egypt er den nyeste spilleautomaten fra spillutviklerselskapet Top Game. De har tatt for seg Egypt som tema og de har fått til å fremstille det på en utrolig god måte. Top Game viser tydelig hva de kan i Tales of Egypt og det er nok mange som kommer til å få stor glede av å spille Tales of Egypt. Spillet er satt opp på en flott måte. Det er et godt valgt tema, en utrolig god grafikk og flere spesialfunksjoner som kan dukke opp underveis. Man finner rett og slett alt som skaper grunnlag for en god spilleautomat. Hvis man er interessert i å se mer bør man prøve ut noen runder i spillet.
Spillets oppsett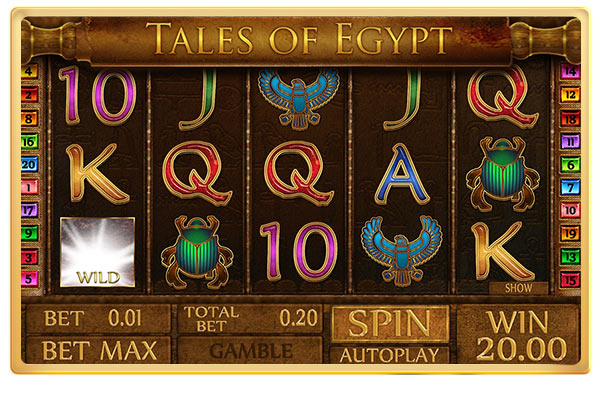 Top Game har valgt å følge det mest tradisjonelle når det kommer til spilleautomaten Tales of Egypt og oppsettet som er satt inn. Oppsettet består av fem hjul og tre rader med symboler. I tillegg finner man 20 innsatslinjer. Innsatslinjene er ikke satt inn som faste innsatslinjer. Det vil da si at det er opp til spilleren hvor mange av innsatslinjene som skal være faste når man spiller. Justeringen gjør man ved å finne innsatslinjeknappen nederst på spilleskjermen. I tillegg til å kunne justere innsatslinjene så kan spilleren også tilpasse myntverdien det skal spilles med. Valg av myntverdi er også veldig enkel å tilpasse da det er satt inn ni forhåndsbestemte verdier å velge mellom. Myntverdiene man kan velge mellom strekker seg fra 0,01 og opp til fem i kreditt. Det er en egen myntverdiknapp nederst på spilleskjermen. Hvis man ønsker å spille med høyest mulig innsats uansett, kan man velge å bruke bet maks-knappen. Når man er klar med justeringen av innsatslinjer og av myntverdi kan man sette i gang spillet. Det er tre ulike knapper man kan velge mellom da. Det er den vanlige spinnknappen, autospinnknappen eller fastplayknappen. Autospinnknappen gjør at spillet går av seg selv et bestemt antall runder, mens fastplayknappen gjør at spillet går enda fortere enn vanlig.
Spesialsymboler i spillet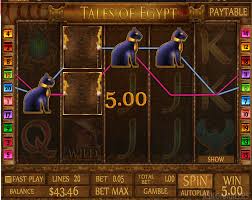 Spesialsymboler hører med i en spilleautomat og Top Game har selvfølgelig satt inn noen i Tales of Egypt. For det første finner man et wildsymbol. Wildsymbolet fungerer som spillets joker og det kan derfor erstatte andre symboler på hjulene. Det erstatter alle andre symboler, bortsett fra de andre spesialsymbolene. Wildsymbolet er også det symbolet som har høyest verdi i spillet. Det betaler ut opp til 1000 mynter ved en vinnende kombinasjon. Det andre spesialsymbolet i spillet er en blanding av et wildsymbol og et scattersymbol. Det er i form av en pyramide og det står først og fremst for aktiveringen av gratisspinnrundene i spillet. Man trenger å få minst tre slike symboler på hjulene for at gratisspinnrundene skal bli aktivert. Man får da tildelt et bestemt antall gratisspinnrunder, men det er alltid mulig å aktivere flere gratisspinnrunder underveis. Før man setter i gang med gratisspinnrundene vil det bli plukket ut en tilfeldig scatter på hjulene og den vil gi ut ekstra gevinster mens man spiller. Gevinsten vil da være i form av en kontantgevinst.
Spilleskjermen i spillet
Spilleskjermen man har foran seg når man spillet Tales of Egypt er utrolig flott laget. Spillets tema er presentert på en utrolig god måte og kommer veldig bra frem, takket være den gode grafikken. Spilleskjermen er satt opp slik at øverst finner man spillets logo. Den er i form av enkle bokstaver som er satt inn på spillets ramme. Under spillets logo finner man spillets hjul og på hjulene har man spillets symboler. Bakgrunnen på hjulene er i en mørk brun farge og symbolene er da plassert mot den fargen. Symbolene er i to ulike former. Man har de høyeste symbolene fra en vanlig kortstokk, i tillegg til at man finner noen symboler som er i form av ulike bilder som er tilpasset tema. Alle symbolene er formet i ulike flotte farger.