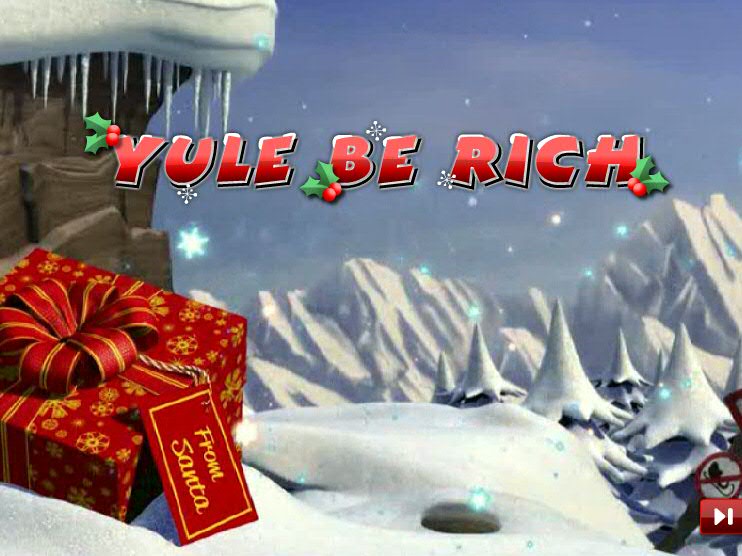 Det er kanskje ikke alle som er i julestemning året rundt, men det finnes faktisk utrolig mange mennesker som er over middels glade i julen. For de vil denne spilleautomaten passe helt perfekt, og passe for alle andre spesielt i juletiden. Det er spillutviklerne 1×2 Gaming som har skapt dette spillet og den ble lansert i 2014. 1×2 Gaming startet faktisk opp som et selskap innen virtuell fotball, men de har iløpet av de siste par årene opparbeidet seg et ganske stort utvalg av spilleautomater. Denne gangen har spillet fårr fem snurrende hjul og tre rader som vil inneholde de ulike symbolene. Spillet inneholder ni spillelinjer som spillerne vil kunne satse på, og spillet har selvsagt blitt fylt opp med absolutt alt som minner om julen. Dette er faktisk ikke den eneste spilleautomaten som kommer fra 1×2 Gaming som har julen eller vinteren som tema, de har også lansert en med tittelen Gingerbread Joy. De skiller seg uten tvil ut fra resten av deres spilleautomater og er også veldig unik sammenlignet med mange andre spill.
Spesialsymboler og bonusrunder

Yule be Rich kan selvfølgelig friste med et par ulike bonusrunder og spesialsymboler, det hadde tross alt ikke vært noe moderne spilleautomaten uten det. I Yule be Rich finnes det faktisk en gratisspinnfunksjon samt multiplikatorer og to ulike spesialsymboler. Det ene spesialsymbolet er wild og den kan ikke bare erstatte alle hovedsymbolene i spillet, men også utbetale den aller største gevinsten i spillet samt doble alle vinnende kombinasjon den er en del av. Allerede takket være wildsymbolet kan kasinospillere ende opp med noen utrolig flotte gevinster. Deretter finnes gratisspinnfunksjonen, en bonusrunde som vil bli aktivert når tre, fire eller fem scattersymboler dukker opp på hjulene. Dette scattersymbolet viser frem selve julenissen og spillerne vil bli belønnet med enten 5, 15 eller 15 gratisspinn, ut fra antallet scattersymbolet som dukker opp. Til sist finnes det nok et symbol som vil gi spillerne det lille ekstra som de gjerne er ute etter. Denne er i form av en alv og vil utbetale opp til 200 mynter for fem like symboler.
Spillernes innsatsalternativ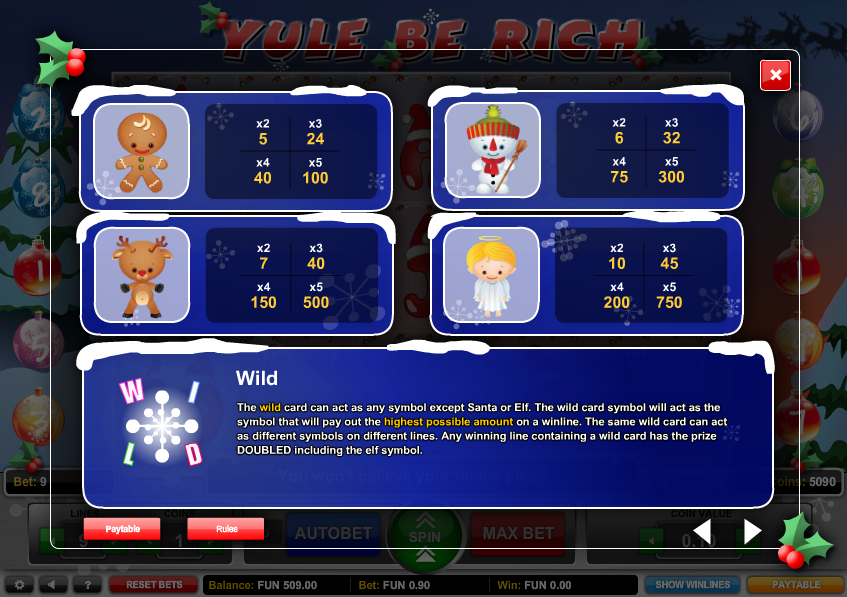 Denne spilleautomaten kan tilpasses de aller fleste ulike behov da det finnes en rekke ulike innsatsalternativ. Først og fremst kan spillerne selv velge og vrake mellom spillelinjene, selv om det kun finnes ni av dem. Deretter kan spillerne satse opp til fem mynter på hver aktive spillelinje og til sist velge en myntverdi. Denne kan være på 0,01. 0,02, 0,05, 0,10, 0,20, 0,30 og 0,50. Når alt dette er bestemt kan spillerne klikke på den runde grønne spin knappen og spillet vil settes i gang. På hver side av spin knappen kan spillerne deretter ta i bruk auto bet og maks bet knappene om de ønsker.
Spillet design
Det er ikke noe tvil om at spillerne vil få julestemning fra dette spillet. I bakgrunnen kan man se noen snøkledde trær og en mørk blå himmel, kanskje det er skumring på selve juleaften. På toppen av skjermen vil spillerne kunne få øye på Yule be Rich tittelen i røde bokstaver mens en kan skimte selve julenissen i sin slede som flyr avgårde med reinsdyrene. På hver side av hjulene har alle spillelinjene blitt markert opp med julekuler i forskjellige farger, nok en flott detalj i spillet.
Oppsummering
Yule be Rich er en flott spilleautomat som kasinospillere kan nyte 12 måneder i året. De fleste synes vel at julen kun tilhører desember måneden, men for de som synes at julen kan vare litt lenger, vil de kunne få litt julestemning fra nettopp dette spillet. 1X2 Gaming har gjort en flott jobb med både temaet, grafikken og alle detaljene i spillet. Noe av det kasinospillere kan se frem til i Yule be Rich er wildsymboler, scattersymboler, en gratisspinnfunksjon samt et ekstra spesialsymbol som vil gi bort noen flotte gevinster.