Egyptiske temaer er slett ikke noe nytt i spilleautomatenes verden, og det virker som dette er et utømmelig emne. Crown of Egypt er et spill fra IGT, og spillere som har prøvd andre automater med egyptiske tema vil sikkert kjenne igjen noe av tematikken, men når det er sagt, byr alle spill selvsagt på noe unikt. Her kan spillerne satse fra 0,80 til 400 euro per spinn, vel og merke dersom de aktiverer alle de 40 linjene. Spillerne har også muligheten til å vinne inntil 130 gratisspinn på rad, gjennom at gratisspinnene gjenutløses. Den teoretiske utbetalingen er på mellom 92,9 % og 95 %.
Mer om spillet

Crown of Egypt har 5 hjul og 40 gevinstlinjer. Det er fire rader i spillet, som betyr at det er fire symboler på hvert hjul, totalt 20 symboler på skjermen. I bakgrunnen ser man mystiske tegn og symboler. Spillet er veldig variabelt. Det betyr at det kan gå litt tid mellom gevinstene, men når man vinner, vinner man som regel litt større gevinster. Ettersom det kan gå mange spinn mellom gevinstene, er det lurt å være litt forsiktig når man velger myntverdi, slik at man ikke går tom for kreditter før man rekker å vinne noe.
Myntstørrelsen i spillet er fra 0,01 til 5,00 euro. Myntverdien ganges med 40 for å gi totalinnsatsen per spinn. Spillets jackpot er på 5000 mynter. I tillegg byr spillet på 1024 vinnermuligheter, men dersom man vil aktivere dette ekstrainnslaget, må man ut med 40 ekstra mynter per spinn. Dersom man aktiverer dette tillegget, er minsteinnsatsen altså 0,80 euro per spinn. Dette kan være litt mye for enkelte, men da kan man selvsagt prøve ut spillet helt gratis, og likevel nyte moroa.
Symbolene i spillet
Spillets unike symboler er selvsagt hentet fra Egypts storhetstid. Symbolene i dette spillet gir bare gevinst dersom man får 4 eller 5 av henne på samme linje. Her får man altså ikke gevinst for tre på rad, som i mange andre spilleautomater. Det gjør det litt mer utfordrende å vinne, men samtidig er gevinstene litt større når man vinner noe. Spillerne møter blant annet den vakre Kleopatra, som gir 500 mynter for fem like. Faraoen gir 350 mynter for fem like. Hundemasken gir 250 mynter for fem like, mens de to andre figurene gir 100 mynter for fem like.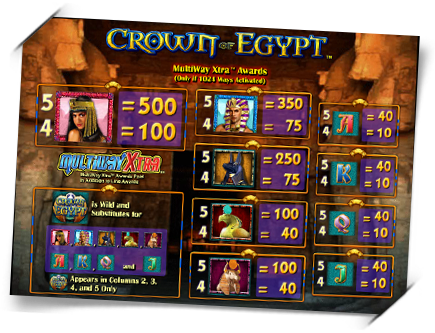 Spillet har også kortsymboler fra knekt til ess. Alle kortsymbolene har samme verdi, og g10 mynter for fire like og 40 mynter for fem like. Spillets logo fungerer som en wild. Dette er altså et symbol som kan ta plassen til alle de vanlige symbolene, og dermed fullføre vinnerrekker. Dermed trenger man bare tre like symboler, samt et wildsymbol for å få fire like.
Ekstrainnslag
MultiWay Xtra gir gevinst dersom man får det samme symbolet hvor som helst på etterfølgende hjul. Dette ekstrainnslaget gir også multiplikatorer dersom det samme symbolet dukker opp flere steder i samme kolonne. For å spille med ekstrainnslaget, må man betale litt ekstra per spinn, derfor må man vurdere mulighetene opp mot kostnaden. Det kan være morsomt å teste ut ekstrainnslaget, og da kan man heller velge å spille med en lavere myntverdi.
Om gratisspinn
Det er pyramidesymbolene som deler ut gratisspinn. Man trenger minst to pyramider for å vinne gratisspinn. Da får man utdelt 10 gratisspinn. Hvis man får tre pyramider, vinner man 15 gratisspinn, og med fire pyramider vinner man 20 gratisspinn. Gratisspinnene kan gjenutløses dersom man får to eller flere pyramidesymboler under gratisspinnene.
Alt i alt
Crown of Egypt byr på egyptisk inspirerte symboler, og spillet har 40 gevinstlinjer. Man kan vinne inntil 20 gratisspinn, som kan gjenutløses mange ganger. Spillet tilbyr også såkalt MultiWay Xtra. Dette er et innslag som gir spillerne hele 1024 vinnermuligheter. Det koster 40 mynter ekstra å aktivere dette innslaget, derfor må man vurdere om det er verdt kostnaden. Man må også huske at spillet er ganske variabelt, og at det kan gå noen spinn mellom hver gevinst.