Det sies at fotball er verdens mest populære spill, og derfor er det ikke rart at mange spill handler om fotball. Det finnes både konsollspill og gratisspill med fotballtema, og selvsagt finnes det også mange spilleautomater som er inspirert av dette fengende ballspillet. Penalty Shootout er et spill fra Playtech, og her står straffesparkene i fokus. Dette er ingen spilleautomat i ordets klassiske forstand, men spillet er en herlig avveksling fra andre typer kasinospill.
Spillets oppbygging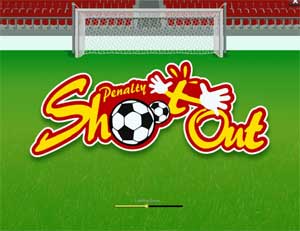 Spillerne blir ønsket velkommen av et skjermbilde som viser et mål, en målvakt og tribuner med supportere. Man trenger ikke å være fotballspiller for å prøve dette spillet, for alle kan lykkes. Spillet byr på mange multiplikatorer, og man har sjansen til å vinne virkelig stort dersom man lykkes. Spillerne blir presentert for fem piler, og hver pil viser oddsen for å skåre mål. Det første spillerne gjør, er å velge hvor mye de vil satse per spark. Man kan satse fra 0,10 euro til 100 euro. Deretter velger man hvor ballen skal sparkes. Pilene med odds på viser hvor stor sjanse man har til å vinne, men de viser også hvor mye man faktisk får i gevinst dersom ballen går i mål. En odds på x12 betyr at man har bare en tolvtedels sjanse til å skåre, men dersom ballen går i mål, vinner man 12x innsatsen. Den laveste oddsen er x3, og pilen i midten hare en odds på x5.
Til høyre for selve målet ser man både hvor man har valgt å sparke ballen, og man ser skåringsstatistikken. Lydene i spillet er hentet fra et fotballstadion, med jublende folk. Spillet er veldig enkelt oppbygd, slik at alle kan forstå det, og det er en veldig fin avkobling fra andre typer kasinospill.
Enkle valgmuligheter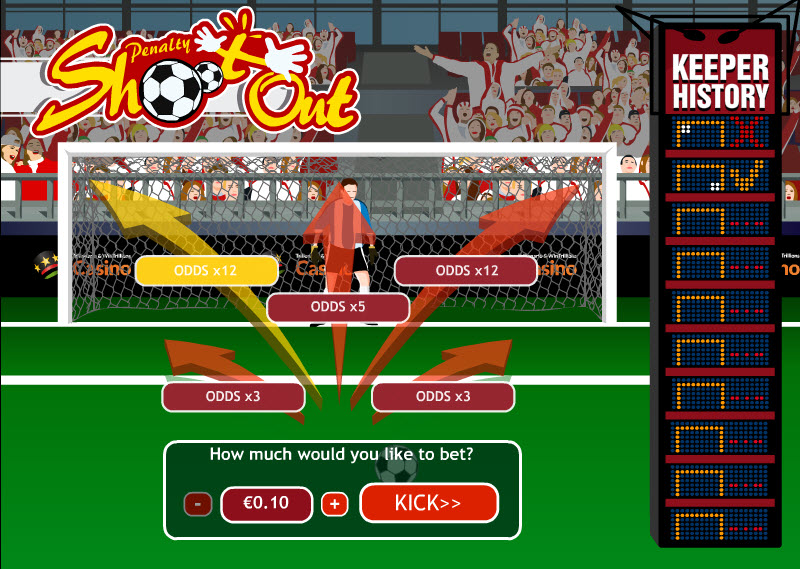 Dette spillet handler bare om straffespark. Straffespark er ofte noe av de mest spennende som kan skje i en fotballkamp, og her slipper man å vente på at noe skal skjer før man får ta straffesparket. Man kan spille uendelig mange straffespark på rad, og kanskje prøve å finne en god strategi for å vinne over keeperen. Selv om spillet er veldig enkelt, byr det likevel på spenning, og ettersom man kan satse både små og større beløp, velger man selv hvor nervepirrende man vil gjøre spillet. Med maksimum innsats kan man vinne virkelig store beløp, men man må selvsagt ikke la seg friste til å satse mer penger enn man har råd til å tape.
Valgmulighetene er enkle. Man velger nederste venstre eller nederste høyre hjørne for å få en odds på x3. Med skåring, vinner man 3x innsatsen. Spillerne kan velge å skyte midt på keeper, og da er oddsen x5, og gevinsten er 5x innsatsen ved skåring. De to øverste hjørnene har en odds på x12, og gir 12x innsatsen når man vinner. Det er altså teoretisk enklere å skåre når man velger lav odds, men, som i en vanlig fotballkamp er man aldri garantert å skåre. Det beste kan være å velge en lav innsats og heller skyte mange skudd, i stedet for å velge høy innsats og bare ha råd til ett eller to forsøk. Jo flere forsøk man gjør, desto større sjanse er det jo for at man lykke stil slutt, men om det lønner seg i lengden, gjenstår å se. Uansett er spillet morsomt og underholdende.
Alt i alt
Penalty Shootout er et arkadespill fra Playtech. Dette spillet går ganske enkelt ut på å skyte straffespark. Spillerne velger en innsats per spark, og det er vinkelen de skyter med som avgjør oddsen for å skåre. Oddsen forteller også hvor mange ganger innsatsen man vinner dersom man skårer. Det er lettest å skåre der oddsen er lav, men man vet aldri hvor keeperen kaster seg. Spillet har lyden av jublende supportere i bakgrunnen, og klarer å skape en god fotballstemning. Dette spillet er en fin avkobling fra andre typer kasinospill eller fra pokerspill på nettet.