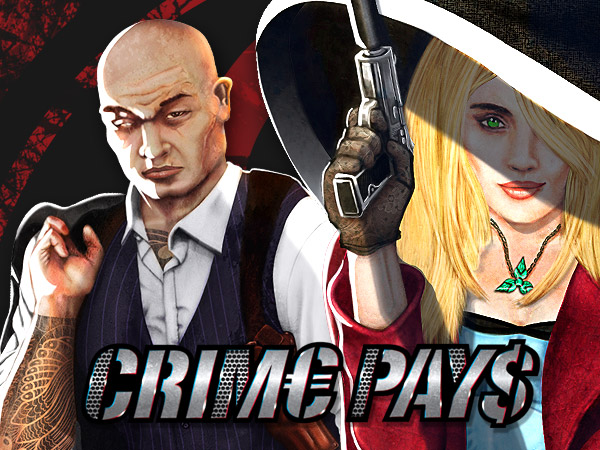 Slotmaskiner som får et tema som er blitt basert på kriminalitet i ulike former faller som regel i smak hos spillere. Det er jo tross alt spennende i seg selv, og når en da kombinerer det med online videosloter hvor en kan vinne fine gevinster så blir jo bare spenningen høynet enda mer.
Spillutvikleren
Spillutvikleren som står bak denne videosloten med navnet Crime Pays har derimot ikke så altfor mye erfaring med utvikling av spilleautomater innenfor dette temaet i løpet av de årene de har vært med. Utvikleren det er snakk om her er WMS Gaming, og de har hatt mer fokus på utviklingen av spilleautomater som er mer morsomme og underholdende på et litt lettere nivå, sånn som Wizard of Oz-spillet og Star Trek-spillene. Crime Pays videosloten er derimot blitt lansert for å by på noe litt mer annerledes og litt mørkere sammenlignet med deres tidligere utgivelser. Denne videosloten vil nok overraske en god del spillere, da den som sagt ikke helt passer inn i WMS Gamings tidligere historie innenfor online gaming. Men de har likevel mestret også dette temaet, i likhet med deres andre slotmaskiner. Det at Crime Pays byr på morsomme bonusrunder, imponerende multiplikatorer og en flott jackpot øker jo bare interessen enda mer.
Temaet
Denne videosloten har fått de standard fem hjulene som de aller fleste online videosloter for tidne har, den har derimot litt flere spillelinjer for spillerne enn hva som er standard. Den har nemlig fått hele 50 spillelinjer som en kan velge mellom, noe som de fleste spillere ikke har noen klager over. Når man går inn på denne sloten for første gang kan sloten faktisk minne litt om en online slotversjon av et av Grand Theft Auto-spillene – ved første blikk. Det er nok tross alt en god del spillere der ute som virkelig ønsker at en spilleautomat basert på Grand Theft Auto skal bli lansert på nettkasinoer, men foreløpig så får altså denne sloten være nok. Spillets bakgrunnshistorie handler om en pensjonert politimann som har endt opp med å fortsette jobben i det private, og han er da ute etter hevn på brorens død. Så plottet og temaet i hele slotmaskinen er egentlig så mørkt og dystert som det kan få blitt, og hvem setter vel ikke pris på litt mørke slotmaskiner en gang i blant?
Bonusrunder, gratisspinn og en 30x multiplikator
Det aller første som bør nevnes av spesialfunksjoner i denne sloten er Mastermind-bonusen. Dette er faktisk en av de aller mest spennende bonusfunksjonene som mest sannsynlig finnes i noen av markedets spilleautomater. Her er det spillerens oppgave å finne det kriminelle geniet gjennom søk i ulike områder av spillet. Dersom spilleren klarer dette kan altså man vinne en jackpot-sum på minst $50,000. For hver eneste gang en spiller prøver denne slotmaskinen og velger ut et gjemmested hvor personen ikke gjemmer seg, øker denne jackpotten. Allerede i denne spesialfunksjonen kommer nok spillerens puls til å øke litt mer enn når enn vanlig slotmaskin spilles.
Denne bonusfunksjonen er faktisk såpass spennende at det nesten kunne holdt med denne ene bonusen, men det finnes også en gratisspinn-funksjon. Gratisspinnrunden blir trigget når man får gratisspinn-bonussymbolet på det femte hjulet samtidig med «crime pays»-symbolet. Da blir man belønnet med en rekke gratisspinn som blir regnet ut fra verdien på innsatsen man spiller med. Alle gevinster i gratisspinn har en multiplikator på 2x aktivert hele runden igjennom.
Vurdering av spillet
Denne sloten har virkelig alt en spiller kan ønske seg; flott grafikk, et spennende tema, underholdende spesialfunksjoner og ikke minst noen store gevinster som man kan stikke av med. Mastermind-bonusen er helt klart det beste ved hele spillet, og det faktum at det i tillegg finnes enda to bonusfunksjoner til gjør at det mest sannsynlig ikke er mulig at man kan gå lei å spille på denne spilleautomaten. WMS Gaming viser at de absolutt kan kunsten lage dypere, mørkere videosloter, og de bør absolutt komme med noen flere – kanskje til og med en oppfølger til Crime Pays!