Om spillet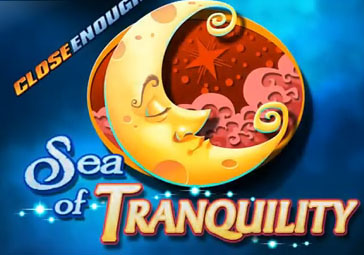 Sea of Tranquility er en femhjuls spilleautomat med drømmende vakre illustrasjoner på symbolene og flere finesser som har både fordeler og noen ulemper. Drømmeverdenen spillet inviterer deg inn i er som hentet fra en riktig vakker eventyrbok med art nouveau-inspirerte illustrasjoner, samtidig er det en verden med høyst realistiske vinnersjanser, ikke minst på gratisspinnene som signaliseres med den skarpe ringingen fra en vekkerklokke som river deg ut av eventuelle drømmerier.
Spillets detaljer
Det er flere uvanlige momenter ved Sea of Tranquility, som kan gjøre spillet litt forvirrende før man helt har kommet inn i det. Du kan sette myntverdien på vanlig måte, mellom 0.01 og 5.00, hvilket gir en minsteinnsats på 0.30 og en maksinnsats på hele 150, ettersom du hele tiden satser på alle spillets 30 innsatslinjer. «Quikset» lar deg velge en totalinnsats, som så automatisk fordeles likt på alle de 30 innsatslinjene. Autoplay lar deg velge å spinne et visst antall omganger eller minutter, eventuelt til du har tapt eller vunnet en viss sum. Autoplay stopper automatisk når du får gratisspinn. Wildsymbolet utvider seg alltid slik at det fyller et helt hjul!
Bonusfunksjoner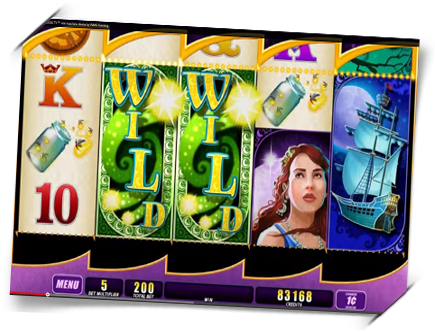 Spillet har fem hjul og tre rader, men over og under hver av radene er et «close enough area» – et nær-nok-område, og får du en wild eller et bonussymbol her kan det få betydning for spillet. En wild i nær-nok-området fyller hjulet på vanlig måte. Et scattersymbol i nær-nok-området teller mot bonus på sitt hjul. I Sea of Tranquility må også scattersymbolene ligge etter hverandre fra venstre til høyre, men det spiller ingen rolle hvor på hjulene de havner, så lenge det er ett på minst to hjul fra venstre mot høyre. To scattersymboler gir sju gratisspinn og dobler samtidig alle gevinster med to. Tre scattersymboler gir 10 gratisspinn og en multiplikator på 5x. Fire gir 20 gratisspinn og en 10x multiplikator, mens ett scattersymbol på hvert hjul gir hele 50 gratisspinn og en 25x multiplikator!
Får du flere scattersymboler i løpet av gratisspinnene får du også enda flere gratisspinn.
I gratisspinnene teller dame, skip og ugle-symbolene som samme symbol, hvilket dramatisk øker vinnersjansene dine. To like langs en innsatslinje gir ti, tre gir 40, fire gir 100 og fem like gir 250 mynter.
Sea of Tranquility har en bonusgaranti som går ut på at du skal vinne minst 5x innsatsen din i løpet av gratisspinnene, og gjør du ikke det i løpet av disse rundene økes gevinsten din automatisk til det nivået.
Spillets gang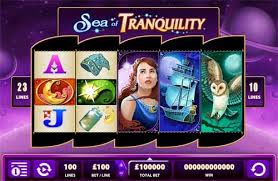 Spillet går ut på å få tre eller flere like symboler langs spillets innsatslinje, fra venstre mot høyre, men det er noen unntak for denne regelen, da visse symboler gir gevinst for bare to like (på de to første hjulene). Wild gir 25 mynter i gevinst for to like, 125 for tre like, 500 for fire og 5 000 for fem like.
De tre symbolene dame, skip og ugle dekker tre rader hver, slik øker sjansen for at i det minste litt av uglen skal dukke på hjul ved siden av enten hele eller deler av et annet uglesymbol. Det spiller ingen rolle hvilken del av uglen det gjelder, de tre radene er alle del av samme symbol. De tre symbolene er like mye verdt, så dame, ugle eller skip, to like gir 10 mynter, tre like gir 50, fire gir 100 og fem like gir 250 mynter. Som nevnt over teller alle disse tre symbolene som samme symbol i gratisspinnene.
Øvrige symboler som gir gevinst er gullkompasset, en glasskrukke med ildfluer og en nattlue. De gir alle 25 mynter for tre like, 50 for fire og 75 for fem like. Utover dette gir fem forskjellige tall og bokstaver 15 for tre, 35 for fire og 60 mynter for fem like.
Konklusjon
Sea of Tranquility er et vakkert spill, men med så mange forskjellige symboler kan det ta tid mellom hver gang de legger seg riktig og utløser gevinster. Med generøse wilds som dekker alle hjulene kan dog gevinstene fort bli bra når de først slår til.