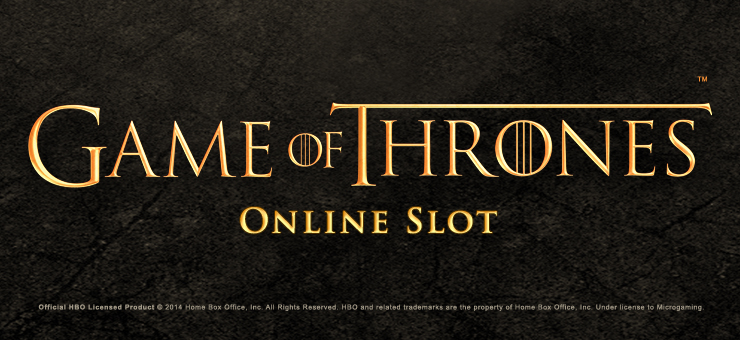 Game of Thrones er en spilleautomat som gjennom tidene og er kjent for sin voldsomme og brutale historier om de syv kongerikene fra spillutvikleren Microgaming. Microgaming er et av de største spillutviklerselskapene på markedet og de står også bak noen av de mest populære spilleautomatene som finnes. De har tidigere både hatt filmet og tegneserier som tema i sine spilleautomater, og denne gangen er det en TV-serie som er inspirasjonen. Game of Thrones er et av de mest sette TV-seriene. Det er TV-serien som er i fokus i spilleautomaten, noe som kommer til å glede mange. Microgaming har en avtale med de som står bak TV-serien, slik at de har kunnet bruke flere originale elementer fra TV-serien, men de mest brutale delene er så klart utelatt. Game of Thrones er helt klart en flott spilleautomat, med mange gode spesialfunksjoner.
Grafikk og spilleskjermen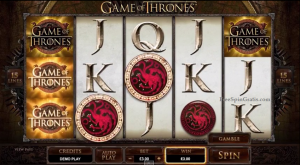 Spilleskjermen i Game of Thrones er helt klart inspirert av TV-serien og det er tydelig at Microgaming har brukt flere originale elementer. Bakgrunnsbildet man finner på spilleskjermen viser noen deler av et symbol som dukker opp i tv-serien. Det er mørkebrune farger som går igjen på spilleskjermen, slik at det er en litt dyster stemning, men det fungerer godt til tema. Øverst på spilleskjermen finner man spilleautomatens logo, og den er akkurat lik den man ser i tv-serien. Midt på spilleskjermen har man spilleautomatens hjul og symboler. Bakgrunnen på hjulene er i en lys beige farge, noe som gjør at symbolene kommer frem enda bedre. Symbolene er enten i form av ulike elementer hentet fra tv-serien, eller så er de i form av de høyeste symbolene hentet fra en vanlig kortstokk. De er da satt inn i bokstaver som er i samme form som spilleautomatens logo. Nederst på spilleskjermen har man spilleautomatens knapper. De er satt opp i samme fargenyanser som resten av spilleskjermen, slik at de virkelig passer inn. Kvaliteten på grafikken er utrolig høy og gir et virkelig godt inntrykk til spillerne.
Spesialfunksjoner i spilleautomaten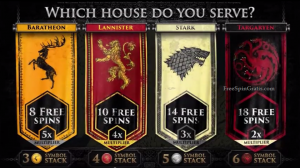 Det er en god del spesialfunksjoner satt inn i Game of Thrones. Man har totalt to forskjellige spesialsymboler og de har da hver sin funksjon som de kan aktivere. I tillegg til det har man en funksjon som kan bli aktivert på slutten av hver eneste spillerunde. Det første spesialsymbolet er spillets wildsymbol. Wildsymbolet er i form av spilleautomatens logo og den fungerer som spillets joker. Som joker kan den erstatte alle andre vanlige symboler som dukker opp på hjulene. Wildsymbolet kan dukke opp som stablet wild underveis. Det vil da si at den ikke dukker opp alene og den kan derfor øke vinnersjansene betraktelig. Det andre spesialsymbolet i spilleautomaten er scattersymbolet. Scattersymbolet er i form av jerntronen og den kan aktivere gratisspinnrundene. Gratisspinnrundene i Game of Thrones er satt opp på en helt spesiell måte. Man har fire ulike oppsett man kan velge mellom og det følger da med andre fordeler ut i fra hvilket oppsett man velger. Blant annet kan man få med multiplikasjoner og stablede symboler. Den siste spesialfunksjonen i Game of Thrones er en kvitt eller dobbelt funksjon som kan dukke opp på slutten av hver spillerunde. Funksjonen går ut på at man kan prøve å øke verdien på den gevinsten man allerede har fått. Denne funksjonen kan brukes opp til fire ganger på rad.
Hvordan sette i gang spilleautomaten
Det første man skal gjøre i Game of Thrones er at man må velge hvilken versjon man vil spille på. Det er enten en versjon som har 15 innsatslinjer eller så har man en versjon som har ingen innsatslinjer, men heller 243 ulike måter å vinne på. Innsatsen i spilleautomaten vil derimot være det samme uansett hvilken versjon man velger. Når det kommer til justeringene man må gjøre så er det innsatsnivå og myntverdi som skal velges. Myntverdien starter på 0,01 euro og innsatsnivået strekker seg fra en og opp til 10.