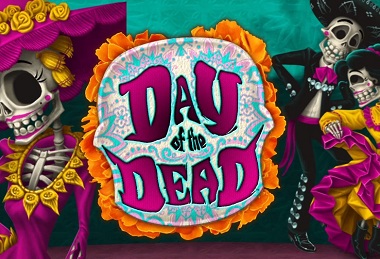 Det er utrolig mange videosloter som finnes der ute som fanger spillerens oppmerksomhet bare på grunn av tittelen på slotmaskinen. Noen ganger lever spillet opp til forventingene, mens det andre ganger rett og slett bare er selve tittelen som er spennende. IGT har laget en solid versjon av et mer eller mindre underholdende tema, og fanget i alle fall vår oppmerksomhet!
Tema
Når det kommer til denne videosloten så er nok den beste beskrivelsen på den at forventningene til slotmaskinen ut fra spillets tittel kan være litt annerledes enn hva spillet faktisk byr på. De aller fleste ser vel for seg et gotisk tema, hvor spilleren vil kunne se døden og alt mørkt og dystert i verden på hjulene. Det som derimot venter spillere når man går inn i denne videosloten er et ganske så letthjertet og nesten litt fargerikt syn på døden og horror-sjangeren. Om dette betyr at spillerne blir skuffet eller ikke er vel egentlig opp til hver enkelt. Det skal da sies med én gang at det er absolutt ikke noe galt med slotmaskinen i det hele tatt, det hele koker ned til bare en noe misledende tittel.
Spillets detaljer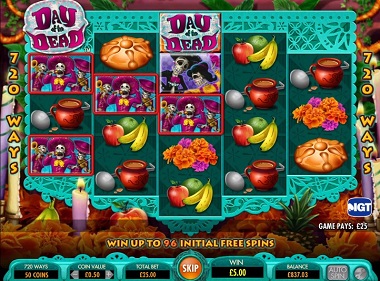 I denne slotmaskinen med navnet Day of the Dead vil spillere finne de vanlige fem hjulene, men i stedet for bare 20 eller 40 spillelinjer er det hele 720 måter en spiller kan vinne på i dette spillet. Det er absolutt ikke noe standard med det antallet i det hele tatt. Når det kommer til de ulike symbolene som er blitt designet til sloten, kan spillerne finne både skjeletter som er blitt sminket, fargerike frukter, en pai, en krukke med ukjent innhold, vakre blomster – og til og med en trio av et mariachi-band som sørger for at feiringen får musikken den trenger. I tillegg til disse symbolene så er det selvfølgelig ulike spesialsymboler som etterhvert som man spiller også vil dukke opp på hjulene.
Bonussymboler og gratisspinn i Day of the Dead
De aller fleste spillere vil nok allerede bli imponert over det at man har hele 720 ulike måter en kan vinne på i denne sloten, men det stopper ikke der. Day of the Dead sloten byr nemlig på en rekke ulike spesialfunksjoner og spesialsymboler i tillegg. Spillet inkluderer blant annet et wildsymbol som erstatter alle andre symboler, med unntak av scattersymbolet, for at gevinstgivende kombinasjoner skal formes. Dette wildsymbolet blir denne gangen representert av kaker laget i form av kister. Sloten har også et scattersymbol som er representert av en veldig fargerik hodeskalle. Dersom en spiller får opp minimum tre av disse scattersymbolene på hjulene vil man bli belønnet med en multiplikator på gevinsten som kan gå opp til 50x.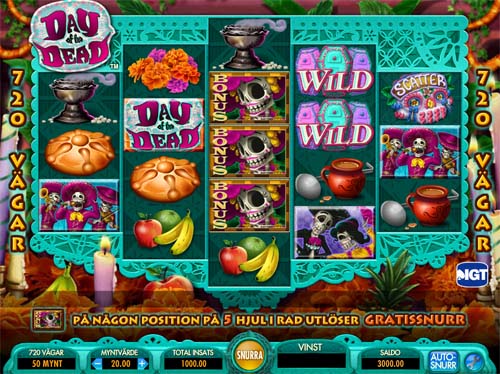 Slotmaskinen har selvfølgelig også fått bonussymboler som holder nøkkelen til aktiveringen av gratisspinn-bonusrunden. Dersom denne runden skal aktiveres trenger spilleren en kombinasjon av bonussymbolene på hvert av de fem hjulene. Med dette vil spillere motta minimum åtte gratisspinn, men det stopper ikke der. De samme bonussymbolene i spillet fungerer nemlig også som stablede symboler, noe som betyr at det er et potensiale tilstede for å vinne opp til hele 96 gratisspinn, noe som kan bare være starten på det hele. Så er det også en mulighet for at gratisspinnene blir re- aktiverte, og spillerne kan ende opp med en belønning på opp til 240 gratisspinn.
Konklusjon
Sloten er riktignok ikke en like dyster slotmaskin som Zombies eller Halloween Fortune, så de som er store fans av horror sjangeren vil nok kanskje bli skuffet over at denne sloten er såpass fargerik som den er. Likevel så er spillets overraskende tema utrolig vel gjennomført og de aller fleste spillere vil ha det moro i løpet av spillet. Scattersymbolene og bonussymbolene i spillet sørger i tillegg for at det er mengder med underholdning og spenning i løpet av spillet, og det er rett og slett en slot som man vil angre på å ha gått glipp av om man ikke prøver den ut.