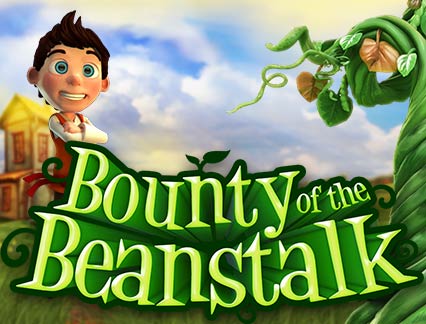 Det er ytterst få mennesker i dag som ikke kan den flotte og spennende historien om Jack og bønnestengelen. For de fleste er dette nemlig en historie og et eventyr som man vokste opp med eller kanskje en historie som barna sine vokste opp med. Uansett hvordan de enkelte har kjennskap til denne historien, har alle på en eller en annen måte hørt om den. For de få der ute som kanskje enda ikke har kjennskap til den, er det aldri for seint å lese den flotte historien. Denne historien har blitt fortalt på mange ulike måter, både gjennom bøker, tegneserier, filmer og nå har den dukket opp som en spilleautomat. Det er selskapet Ash Gaming som er eid av Playtech som har lansert dette spillet og de har gjort en utrolig god jobb. Grafikken i spillet har blitt laget på en søt og tegneserie- lignende måte, spilleskjermen er fylt med farger og spillet inneholder mengder med underholdning. Underholdningen kommer i en rekke ulike former, da det finnes både en progressiv jackpot, en bonusrunde og flere ulike spesialsymboler som kan dukke opp på hjulene.
Spillernes innsatsmuligheter
Spillutviklerne hos Playtech har plassert en meny nederst på spilleskjermen og det er gjennom denne at spillerne vil kunne tilpasse en rekke ulike valg. Spillerne vil kunne bestemme selv hvor mange av spillets spillelinjer som skal aktiveres, men spillelinjene kan ikke deaktiveres en etter en. Spillerne kan velge om de skal spille med enten 1, 10, 20, 30, 40 eller 50 spillelinjer. I tillegg til dette kan spillerne velge hvor mye de skal satse på hver aktive spillelinje. Dette vil spillerne kunne justere på mellom 0,01 og oppover til 10. Dermed kan spillerne faktisk satse helt opp til 500 på hver spillerunde. Til sist vil spillerne se at en auto play-funksjon er tilgjengelig dersom det skulle være ønskelig.
Symboler i spillet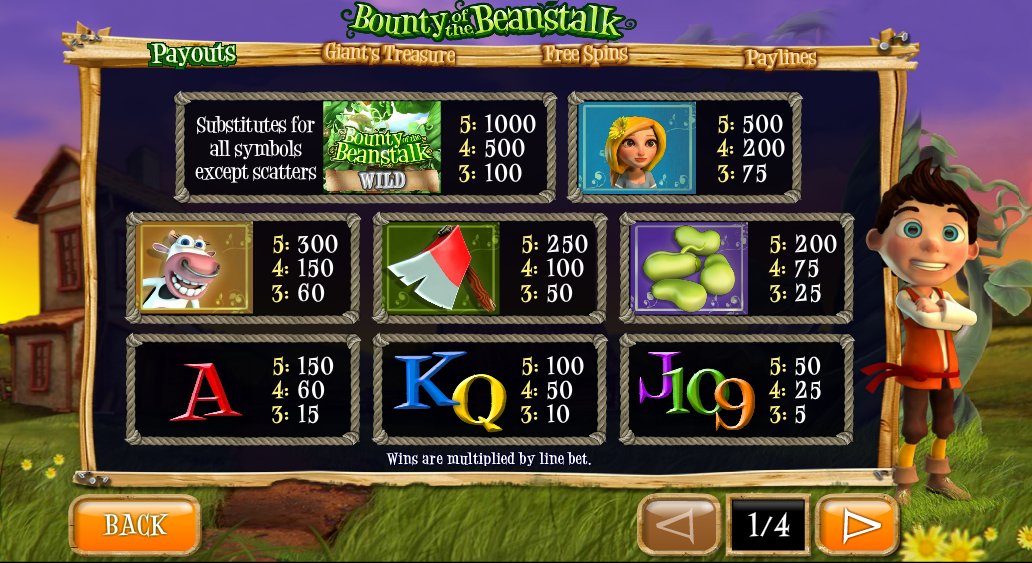 Spillerne kan se frem til en rekke flotte symboler i spillet, og alle disse symbolene har fått et flott design og er fylt med sterke farger. Spillerne vil kunne se symboler sånn som en vakker jente, en fornøyd ku, en øks med et hakk i og de kjente magiske bønnene. Dette er spillets unike symboler, men i tillegg til dem finnes det også noen andre symboler som viser de klassiske spillekortsymbolene. Disse symbolene har blitt laget i sterke flotte farger som gjør at spillet virkelig blir lyst opp enda litt mer. I tillegg til dette finnes det selvsagt noen spesialsymboler i spillet, både et wildsymbol, et bonussymbol og et gratisspinnsymbol.
Bonusrunder
Det finnes, som nevnt allerede, en rekke ulike spesialfunksjoner som spillerne kan glede seg til. En av dem er Giants Treasure-bonusen. I denne vil spillerne se at Jack har klatret opp bønnestengelen og oppgaven hans nå er at han skal ta tre skatter med seg. For at denne bonusrunden skal bli aktivert, må spillerne få scattersymbolet på hjulene en, tre og fem for at spillet skal bli aktivert. Den progressive jackpotten i spillet kan også bli vunnet i denne bonusrunden, dette skjer ved at spillerne finner Golden Money Bag, Golden Goose og Golden Harp. Spillerne vil kunne velge ut nye symboler helt frem til kjempen våkner, når det skjer vil bonusrunden være over. I tillegg til denne runden finnes det en gratisspinnmodus. I denne runden må Jack rømme fra kjempen, og denne runden vil bli aktivert dersom tre gratisspinn symboler dukker opp på hjulene en, tre og fem. Dersom dette skjer vil spillerne motta 10 gratisspinn som en belønning.
Oppsummering
Bounty of the Beanstalk er nok en flott lansering fra spillutviklerne hos Playtech. Den har fått et flott design, sjarmerende og fargerik grafikk, og den inneholder en rekke flotte spesialfunksjoner som spillerne kan se frem til. Det finnes med andre ord ingen gode grunner til at en ikke skal prøve et par spillerunder på denne spilleautomaten. Bounty of the Beanstalk inneholder nemlig absolutt alt en kasinospiller kan ønske seg.