Det var lenge veldig stor etterspørsel etter spilleautomater hvor spillerne kunne kommunisere med hverandre samtidig som de spilte. Enten dette gikk gjennom en egen chat-funksjon eller kanskje via noen av funksjonene i spillet. Dette ønsket ble endelig oppfylt for spillerne i en spilleautomat fra PAF. De lanserte spilleautomaten med tittelen Bee Together, som faktisk endret på dette, til glede for mange kasinospillere. Spillet ble lansert på sommeren i 2012, og Bee Together lar spillerne hjelpe hverandre på reisen frem til bonusspillet. Dette vil de kunne gjøre samtidig som de prater med hverandre, noe som selvsagt skaper en helt ny og annerledes opplevelse i en spilleautomat. Dette gjør at opplevelsen blir enda hyggeligere. Dette spillet er rett og slett en frisk pust blant alle de vanlige spilleautomatene som finnes på nettkasinoer. Den vil uten tvil falle i smak hos en rekke ulike spillere. Det at spillet samtidig kan friste med både wildsymboler og et bonusspill gjør det så klart enda bedre.
Grafikken og temaet i spillet
Bee Together handler selvsagt om biene og livet de lever, noe som de fleste kanskje gjetter allerede fra spillets tittel. Når man klikker seg inn i Bee Together vil man bli ønsket velkommen til en flott sommerdag hvor hjulene i spillet er noe helt unikt. Symbolene blir nemlig spinnet frem på et spindelvev og det er dette som er oppsettet til spillet. I bakgrunnen vil spillerne kunne høre en hyggelig sang som er flott og sommerlig, noe som passer perfekt til spillet. Samtidig vil man kunne høre alle klassiske lydene som man hører på sommeren, i form av fuglekvitter, bier som summer rundt og litt svak musikk som spilles. Temaet i spillet er ikke annet enn helt perfekt gjennomført, med både vakker og ikke minst veldig passende grafikk og lydeffekter. Alle tingene som hører sommeren til kan man finne i dette spillet.
Spillernes forskjellige innsatsmuligheter
På samme måte som alle andre spilleautomater, må spillerne justere på de ulike innsatsalternativene i spillet før de kan spinne i gang hjulene. Bee Together har blitt satt sammen av fem hjul og det finnes tre rader med symboler. I Bee Together må spillerne justere på hvor mye de vil satse per spillelinje. Dette kan spillerne variere mellom 0,01$ og oppover til 1$, da spillet inneholder 20 ulike spillelinjer man kan satse på, vil dette si at den maksimale innsatsen er på 20$. Spillerne kan derimot ikke justere på antallet aktiverte spillelinjer da alle 20 alltid vil være aktiverte.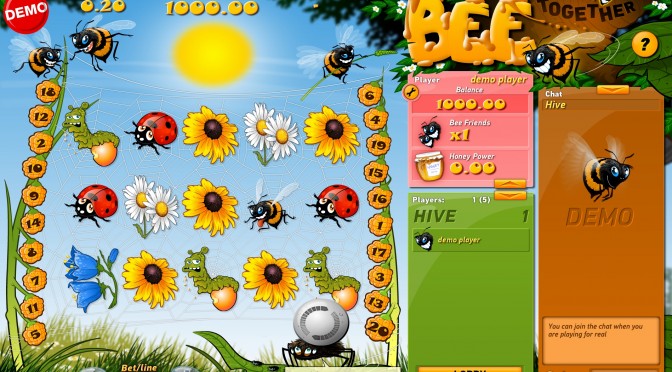 Symboler og spesialsymboler i Bee Together
Som nevnt tidligere har Bee Together både wildsymboler og et spennende bonusspill den kan by på. Bonusspillet vil bli aktivert med en gang det dukker opp to bonussymboler på hjulene, disse symbolene kan spillerne kjenne igjen ved at det er honningkrukker på de. Det kreves minimum to av disse honningkrukkene for at spillet skal aktiveres. Siden dette er et spill hvor spillerne kommuniserer med hverandre, vil alle de andre spillerne i runden få spille bonusspillet hver gang den dukker opp. Dette spillet har blitt satt sammen av fem ulike nivåer, men dersom spillerne lykkes i det første nivået i spillet, vil det andre settes i gang og slik fortsetter det frem til siste nivået. Deretter finnes wildsymbolet i spillet, på denne vil man kunne se ordet «wild» inne i spindelvev. Wildsymbolet vil kun dukke opp på det tredje hjulet i spillet, med den kan deretter ekspandere videre til helt tilfeldige posisjoner. Wildsymbolet fungerer på vanlig måte ved at den erstatter alle andre symboler i Bee Together, men unntak av bonussymbolet.
Konklusjon
Bee Together er uten tvil det som man kan kalle for et unikt og spesielt spill, mye takket være chat-funksjonen i spillet. Temaet i spillet sørger for at det hele blir en hyggelig opplevelse, enten man spiller alene eller sammen med andre kasinospillere. Det er derimot ikke noe tvil om at det er hyggeligst når man spiller sammen med flere kasinospillere.