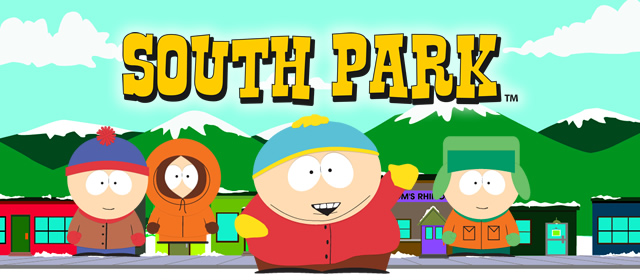 TV-serien South Park er både elsket og hatet, alt etter hvem man spør. Serien er veldig populær, og det er derfor ikke overraskende at Net Entertainment har valgt å lage en spilleautomat basert på serien. Automaten har fem hjul og 25 gevinstlinjer, og alle som følger med på serien, kommer til å kjenne igjen symbolene i spillet.
Tema
South Park er en tegneserie som har blitt kjent for sine dårlig tegnede karakterer, støtende innhold, men samtidig veldig innsiktsfulle humor, og brutale satire. TV-serien har gått i mer enn 15 år, og dermed har spilleautomaten virkelig et sterkt krav om å levere til spillerne. For å kunne leve opp til forventningene, har Net Entertainment pakket inn mange spesialinnslag i spillet.
Grafikk og animasjon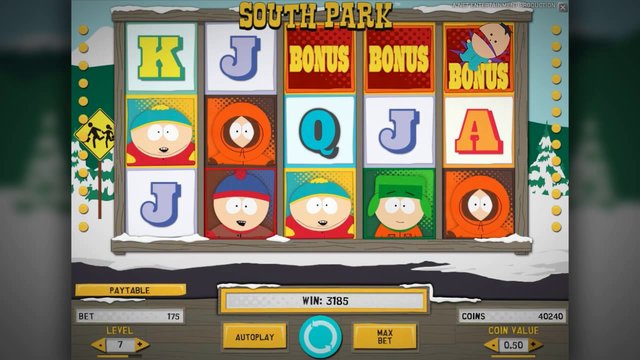 Grafikken og følelsen fra TV-serien er gjenskapt på en god måte i spillet. Til og med smågevinstene følges av korte animasjoner, og karaktersymbolene snakker eller kommer med kommentarer. I grunnspillet er gevinstene relativt små, men de kommer desto oftere. Mange av gevinstene er lavere enn innsatsbeløpet, men heldigvis har man muligheten til å sikre seg større gevinster i løpet av spillets gang. Spillet har fire bonusrunder.
Spesialsymboler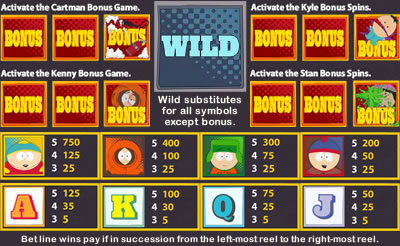 Spillets symboler er kortsymboler, bonussymboler, wildsymboler og symbolene av de fire hovedkarakterene. De fire hovedpersonene finnes både som vanlige symboler og som bonussymboler. Karakterenes bonussymboler finnes bare på hjul nummer 5, og er et bilde av karakteren, med påskriften Bonus.
Det vanlige bonussymbolet har bare ordet Bonus skrevet på seg. Dette bonussymbolet kan bare dukke opp på hjul nummer 3 og 4. Man trenger to bonussymboler, i tillegg til bonussymbolet til en av hovedpersonene for å komme til et bonusspill. Wildsymbolet er kort og godt et skilt med ordet "WILD". Wildsymbolet kan erstatte de vanlige symbolene, men det kan ikke erstatte noen av bonussymbolene.
Bonusspill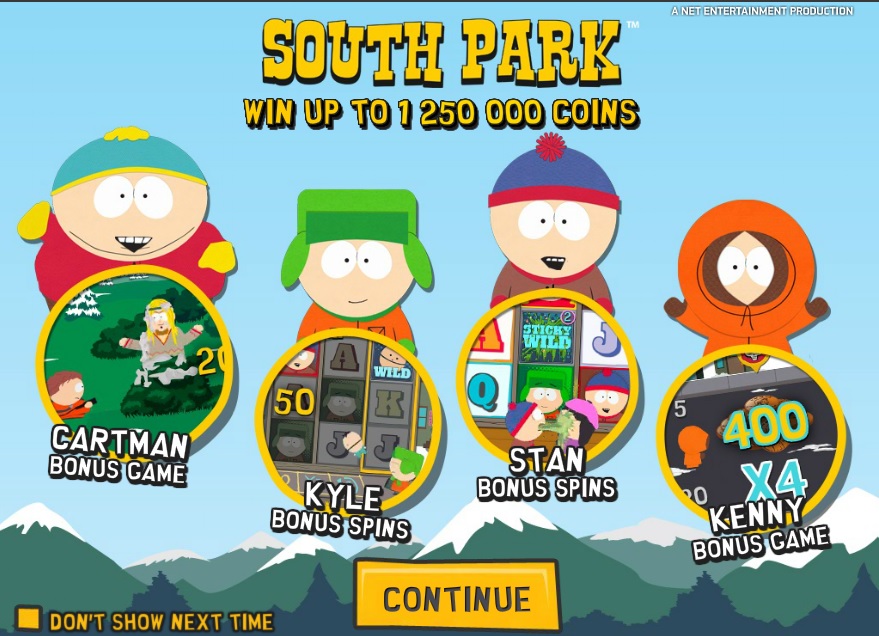 Bonusrundene utløses av de fire hovedpersonene i spillet (Stan, Cartman, Kyle og Kenny). Dersom man får to vanlige bonussymboler, samt et tredje bonussymbol på hjul 5, som viser en av disse karakterene, kommer man til det tilhørende bonusinnslaget. De fire bonusrundene er ulike, og ikke bare i antall gratisspinn man vinner. Net Entertainment har tenkt nøye igjennom spillet, og har valgt å gjøre hvert bonusinnslag unikt.
Kennys bonusspill går ut på at man skal guide Kenny gjennom ulike soner. Som vanlig går Kenny midt i veien, uten tanke på egen sikkerhet. Spillerne skal velge hvor han skal gå, men det er mange farer som lurer, alt fra biler til fallende fly og åpne kumlokk i gaten. Hvert skritt man tar i spillet kan føre til at man vinner en bonusgevinst, eller en multiplikator. Den tredje muligheten er at Kenny dør i et uhell. Kenny har tre liv, og noen av multiplikatorene i spillet er ganske store, slik at man har relativt gode muligheter til å vinne i dette spillet.
I Cartmans bonusspill skal Cartman spraye vann på buskene og avdekke hippiene som skjuler seg. Dersom man finner to hippier i samme busk, vinner man dobbel gevinst, men dersom man finner en heavy metal fan, går bonusen tilbake til null. Runden slutter når Cartman avdekker politisymbolet for andre gang.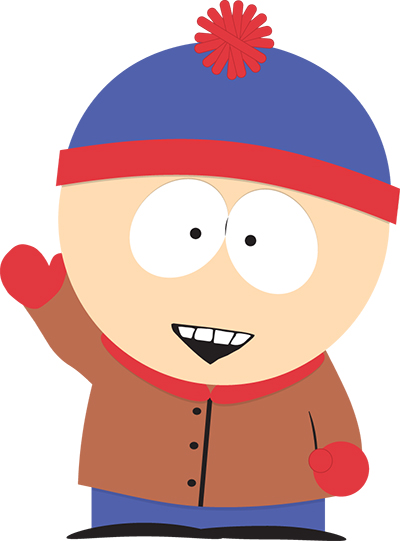 Stans bonusrunde gir spillerne et fastklebet wildsymbol, en såkalt "sticky wild", midt på hjul 3. Dette blir værende der i minst to spinn, og andre "klebrige" wilds kan dukke opp i hvilket som helst spinn. Runden slutter når det ikke lenger er noen sticky wilds igjen på hjulene.
Kyles bonusrunde gir 10 gratisspinn. Kyle sparker til baby Ike, som lander på et symbol nederst på skjermen. Spillerne kan vinne 2x eller 10x multiplikator, eller de kan få symboler som gir dem 50x eller 500x innsatsen. De kan også vinne tre nye gratisspinn.
Tilfeldige innslag
Det er også tre miniinnslag i spillet, som utløses tilfeldig. Innslaget som heter Mr. Hankey dukker opp ganske ofte, og endrer minst tre av symbolene til wildsymboler på hjul nummer 1, 3 og 5. Dette kan føre til ekstra gevinster. Innslaget som heter Cartman endrer en blokk på inntil 3×3 symboler til wilds på hjul nummer 2, 3 og 4. Dersom man er heldig med de andre symbolene på linjen kan utbetalingene bli ganske gode. I miniinnslaget Terrance and Phillip dukker de to kanadierne opp og deler ut tre wildsymboler på hjul nummer 2, 3 og 4.
Oppsummert
Alle spesialinnslagene og bonusrundene gjør South Park til noe mer enn en vanlig spilleautomat. Det er alltid noe nytt å glede seg til i morsomme spillet. Mengden bonusspill og ulike innslag gir spillerne høy underholdningsverdi, og de ulike multiplikatorene kan gi en ekstra dytt og gjøre at opplevelsen klatrer enda høyere.