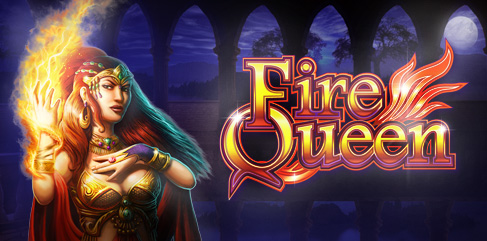 Fire Queen spilleautomat har ingen egentlig handling. Den har først og fremst et magisk og mystisk tema, som ikke er hentet fra noen bestemt historie. Men mange av symbolene er likevel gjenkjennbare, som vingehester og skatter. Spillet er laget av WMS Gaming, og automaten har hele 11 hjul og 100 gevinstlinjer. Dette er en veldig variabel spilleautomat. Det betyr at gevinstene kommer forholdsvis sjelden. Derfor må man være forberedt på å tape en del penger før man vinner. Det beste er å ha god tid når man spille dette spillet, slik at man har tid til mange spinn. Det kan også lønne seg å spille med lav innsats, slik at man ikke taper så altfor mye.
Spillets oppbygging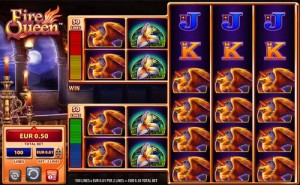 Dette spillet består av tre hjulsett. Til venstre på skjermen er det to små hjulsett, som hvert har to hjul med to symboler. Men disse hjulene spinner uavhengig av hverandre, slik at de i praksis fungerer som åtte hjul. Til høyre på spillskjermen er det et større hjulsett som består av tre hjul med seks symboler på hvert hjul. Jokersymboler som kommer på de små hjulsettene, blir overført til det store hjulsettet. Der blir det plassert på den tilsvarende posisjonen, og deretter beregnes gevinstene.
Selv om dette oppsettet kan virke komplisert, er det lett å lære seg hvordan spillet fungerer. Dersom man aldri har spilt Fire Queen før, kan man prøve spillet som gratisspill. Da lærer man seg hvordan spillet virker, og kan teste det ut uten å tape penger.
Symboler
Ilddronningen dukker selvsagt opp i dette spillet, sammen med vingehester og en slags ildfugl. Grafikken i spillet er veldig bra. Ilddronningen er spillets jokersymbol, som kan erstatte andre symboler for å fullføre vinnerrekker.
Innsatser og gevinster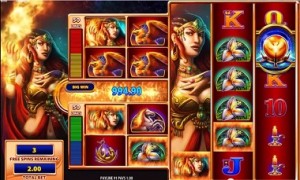 Minsteinnsatsen i spillet er 0,50 euro, og man kan maksimalt satse 100 euro per spinn. Her kan altså både småspillerne og storspillerne kose seg. Jackpoten i spillet er på 400 mynter, som
ikke er all verden, med tanke på at spillet er så variabelt, og gir ganske lave utbetalinger i grunnspillet. Man kan risikere å spille seg tom for penger, før man vinner noe, så det kan være greit å spille med laveste innsats, i hvert fall dersom man har et begrenset budsjett.
Dersom man skal vinne større gevinster, trenger man jokersymboler. Hvis man får jokere på alle de tre hjulsettene, kan man vinne brukbare gevinster. Ellers må man regne med å vinne mest smågevinster. Det gjelder å være tålmodig dersom man vil vinne tilbake innsatsen. Det er dette som er det mest negative med spillet. Man kan bli ganske lei av å bare vinne smågevinster. Gratisspinnrundene gir større gevinster, men spørsmålet er om det lønner seg. Dersom man skal vinne stort, trenger man både fire like på de to små hjulsettene, og spredte symboler på hvert av hjulene på det store hjulsettet. Da vinner man 100x innsatsen, og 20 gratisspinn, men det er vanskelig å oppnå dette.
Gratisspinn
Man kan vinne gratisspinn på mange måter, ved å få de rette kombinasjonene av symboler. Den vanligste måten å få gratisspinn på, er å få fire like symboler på de to små hjulsettene. Da vinner man bare fem gratisspinn, samt 1x innsatsen i kontantgevinst. Gevinstene er litt større under gratisspinnene, men de er ikke så veldig store.
Man kan også få gratisspinn med å få tre spredte ildfugler på det store hjulsettet. Det er litt forvirrende at man kan vinne gratisspinn på så mange måter, og man kan måtte spille en del runder før man kommer inn i systemet.