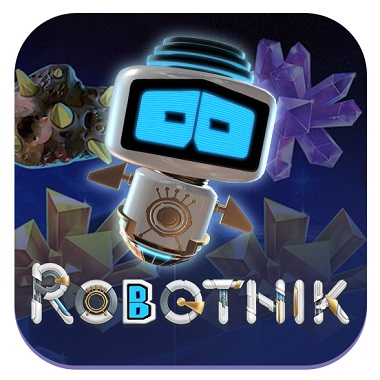 Spillutviklerselskapet Yggdrasil Gaming er først og fremst kjent for spill som stort sett har hatt fokus på ulike lotterier og skrapelodd. De har nå jobbet med å komme seg inn på spillemarkedet for slotspill, og har skapt Robotnik som sitt tredje videoslotspill. Det som er spesielt med videoslotspillene fra Yggdrasil Gaming er at de har satser på å lage spill som skiller seg ut fra det som er vanlig, med blant annet annerledes oppsett. Det er små detaljer som går igjen gjennom hele spillet som gjør at Robotnik har noe helt spesielt over seg. Robotnik er heller ikke fullpakket med spesialfunksjoner, men har akkurat nok til at det skal være underholdende for spilleren.
Spillets tema
Det kan være litt utydelig hva som egentlig er hovedtema i Robotnik. Navnet på spillet tilsier kanskje at det omhandler en robot, men når man ser på spillets bakgrunn og symboler så ville man kanskje heller gjettet på et spill med verdensrommet som tema. I bakgrunnen ser man i hvert fall to planeter som flyter rundt i verdensrommet. Det kan hende at Yggdrasil Gaming bevisst har unnlatt å ha et veldig spesifikt tema, men heller latt det være et åpent spill. Dette gjør jo tross alt at spillet skiller seg enda mer ut fra de andre slotspillene.
Grafikk og lyd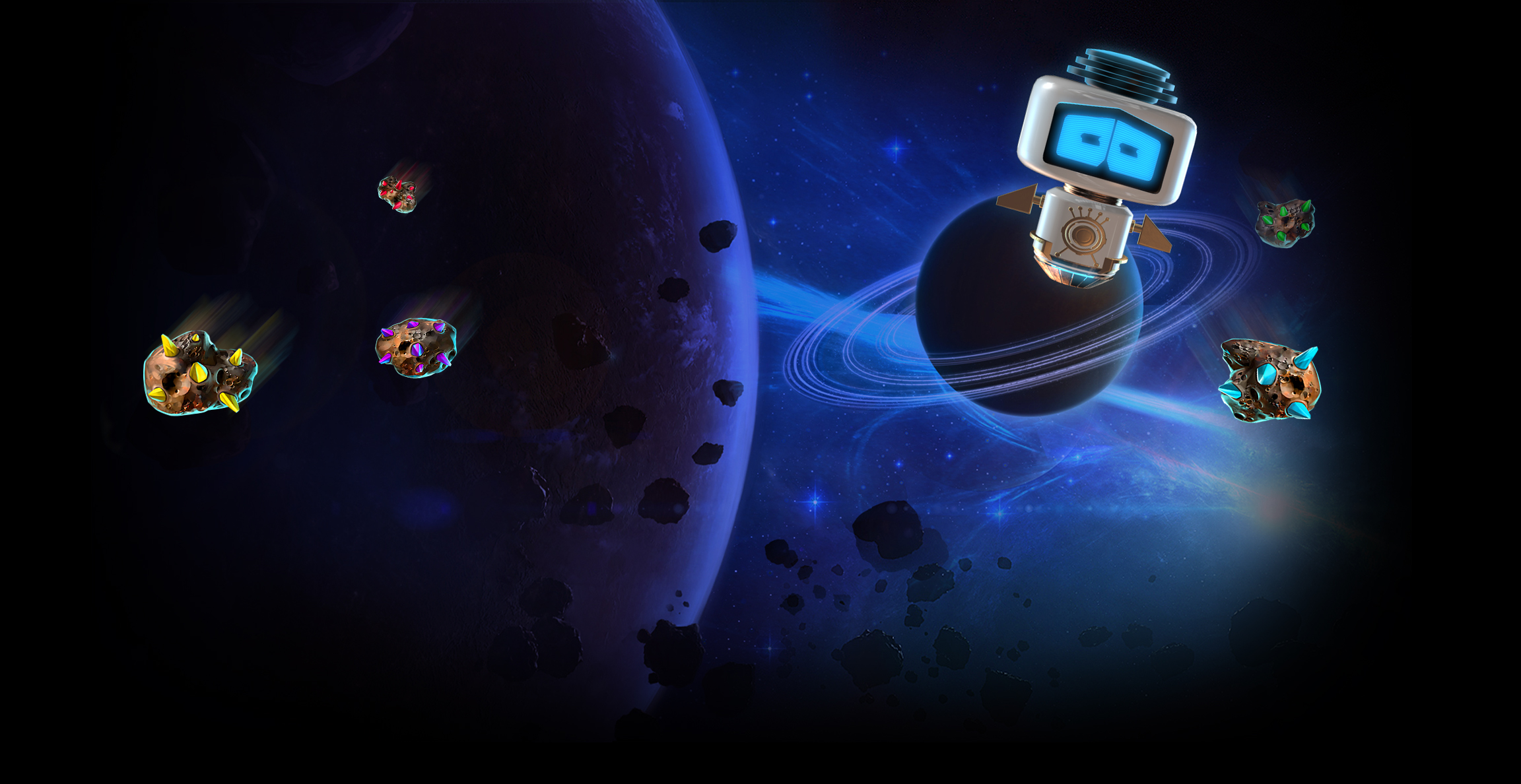 Grafikken er klar og tydelig, og Yggdrasil Gaming har virkelig brukt vakre og klare farger for å skape denne videosloten. Man får raskt følelsen av å være i verdensrommet, med planeter som skimtes i bakgrunnen og symboler som ser ut som noe man kanskje kan finne i verdensrommet. Steinene man finner som symboler kan se ut som ulike krystaller, og de setter virkelig farge til spillet. Grafikken er klinkende klar hele veien – i tillegg til at lydbildet som er lagt på spillet er noe av det reneste man kan tenke seg. Det er ikke ofte man har et lydbilde på et slotspill som faktisk er behagelig å høre på, men også her er Robotnik et unntak. Til sammen med grafikken lager dette et utrolig behagelig og vakkert slotspill.
Oppsett og innsats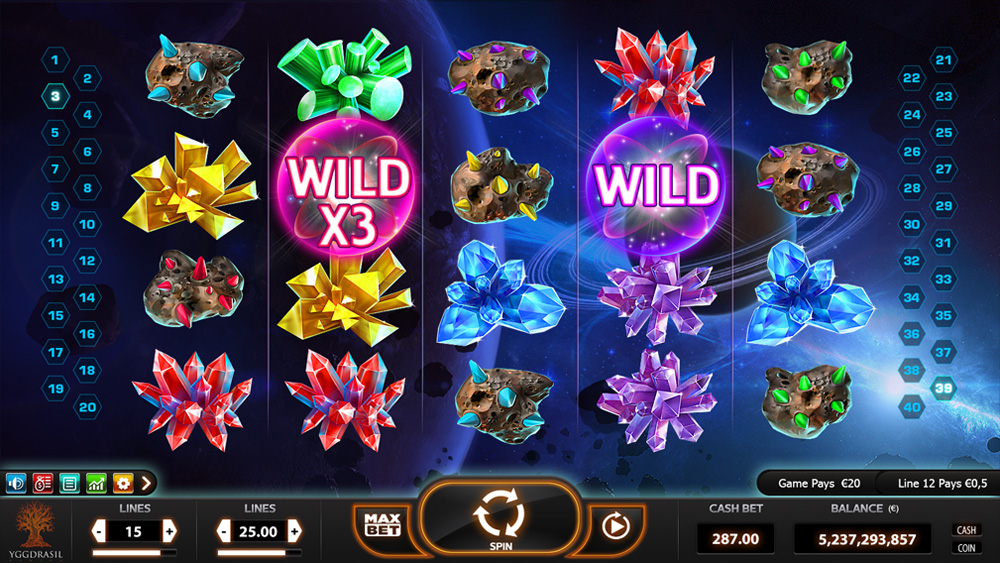 Så fort man ser oppsettet til Robotnik ser man at Yggdrasil Gaming har skapt et slotspill utenom det vanlige. Et vanlig oppsett på et klassisk slotspill vil være på fem hjul og tre rader med symboler, men i Robotnik så har man fem hjul og fire rader med symboler. Totalt så finner man 40 innsatslinjer. Innsatslinjene i spillet er faste, det vil si at spilleren kan ikke regulere antallet. Det spilleren må passe på å gjøre før spillet settes i gang er å justere myntverdien man ønsker å spille med. Spillet har noe minimum og maksimum grenser på myntverdien, så man må holde seg innenfor disse. Myntverdien kan ligge på mellom 0,01 euro og opp til 2 euro. Ønsker man at spillet skal gå litt raskt så kan man benytte seg av autospinnfunksjonen. Denne lar spilleren stille inn spillet for så å la spillet gå automatisk et visst antall runder. På det meste kan spillet gå 500 runder helt av seg selv.
Spesialfunksjoner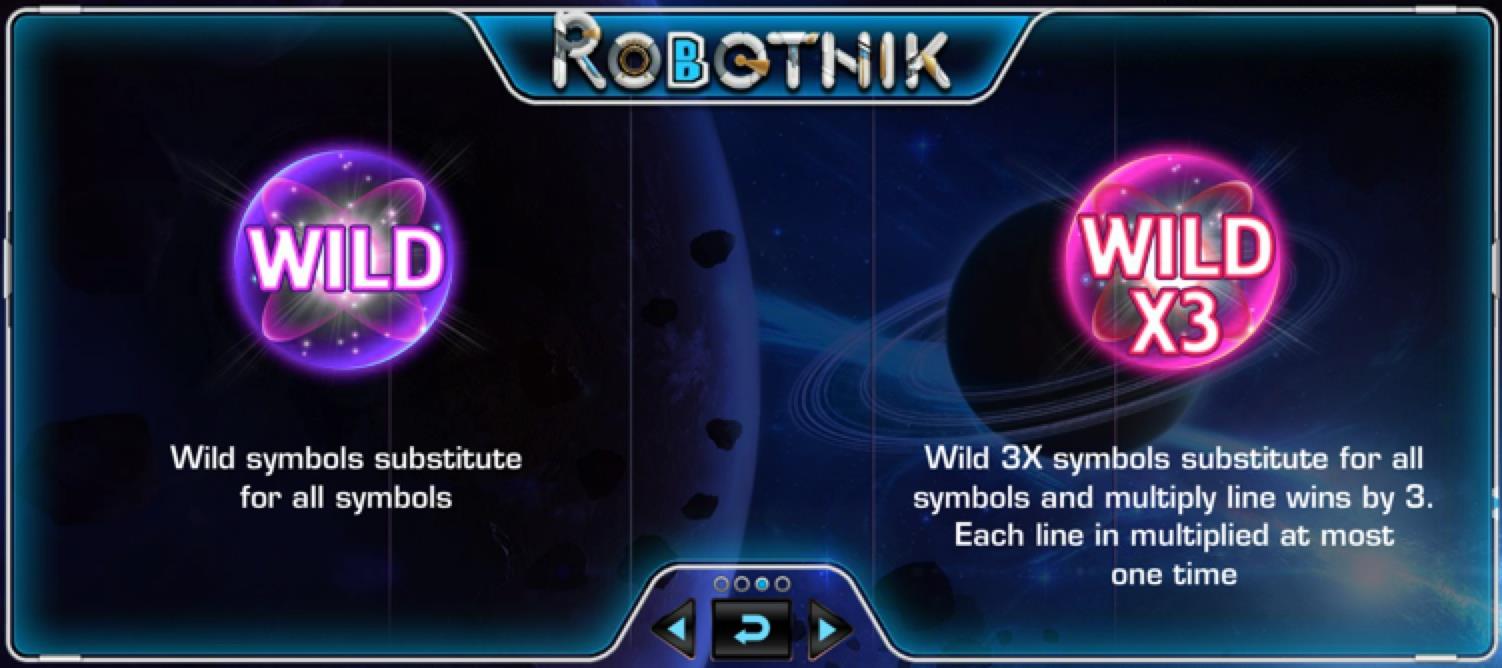 Robotnik er originalt til og med når det kommer til spesialfunksjoner. Man finner ikke de vanlige spesialfunksjonene slik som bonusspill eller gratisspinn. Det er enklere spesialfunksjoner å finne, og det er jo så klart noen av de som man kjenner igjen. Det første man kanskje legger merke til er det at man ikke har bare ett – men faktisk to ulike wildsymboler i spillet. Begge wildsymbolene fungerer som jokere og kan erstatte alle andre symboler i spillet. Det som skiller dem fra hverandre er det at den ene har en multiplikatorfunksjon, mens det andre ikke har denne luksusen. Multiplikatorfunksjonen ganger alle linjegevinster med 3. Den andre funksjonen som skiller dem er at den med multiplikatorfunksjon ikke kommer stablet på hjulene, mens den andre gjør det. Det vil si at man kan ende opp med et helt hjul kun dekket av wildsymboler. Man finner en respinnfunksjon i Robotnic. Den fungerer slik at hver gang det dukker opp et wildsymbol på hjulene vil dette bli låst fast gjennom de neste rundene, som er ekstraspinn. Dette skjer helt frem til det ikke dukker opp noen flere wildsymboler på hjulene. Da er det slutt på respinnfunksjonen. Robotnik selv kan dukke opp når som helst i spillet, enten underveis i et spinn eller rett etter et spinn. Robotnik kan da velge å komme inn over hjulene og endre noen tilfeldige symboler, slik at de blir gjort om enten til vanlige wilds eller til wilds med multiplikatorfunksjon.