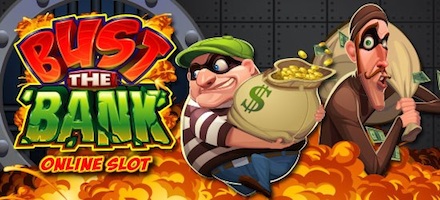 Om Spillet
Det er kanskje ikke så lett for spillutviklere å alltid ha originale idéer som ikke allerede har blitt brukt som et tema i en videoslot. Og ett av temaene som har gått igjen flere ganger på spilleautomater, spill som kommer fra mange ulike spillutviklere, er da bankran. I virkeligheten, dersom man skal tenke lurt, er det jo ganske så sjelden at det lønner seg å ta den snarveien det er å rane en bank, dessuten kreves det jo da i tillegg en fleksibel moral. Men når det kommer til noen slotmaskiner som da har ranstemaet som bakgrunn, kan det virkelig lønne seg. Det aller beste er vel at det ikke finnes noen risiko for at politiet ender opp med å komme etter deg. Denne videosloten med navnet Bust the Bank er en videoslot som kommer fra Microgaming, og den byr på en utrolig fartsfylt opplevelse. I tillegg har slotmaskinen mengder av ulike spesialfunksjoner for spillernes underholdning. Her er det da med andre ord spillerens oppgave å hjelpe de to bandittene i spillet, som har navnene Larry og Bob, og de trenger hjelp til å sprenge opp bankens safe – og deretter til å komme seg unna med storfangsten uten at politiet stopper dem.
Grafikk, design og lyd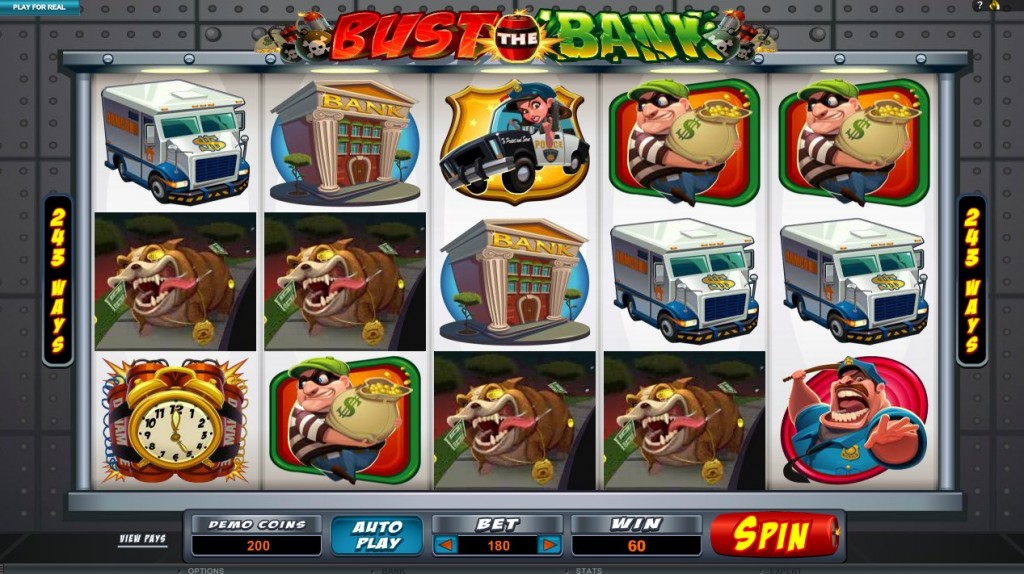 Når Microgaming har jobbet med å skape denne videosloten kan man virkelig se at spillutviklerne har vært i et ganske så lekent humør; symbolene er blitt tegnet på en lekker måte, og en rekke av symbolene dukker opp som karikaturer. Eksempler på dette er de to ranerne og de to politimennene som er ute etter dem. Animasjonene i slotmaskinen er også, mildt sagt, flott designet – og fremfor alt så er de utrolig flotte å se på. Spesielt lekre fremstår de når man klarer å stikke av med en gevinst ved hjelp av noen av disse to ranerne, og dette kommer nok til å utløse en god latter foran skjermen også. Bakgrunnsmusikken i Bust the Bank er et utmerket valg, den er herlig sprudlende, akkurat som den bør være i en videoslot som denne. Dersom man tenker seg frem til soundtracket til en film som er en blanding av komedie og action, så har man nok kommet frem til helt rett humør og følelse. Lydeffektene i spilleautomaten er også på det samme nivået; både boblende og full av effekt på den som spiller, det er rett og slett umulig at man ikke legger merke til sine gevinster. Bust the Bank består da av fem hjul og har tre linjer med symboler, men det finnes faktisk ingen spillelinjer; i stedet har slotmaskinen funksjonen «243 måter å vinne på». Dette betyr at man vinner på hver eneste kombinasjon med minimum tre like symboler på hjul inntil hverandre, og som telles fra venstre mot høyre.
Spesialfunksjoner og symboler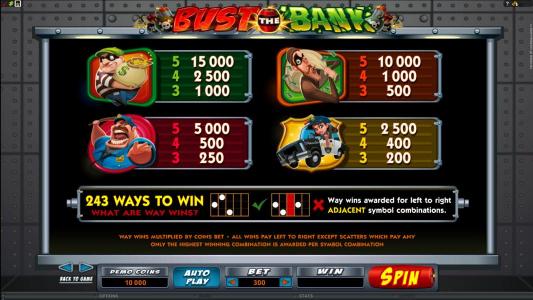 I sloten Bust the Bank finnes det en rekke ulike spesialeffekter for spillerne å finne, og opptil flere av dem kan omtales som fantastisk bra laget. De ulike spesialeffektene som spillet byr på passer helt perfekt med spillets tema, og de kan også være med på å gi spillerne store, flotte gevinster. For det første finnes det altså to ulike bonusspill, og disse er Safe Bonus og en annen som har fått navnet Piggy Bank Bonus. Disse to bonusene blir faktisk aktivert helt tilfeldig etter et spinn, og de gir også helt tilfeldige myntgevinster til spillerne. Bust the Bank har enda mer som frister; nemlig et gratisspinnmodus som blir aktivert dersom en spiller får tre eller flere scattersymboler på hjulene. Antallet med gratisspinn som spillere får er åtte, og de spilles da med hjulet 1 og 5 som wilds, med andre ord er det ganske store vinnersjanser å oppnå i gratisspinnmoduset. Dessuten kan Bust the Bank i tillegg friste med wildsymboler som faktisk dukker opp ganske ofte på hjulene, noe som ikke er så veldig vanlig i spilleautomater. Det er heller ikke sjelden at dette wildsymbolet faktisk er med på å hjelpe spillere frem til gevinstgivende kombinasjoner – og ikke minst ved å gi dem enda flere flotte gevinster.