Om spillet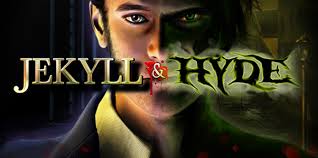 Jekyll and Hyde er et spill som får det til å pirre litt ekstra langs ryggen. Ikke bare har det hele 243 mulige vinnerkombinasjoner, det har en skjult side, akkurat som romankarakteren det har lånt navnet til. Ikke la deg berolige av den lette, lyse melodien og den vakre gull-ornamenteringen på brettet. Det ligger en undertone i melodien som hinter om noe mørkere, og de spøkelsesaktige bokstavene i navnet Hyde forsterker inntrykket fra symbolene – dette spillet er både morsomt og skrekkelig.
Spillets detaljer
Jekyll and Hyde har fem hjul og tre rekker. Du spiller hele tiden med 25 innsatslinjer, og velger om du vil sette fra en til 10 mynter på hver. Myntverdien er lav, fra 0.01 til 0.10, så selv om den ganges med 25 kan du spille med en lav innsatsverdi på kun 0.25. Satser du høyt kan du trykke på Bet Max og spille med 250 mynter om gangen.
Symbolene står i stil med spillets skrekktema, og for å få gevinst må du få tre eller flere like, fra venstre mot høyre, langs en av innsatslinjene. Det er fullt mulig å få gevinst på flere innsatslinjer samtidig, for å oppnå det er wildsymbolet særlig nyttig, og det er lett å få øye på, ordet wild i store, flammende bokstaver. Gode Dr. Jekyll betaler best på de vanlige rundene. Får du tre stykker er gevinsten 100 mynter, fire gir 750 og får du fem Dr. Jekyll etter hverandre er du 1500 mynter rikere. Scattersymbolene, som også låser opp bonusrundene, gir heftige utbetalinger, tre gir 50, fire 250 og fem heler 1250 mynter (og det er før du begynner på bonusrundene). En vakker ung kvinne gir fra 50 til 1000 for tre til fem like, en flaske med dødningehode på gir fra 25 til 750 mynter og eliksirflaskene gir fra 20 til 500 for tre til fem like. De spøkelsesaktige bokstavene og tallene gir mindre gevinster, fra 15 til 250 for A ned til fem til 100 for tre til fem like nitall.
Du kan spille med autoplay, fem eller 10 spinn om gangen. Autoplay-funksjonen gjemmer seg i et ekspertmodus som det kan være litt vanskelig å få øye på, nederst til høyre på skjermen.
Bonusfunksjoner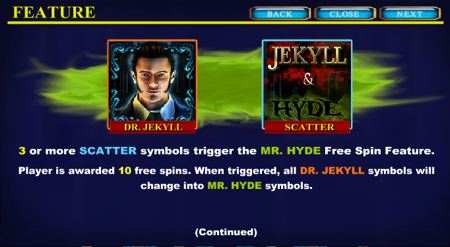 Løftet om skrekk og større gevinster innfris av spillets scattersymbol, som er Jekyll and Hyde-logoen. Får du tre eller flere av disse på brettet vinner du tre gratispinn, og da er det ikke lenger Dr Jekyll som står for den høyeste gevinsten. Han forvandles til sitt grusomme alter ego, Hyde, som med vilt blikk og bister munn hever toppgevinstene til 500 mynter for tre like, 3750 for fire like og 7500 mynter for en rekke med fem Mr. Hyde. Ikke verst for en ond morder som skremte både kjente og ukjente i Dr. Jekylls omgivelser i Robert Louis Stevensons romanklassiker. Hvis du i løpet av gratisrundene får tre eller flere scattersymboler får du dessuten ytterligere 10 gratisspinn.
Spillets gang
Poenget er å få like symboler etter hverandre fra venstre mot høyre langs en av spillets 25 innsatslinjer. Med tre rader og fem hjul har du femten symboler i hver runde, og muligheten til å få opptil flere vinnerrekker på ett og samme spinn. Hver vinnerrekke gir gevinst, og de største vinnersjansene har du i gratisspinn-rundene som utløses av tre eller flere scattersymboler.
Konklusjon
En tidsreise tilbake til Londons bakgater på attenhundretallet, sammen med en ung mann med splittet personlighet, som nattetid blir til en hensynsløs morder, dette er utgangspunktet for Jekyll and Hyde. Spillet har forseggjorte symboler og elegante små animasjoner ved gevinst. Det både ser bra ut og er underholdende, spesielt for dem med som liker skrekksjangeren, men det er ikke verre enn at hvem som helst kan spille det med glede, ikke minst hvis de får stifte nærmere bekjentskap med Mr Hyde, som i dette spillet ikke møter deg med onde intensjoner men med store mengder mynter!