Clash of Queens er en 5-hjuls spilleautomat, sterkt inspirert av inspirert av fantasy-romanen «Gjennom Speilet» av Lewis Carroll. Romanen ble gitt ut i 1871 og var oppfølgeren til «Alice i Eventyrland». Denne spilleautomaten er engasjerende og svært givende, og det er Genesis Gaming som står bak spillet. Ikke bare har spillet et fantastisk design og en god grafikk, men også noen imponerende og originale spesialfunksjoner. Bli med inn i denne fantastiske eventyrverdenen du også, for har du akkurat registrert deg hos et online casino og mottatt en casinobonus bør du starte letingen etter Clash of Queens!
Grafikk og symboler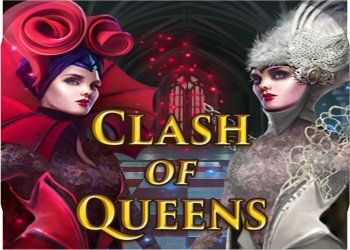 Det er vanskelig å ikke bli revet med når man for første gang ser designet og grafikken i dette spillet. Uansett om du kjenner til boken og historien fra før, vil du raskt se at dette er et spill av høy kvalitet. Det er klart helt noe eventyraktig over det hele, noe som har blitt vanlig for spill med disse temaene etter hvert – men uansett, all honnør til Genesis Gaming, som har lagt både sjel og masse liv inn i hver karakter, og med karakterer mener vi selvfølgelig de flotte symbolene. Det er de to stridende skikkelsene, den røde og den hvite dronningen, som er mest i fokus og det er heller ingen tvil om at det er akkurat disse symbolene som også gir deg best betalt i form av pengegevinster. Begge bildene på en aktiv gevinstlinje gir deg 50, 250, eller 750 mynter, når tre, fire eller fem av deres respektive symboler vises på gevinstlinjen din. Det er også to andre figurer som også betaler godt, dette er Humpty Dumpty og den uatskillelige duoen Tweedledum og Tweedledee. Begge disse betaler 15, 100 eller 500 mynter for 3, 4 eller 5 på en gevinstlinje. Videre kan vi også fortelle at WILD-symbolet kan erstatte alle symboler du mangler for å vinne. Noen ganger vil WILD-symbolet også doble gevinsten din. Dette er det spesielle symbolet, «The Clash of Queens WILD»-symbolet, som kun vises på hjulene 2, 3, 4 eller 5. Spillets logo er scatter-symbolet, som gir deg både gevinster og kan også fungere som en multiplikator. Disse scatter-symbolene kan dukke opp hvor som helst. Ikke nok med at scatter-symbolet gir deg gevinster i seg selv, det tar deg også med ut i spillets mange spennende bonusspill som vi skal komme tilbake til.
Spesialfunksjoner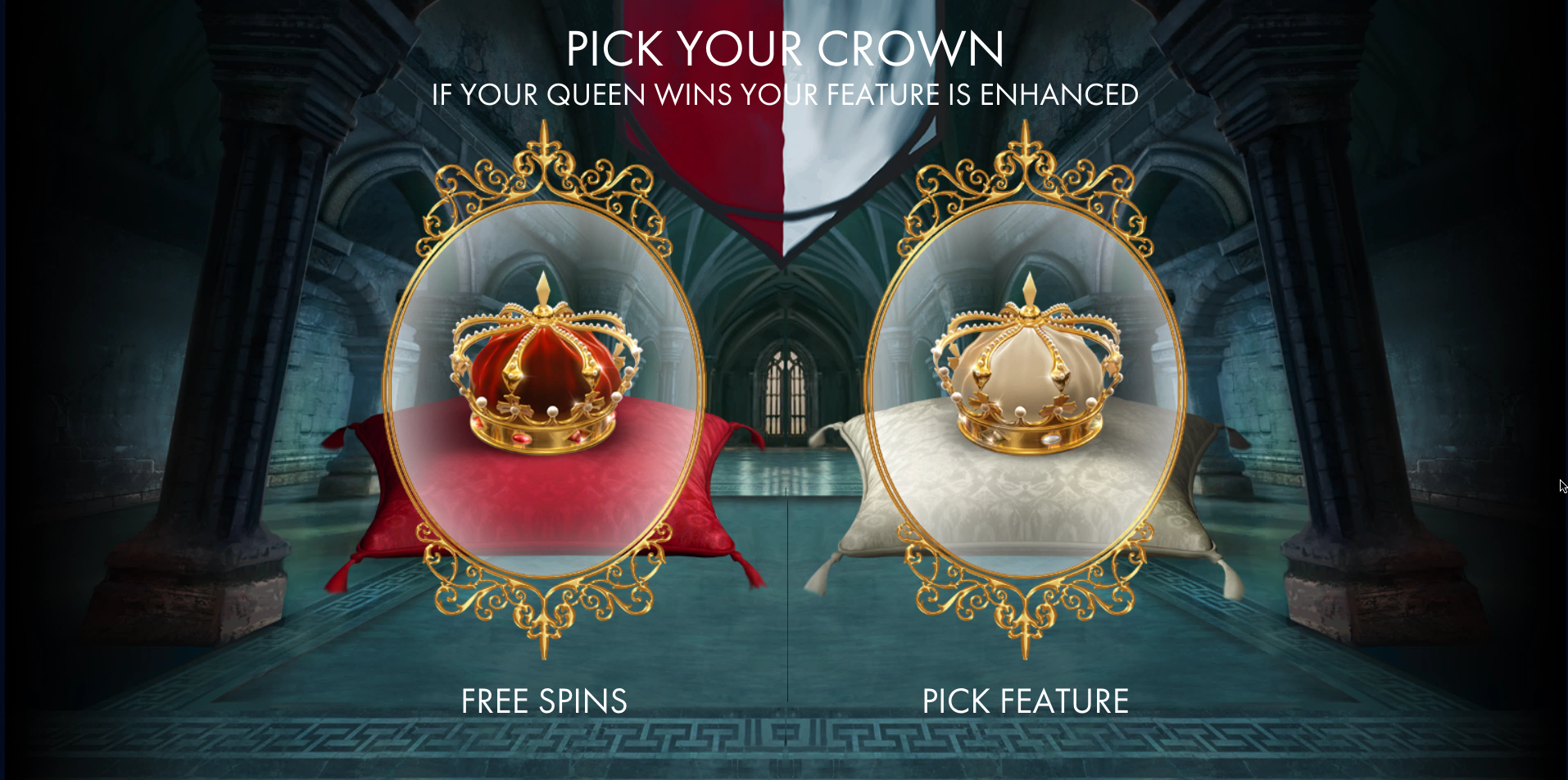 Når det gjelder spesielle bonusfunksjoner er det ingen tvil om at spillprodusenten Genesis Gaming har blitt eksperter. Bare hør på dette: Hvis den røde dronningen dukker opp på det første hjulet fra venstre og den hvite dronningen samtidig lander på det femte hulet, havner vi midt i en skikkelig kamp mellom rivalene. Det er langt ifra en slåsskamp, men et oppgjør ved hjelp av et sjakkspill. Før kampen må du velge hvem du tror vinner. Vinner din utvalgte, ja da sitter du igjen med en god slump med penger, altså hele 750 mynter. Sjakkspillet er skjønt automatisert og du får ikke være med på valg av flytting på brikkene. Men dette er så spennende i seg selv, at det er like så greit å være på sidelinjen. Spillet har nok et bonusspill som vil engasjere deg. Dette heter «The Red Queen free spins Game». Hvis den røde dronningen vinner sjakkspillet, uansett om du valgte henne eller ikke, vil du motta 8 gratis spinn. Vinner den hvite dronningen sjakkspillet vil du bli tatt med til «The White Queen Pick Me Bonus Game», hvor du kan få velge mellom ulike luker, hvor det bak hver av lukene skjuler seg en overraskelse i form av free spins eller pengegevinster. Gevinsten din kan også bli doblet her.
Clash of Queens Jackpot
Spillet har ingen progressiv jackpot, men hovedgevinsten er på solide 750 mynter.
Konklusjon
Har du mottatt gratis casino penger uten innskudd hos ditt online casino, bør du sjekke ut dette spillet allerede nå, for dette spillet er helt spesielt. Liker du eventyrspill og ikke minst karakterene fra Lewis Carrols romaner er det en stor fordel, men spillet har så mye annet å by på enn en god historie. Her er det gevinstene som teller!