Rotter i sentrum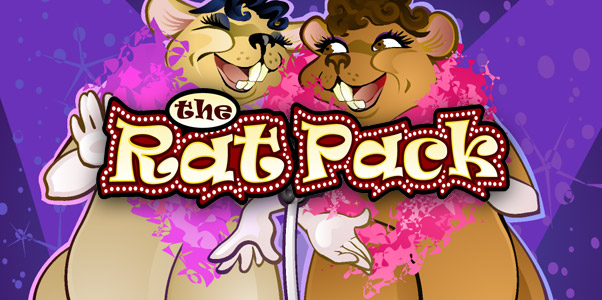 Det finnes veldig mange dyr der ute, men kun utvalgte har fått ekstra mye oppmerksomhet fra menneskeheten. Rotter er en av de utpekte som skildres i både film og brukes av vitenskapen. Mange morsomme animerte familiefilmer med rotter har dukket opp på kinolerretene de siste årene. Spillutviklere har hoppet på trenden og utviklet flere spilleautomater med rotter i fokus – The Rat Pack er en av dem. Dette er en spilleautomat fra Microgaming, og selv om den ikke er helt på samme nivå som Ned and his Friends er den fortsatt veldig populær blant eldre kasinospillere. The Rat Pack var kallenavnet som bruktes om en gruppe populære skuespillere fra gamle dager – Humphrey Bogart, Sammy Davis jr. og Frank Sinatra var blant disse. Her få man også møte på selvsikre, kule rotter i dressjakker og slips. The Rat Pack er en av de eldre tematiske spilleautomatene fra Microgaming, derfor er symbolene og selve spillskjermen noe kantete og kjedelig. Symbolene består av kortnominasjoner fra 10 til A, alle med sitt instrument. Disse kombinasjonene gir dog små gevinster, altså er det ingen grunn til å følge med på dem. Med mindre man er glad i instrumenter og vil oppfriske minnet litt. De tegnede symbolene mangler 3D-grafikk og ser veldig flate ut, men er fulle av detaljer. Fem ulike symboler med rotter på scenen, alle med forskjellige farger og ulikt utseende. En rotte spiller på et piano, to rottejenter synger i en mikrofon, en ung kjekkas av en rotte viser frem sine talenter, en hipp herre fremfører en dans mens en eldre rotte har en livstid av erfaring å ta i bruk. Kule symboler alt i alt, men de kunne trengt en oppdatering. De tre sistnevnte symbolene gir opp til 1000 mynter per gevinstlinje, en deilig sum å håve inn. The Rat Pack har 30 gevinstlinjer, altså er det fullt mulig å sette flere kombinasjoner om gangen. Spesielt om man får hjelp av ekstrafunksjonene.
Spesielle funksjoner på The Rat Pack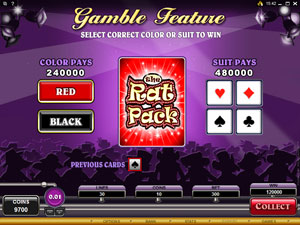 The Rat Pack har to ulike wildsymboler – dette fryder øyet når man setter automaten i spinn. Det ene wildsymbolet kommer i form av «2X», og dobler alle gevinster du vinner ved hjelp av den. Så har man logotypen til spillet, The Rat Pack i 70-talls skrift, som også forvandler seg til alle andre symboler men samtidig gir skyhøye gevinster på egen hånd. Er du heldig nok til å sette en kombinasjon av fem like wildsymboler, vil en liten formue på 5000 mynter spyttes ut. The Rat Pack har samtidig veldig brede innsatsmuligheter, altså kan dette bety flere hundretusener av kroner fra en gevinstlinje maksimalt. Storspillere holder seg til denne eldre maskinen kun av den grunn. Store gevinster lokker til seg store spillere. Er du ikke fornøyd med en enkel gevinst, kan du bruke gamble-funksjonen for å doble den manuelt. Gjett hvilken farge eller nominasjon det neste kortet fra kortbunken vil ha, så vokser gevinsten du nettopp vant. Her er det dog en 50/50 sjanse til å vinne, derfor bør du være ekstremt varsom. The Rat Pack er en brukervennlig spilleautomat, det er enkelt å komme i gang og lære seg de ulike kombinasjonene. De to wildsymbolene er deilige å støte på, men det er runden med gratisspinn som virkelig setter prikken over i-en. Gratisspinn er alltid fordelaktig, men når de kommer i hopetall og byr på spesielle overraskelser er det ekstra deilig å lene seg tilbake når de kjøres i gang.
Gratisspinn på The Rat Pack
De aller fleste spilleautomater fra Microgaming har gratisspinn man kan vinne. The Rat Pack kan derimot by på en ekstremt stor mengde av dem – opp til ett hundre stykker på rad. Spillutvikleren selv sier at man kan stikke av med opp til 30 000 mynter fra en runde gratisspinn. Dette vil sikkert lokke til seg mange lykkejegere. The Rat Pack er å finne på de aller fleste etablerte nettkasinoer med lang historie. Alle vil jo samarbeide med Microgaming og tilby så mange av deres spill som mulig. Dette pengespillet kan neppe måle seg med nyere maskiner som skryter av 3D-grafikk og detaljerte animasjoner – derimot vil en høy utbetalingsrate og utallige gratisspinn sørge for å holde den på flyt.