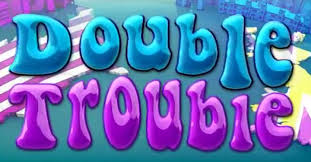 Trenger man litt kul stemning mens man spiller på en spilleautomat, bør man prøve ut Double Trouble. Det er en spilleautomat som kommer fra spillutviklerselskapet Saucify og de har valgt et helt spesielt tema til denne spilleautomaten. Det er nemlig satt fokus på discotiden og mye av det som forbindes med det. I tillegg så er det blitt brukt en helt spesiell historie, som omhandler to agenter som skal få tak i to slemme karakterer. Det er helt klart et artig tema og Saucify har virkelig fått det til, og det fungerer bra i en spilleautomat. Temaet er tydelig presentert og kommer bra ut på spilleskjermen. I tillegg har man noen gode spesialfunksjoner, som er med på å løfte spilleopplevelsen enda mer. Vil man oppleve et tema som er noe litt utenom det vanlige innen spilleautomater, så prøv ut Double Trouble fra Saucify.
Spillets oppsett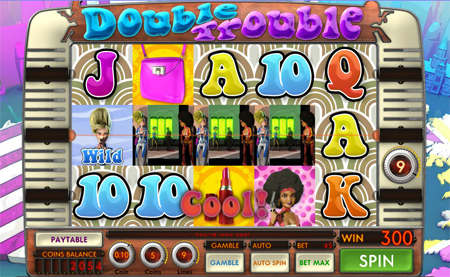 Oppsettet som Saucify har valgt å bruke i denne spilleautomaten er veldig tradisjonelt. Man finner nemlig et oppsett som består av fem hjul og tre rader med symboler. I tillegg finner man et antall innsatslinjer. Det er ikke mange innsatslinjer satt inn i Double Trouble. Faktisk så er det en total på kun ni stykker. Til tross for dette lave antallet med innsatslinjer kan spilleren likevel velge å justere ned på antallet. Det er helt opp til spilleren hvor mange innsatslinjer som skal være aktive mens man spiller. I tillegg til å justere innsatslinjene i spillet, så kan spilleren også justere myntverdien det skal spilles med og hvor mange mynter som skal satses per aktive innsatslinje. Myntverdien er veldig enkel å tilpasse da man kun trenger å velge mellom et antall forhåndsbestemte verdier. Verdiene ligger på 0,01, 0,05, 0,10 eller 0,25. Når det er valgt kan man velge hvor mange mynter man ønsker å ha per aktive innsatslinje, og på det meste kan man velge å sette inn fem stykker. Disse justeringene gjøres ved at man bruker knappene som man finner nederst på spilleskjermen. Ønsker man automatisk å spille med høyest mulig innsats, kan man benytte seg av bet maks-knappen som man finner nederst på spilleskjermen. Den gjør at man automatisk spiller med høyest mulig innsats. I tillegg kan man velge å bruke autospinnknappen, som gjør at spillet går av seg selv et bestemt antall runder.
Spesialsymboler i spillet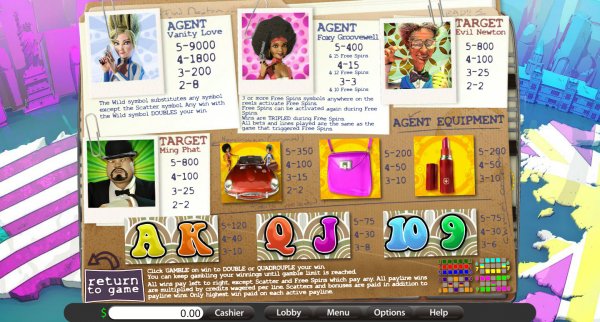 Det er naturligvis lagt inn noen spesialsymboler i spillet, og wildsymbolene kan aktivere ulike spesialfunksjoner som er lagt inn i spillet. Wildsymbolet er ett av disse spesialsymbolene og det fungerer først og fremst som spillets joker. Som en joker så erstatter det alle vanlige symboler på hjulene, men ikke de andre spesialsymbolene. Wildsymbolet er i form av en av agentene i spillet og er også det symbolet som har høyest verdi i spillet. Får man en kombinasjon på fem slike symboler kan man få en gevinst på opp til 9000 mynter. Alle gevinstene man får med et wildsymbol i den vinnende kombinasjonen vil også bli doblet. Scattersymbolet, som er det andre spesialsymbolet i spillet, er i form av den andre agenten. Det betaler ikke ut mye ved kombinasjoner, men til gjengjeld så aktiverer det gratisspinnrunder i spillet. Man trenger å ha minst tre scattere på hjulene for å aktivere gratisspinnrundene og på det meste kan man få tildelt 15 gratisspinnrunder. Gevinstene som man eventuelt får mens man spiller gratisspinnrundene vil alle bli tredoblet.
Spilleskjermen i spillet
Spilleskjermen i spillet er tydelig formet til å få frem spillets tema. Det er en mengde spreke farger som er brukt og spillets symboler viser hva slags historie som ligger i tema. På toppen av spilleskjermen finner man spillets logo, som er formet i blå og rosa bokstaver. Under logoen finner man spillets hjul og på hjulene har man spillets symboler. Symbolene er enten i form av de høyeste symbolene fra en vanlig kortstokk, eller så er det formet som ulike bilder som passer til tema.