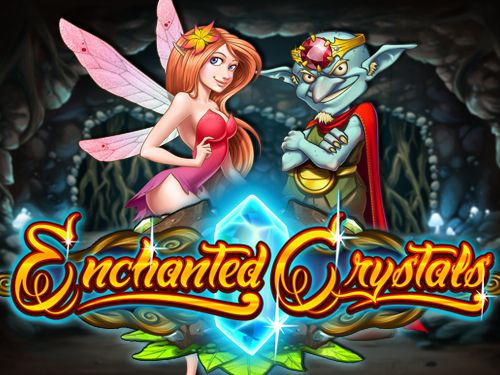 Alver, eventyrvesen og krystaller er et velkjent tema i mange spilleautomater, og i Enchanted Crystals blir spillerne kjent med en gjeng vennlige alver. Alvene eier magiske krystaller, og dem er det selvsagt mange som gjerne vil ha tak i. Trollene lurer i bakgrunnen, klare til å stikke av med krystallene. Spillet er laget av Play'N Go, og skaper virkelig god stemning.
Mer om spillet
Enchanted Crystals har en vakker musikk og et veldig fint bakgrunnsbilde med gress og blomster. De fem hjulene er også rammet inn av blomster. Symbolene er selvsagt alver, men også noen kortsymboler som har pyntet seg med vakre blomster. Spillet har ingen vanlige gevinstlinjer, men 243 måter å vinne på. Man trenger heller ikke å bekymre seg for myntverdier eller gange myntverdien med antall linjer, slik man må i andre spill. I dette spillet velger man bare totalinnsatsen per spinn. Det er fem ulike innsatser å velge blant; 0,20 euro, 1 euro, 2 euro, 10 euro eller 50 euro per spinn. Enkelt og greit! Spillerne kan også velge inntil 50 automatiske spinn med den valgte innsatsen, og det er mulig å gjøre avanserte innstillinger for autospinnene, slik at de for eksempel stanser når man vinner gratisspinn eller kommer til bonusspillet.
Symboler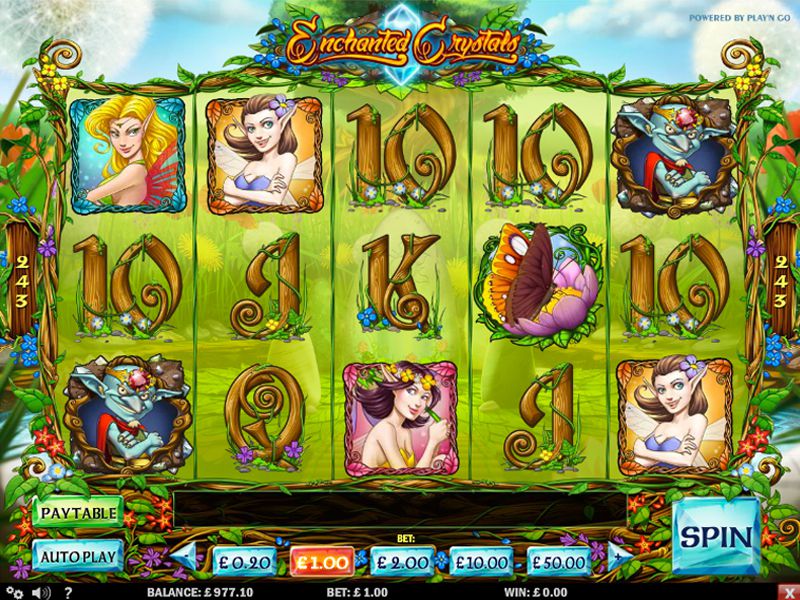 De fire alvene er de mest verdifulle grunnsymbolene i spillet. Den dynamiske gevinsttabellen vise hvor mye man kan vinne for hvert symbol dersom man spiller med den valgte innsatsen. Gevinstenes verdi vises i den valutaen man spiller med. Når man spiller med euro, er gevinstene vist i euro. I tillegg til fire alver, er det fem kortsymboler. De deler ut mindre gevinster. Alle kortsymbolene er formet i tre, og pyntet med blomster og gress, slik at de passer veldig fint inn i spillets tema. Man trenger alltid minst tre like på rad for å vinne noe.
De magiske krystallene er spillets wildsymboler. Wildkrystallene kan erstatte alle grunnsymbolene, men ikke bonussymbolet eller scatteren. På hjul 2, 3 og 4 kan wildsymbolet utvide seg og dekke hele hjulet. Når dette skjer, får spillerne et gratis respinn med låst wildhjul. Man får ett respinn for hvert låste wildhjul man har, og derfor er det mulig å få hele 3 respinn med 3 låste wildhjul, dersom man er riktig heldig.
Spesialsymboler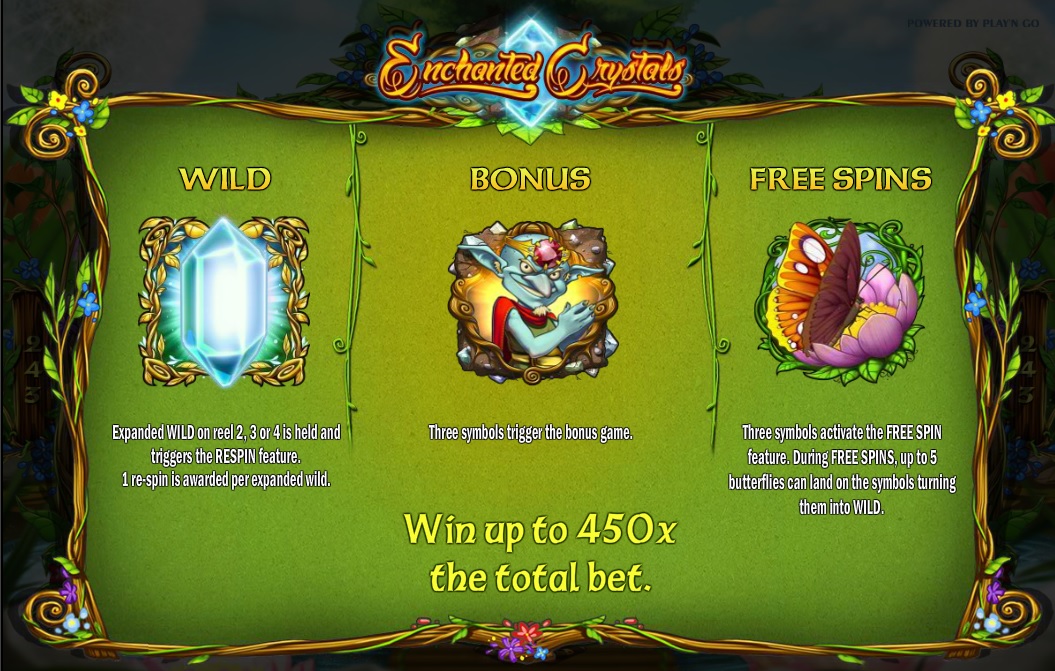 Det blå trollet er bonussymbolet i spillet. Med tre eller flere slike symboler, vinner man adgang til bonusspillet. I bonusspillet skal alvene prøve å finne magiske krystaller som trollene har stjålet. Bonusspillet foregår i en hule under jorden, og trollene som skal beskytte krystallet er ikke spesielt på vakt. Dermed kan alvene fly inn og lete etter krystallet. Spillerne må hjelpe alvene å velge den rette veien. Først skal man velge en av fire innganger. Deretter skal man velge en av tre innganger, og til slutt en av to innganger. Hvis man har valgt riktig vei, kommer man inn i trollenes skattkammer. Der er det to kister, og krystallet er skjult i en av kistene. Bonusspillet er morsomt, og man kan vinne ganske fine gevinster.
Det andre bonusinnslaget er gratisspinnene. De blir delt ut av et sommerfuglsymbol. Man trenger tre eller flere sommerfugler for å vinne 10 gratisspinn, og sommerfuglene spiller også en spesiell rolle under gratisspinnene. Da flyr de vakre sommerfuglene over skjermen, og dersom de lander på et symbol, blir symbolet til et wildsymbol. Sommerfuglene kan gjøre inntil 5 symboler til Wildsymboler under hvert eneste spinn. Det er mulig å gjenutløse gratisspinnene, og vinne inntil 50 gratisspinn på rad. Fem sommerfuglsymboler (wild) gir også en egen gevinst.
Oppsummert
Enchanted Crystals er en herlig spilleautomat med fin musikk og god stemning. Bakgrunnsbildet og musikken gjør automaten veldig behagelig å spille på. Spillerne kan vinne låste wildhjul og gratisspinn med ekstra mange wildsymboler. I tillegg har automaten et morsomt bonusspill der det gjelder å finne det magiske krystallet som trollene har stjålet. Dette er en herlig spilleautomat som også er veldig lett å spille på selv for nybegynnere.