The Craic er en spilleautomat som leveres av 1×2 gaming. I spilleautomaten finner man et gjenkjennelig oppsett. Spilleautomaten inkluderer også et godt utvalg av bonusfunksjoner. De er med på å løfte hele spilleopplevelsen. Temaet som kommer med spilleautomaten er veldig populært. Presentasjonen av det hele er veldig bra, og i The Craic kan spillerne blant annet se frem til en veldig flott spilleskjerm. Alt i alt er The Craic et godt valg når man skal velge spilleautomat, og den er tilgjengelig hos alle nettkasinoer som leverer spill fra 1×2 gaming.
Temaet
The Craic er en spilleautomat som tar for seg den irske populære kulturen. Det er mange spilleautomater som har lignende tema, men The Craic skiller seg ut på sin egen måte. 1X2 gaming har tatt med flere kjente elementer som de aller fleste forbinder med irsk kultur. Stemningen rundt temaet er virkelig på topp, og spillerne kan bare glede seg til å oppleve det. Som en del av temaet er det også lagt inn et flott lydbilde. Lukker man øyene kan man virkelig drømme seg bort til en nydelig grønn eng, med fuglekvitter som er eneste lydene man kan høre.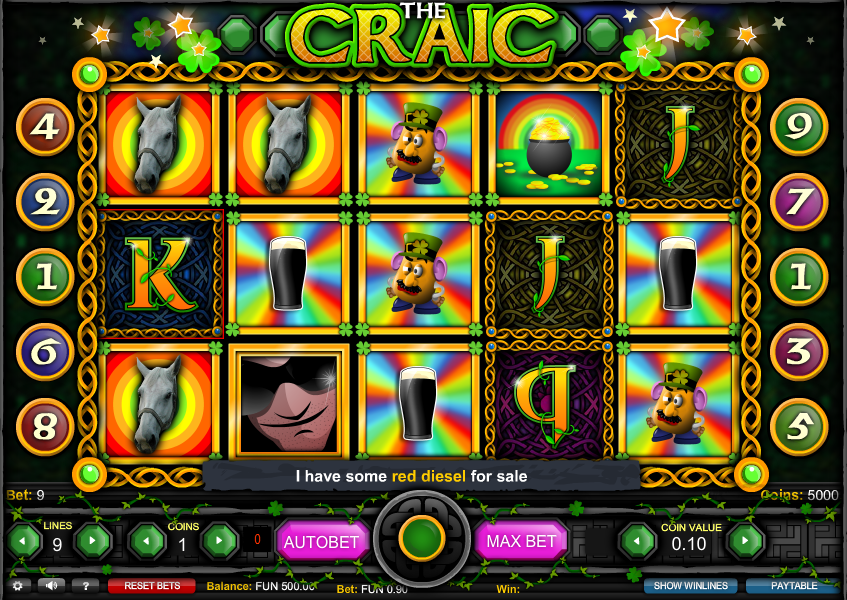 Oppsettet
Som spilleautomatens oppsett har 1×2 gaming lagt inn fem hjul, hvor det tilsammen er 15 posisjoner fordelt utover. Hvert av posisjonene er dekket med ett symbol. Man finner ni innsatslinjer som man kan spille på også. De er oppmerket på hver side av hjuloppsettet.
Innsatser
Innsatsene i The Craic er enkle å tilpasse, og spilleren har et godt utvalg å velge mellom. Først og fremst kan innsatslinjene justeres ned i antall. Det er noe som spilleren bestemmer selv. På hver av de aktive innsatslinjene, må spilleren velge å satse et antall mynter, og i tillegg velge verdien på myntene. I hver spillerunden kan det spilles for mellom 0,01 og 22,50. The Craic er med andre ord en perfekt spilleautomat for spillerne som liker å spille med en lavere innsats.
Spilleskjermen
The Craic er en utrolig fargerik spilleautomat. Det er mange flotte dekorasjoner på spilleskjermen, og de samstemmer alle med temaet. Bakgrunnen på det hele er i sort, og det gjør at alle fargene kommer enda bedre frem. Rundt om på spilleskjermen kan man finne små grønne firkløvere, som er pent dandert over alle gulldetaljene. Symbolene er i mange forskjellige bildeformer, i tillegg til at noen tall og bokstaver også kan dukke opp. Bildesymbolene er de som får frem temaet mest. Logoen i The Craic er også veldig flott laget. Bokstavene er i gull, med en grønn innramming. Ut fra bokstavene er det lagt inn flere firkløvere, i tillegg til gullstjerner.
Symbolene

Blant symbolene finner man bilder av en firkløver, en irsk mann, en dansende potet, en hest, artisten Bono, og en halvliter med øl. De andre symbolene er de høyeste symbolene fra en vanlig kortstokk. Alle symbolene har forskjellige verdier når man får en vinnende kombinasjon. Det er bokstavene og tallene som regnes som standardsymbolene, mens bildesymbolene er spesialsymbolene.
Bonuser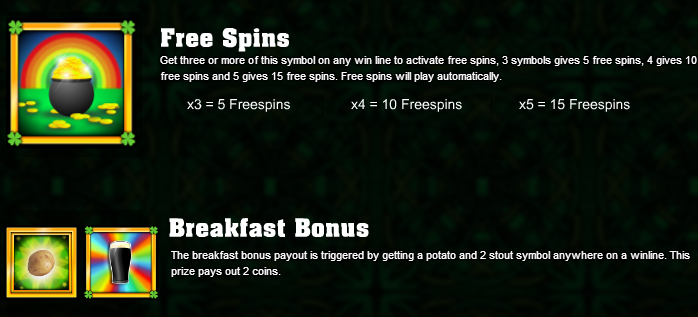 The Craic er fullpakket med ulike bonuser. Det finnes et wildsymbol, som fungerer som en joker. Den øker vinnersjansene for spilleren, ved at den kan kombineres med alle standardsymbolene, slik at det blir vinnende kombinasjoner.
Symbolet av Bono står for en egen bonus, som betaler ut en tilfeldig kontantgevinst. Kontantgevinsten blir utregnet ut i fra hva slags innsats spilleren spiller med. Det er også lagt inn en dansende potetbonus og en frokostbonus. Begge de nevnte bonusene må aktiveres ved en spesiell kombinasjon av noen ulike symboler.
Krukken med gull er scattersymbolet i The Craic, og den aktiverer gratisspinn for spilleren. Jo flere scattersymboler man får på hjulene, jo flere gratisspinn vil man få. På det meste deles det ut 15 gratisspinn i en omgang. Det er mulig for spilleren å aktivere denne bonusen flere ganger, slik at man ender opp med et høyere antall gratisspinn som man kan spille gjennom.