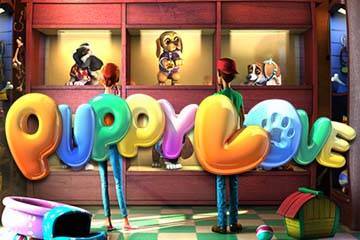 Er det mulig å forestille seg noe søtere enn en liten valp, som ser på deg med to store tallerkenøyne? Trolig ikke. Dette har den flinke spillutvikleren Betsoft utnyttet på det sterkeste. Hvis du er glad i hunder, er dette desidert et spill du må sjekke ut. Men bare grafikken er nok til å få deg til å bli fristet til å prøve spillet. Du finner alt fra wildsymboler, gratisspinn og et bonusspill. Noe som gjør at Puppy Love skiller seg litt fra andre spilleautomater, er at wildsymbolene kommer ganske så ofte. Bonusspillet kommer også overraskende ofte. Gratisspinn er det dog ganske langt mellom hver gang dukker opp. Det betyr at du må regne med å betale for de fleste spinnene du gjør. Men med masser av wildsymboler, så får man jo mye tilbake også. Ja alt i alt er spillet veldig bra gjennomført på de fleste plan. Les videre for mer detaljer.
Lyd og grafikk i Puppy Love
Grafikken har fått et 3Daktig preg, og alle symbolene har fått morsomme animasjoner. Symbolene består av små søte valper, og det som hører hundelivet til. For eksempel matskåler og hundehalsbånd. Alle symbolene er utrolig vellagde, i samme stil som med resten av spillet.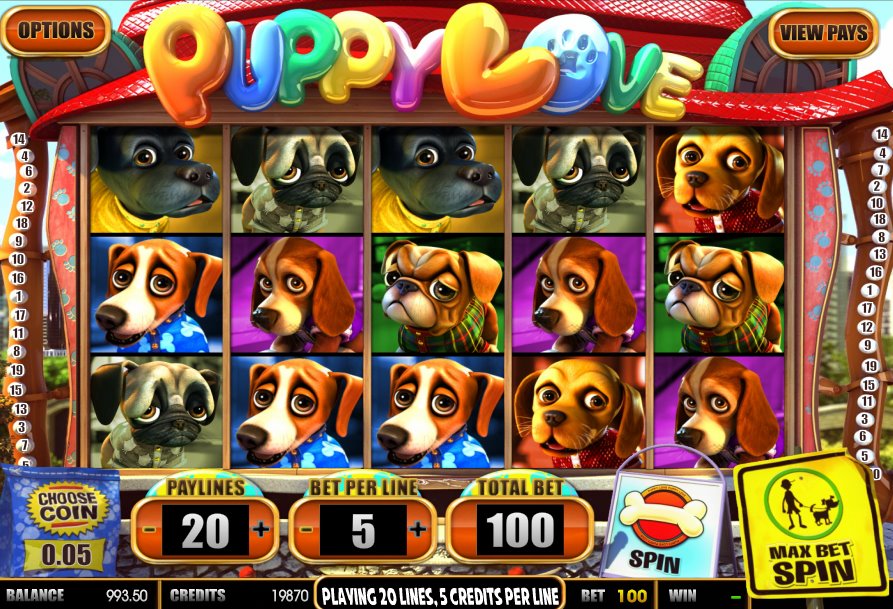 Lydeffektene har også fått fortjent med oppmerksomhet i Puppy Love. I bakgrunn hører man til enhver tid signaturmusikken. Det er også lydeffekter på, hvis det skjer noe som helst på hjulene. Hvis man skal finne noe å pirke på, så kan det vel være at vi savner en figur ved siden av hjulet, som gjør noen morsomme sprell. Dette har vært gjennomgående hos Betsoft, og det er synd de ikke fikk med en hund på siden av spillet, som kunne gjort spillopplevelsen enda litt mer interessant.
Innsatser og tilleggsfunksjoner i Puppy Love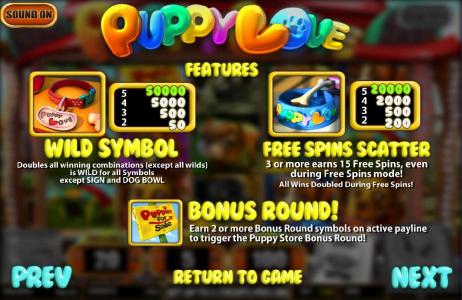 I puppy Love finner vi 20 gevinstlinjer som kan justeres to og to. Du har også mulighet til å justere innsatsen ytterligere med både antall mynter per linje, og hvor mye hver mynt koster. Myntverdien kan variere fra 2 cent og opp til 1 €. Hvis du spiller med alle hjulene, kan du med andre ord satse fra helt nede i 40 cent per spinn og helt opp til 100 € per spinn. Her finner man innsatser som er interessante for både highrollerne, og mannen i gata. Når det kommer til tilleggsfunksjoner så byr ikke Puppy Love på så alt for mye, utenom gevinstlinjevalget og innsatsnivå. Det kan jo også nevnes at man har mulighet til å satse maks i et spinn, med en egen knapp.
Spesial- og bonussymboler
Puppy Love kan by på tre forskjellige spesialsymboler. Man finner wildsymbolet som er i form av et halsbånd. Halsbåndet erstatter alle de andre symbolene i spillet, utenom de to andre spesialsymbolene. Hvis man har med et wild i en femsymbolskombinasjon, så vil man få dobbel gevinst. Hvis du derimot klarer å få fem wildsymboler på en gevinstlinje, vinner du hele 10.000 mynter! Noe som også er den største premien i spillet. Får man to eller flere av symbolet får man en gevinst uansett.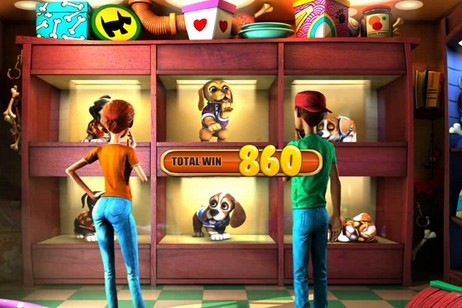 Det andre spesialsymbolet i Puppy Love er gratisspinnymbolet, som er en matskål. Tre slike symboler gir 15 gratisspinn og en dobbel multiplikator. Hvis du klarer å få flere gratisspinnsymboler under gratisspinnrunden, får du flere runder gratis med multiplikatoren.
Hvis du klarer å få to eller flere av det siste spesialsymbolet, så aktiverer du bonusspillet. Symbolet er et skilt som det står «puppies for sale» på. Når du får nok slike symboler så dukker en ny skjerm opp, hvor du får gå inn i en dyrebutikk full av søte hundevalper.
Sammendrag
Puppy Love er et skikkelig underholdende spill med fem hjul, tre rader og 20 gevinstlinjer. Man finner bonusspill, gratisspinn, og wildsymboler som utbetaler heftige summer. Er du glad i hunder og spilleautomater? Da er Puppy Love spilleautomaten noe for deg.