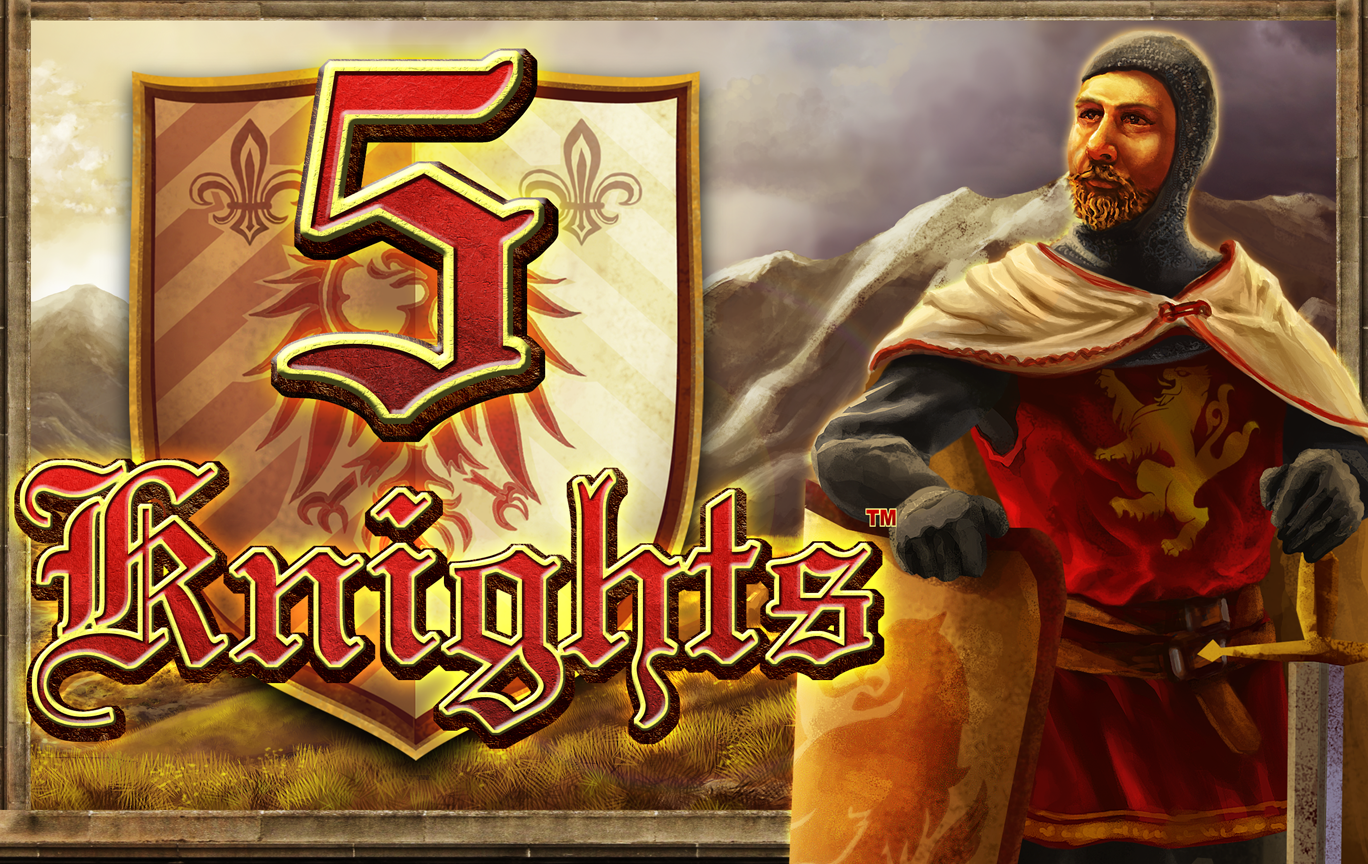 Det er noen temaer som går igjen i spilleautomatenes verden. Et av disse temaene er Middelalderen, med slott, konger og riddere. I 5 Knights handler det om riddere, og selv om spillets tittel nevner fem riddere, er det bare én ridder som viser seg på skjermen. Men han har kanskje allerede slått ut de andre fire i ridderturneringen, og står igjen som seierherre. Spillet kommer fra NextGen Gaming, og setter den rette stemningen umiddelbart. De fem hjulene i spillet er plassert på en slottsvegg, og det er tårn på siden av hjulene. Bak og ved siden av hjulene, ser man landskapet rundt slottet. Knappene er plassert nederst på skjermen, og er enkle å forstå. Lydeffektene i spillet er en jublende folkemengde og vrinskende hester. Musikken spilles bare når hjulene spinner.
Innsatser og innstillinger
5 Knights har et valgfritt antall gevinstlinjer. Totalt kan man aktivere 25 linjer, og jo flere linjer som er aktivert, desto flere vinnermuligheter har man per spinn. Innsatsen velges ved å finne en myntverdi man er fornøyd med. Det er mange myntverdier å velge mellom, og man trykker bare på + eller – for å finne en passe verdi. Husk at myntverdien som velges blir ganget med antall aktive linjer, for å få totalinnsatsen per spinn. Den laveste myntverdien man kan velge, er 0,02 euro, mens den høyeste myntverdien er 4 euro. Med den største innsatsen kan man satse 100 euro per spinn, mens med minsteinnsatsen, kan man aktivere alle linjene for bare 0,50 euro per spinn. Automaten har autospinn for den som spiller mye, og den som er modig kan gamble om alle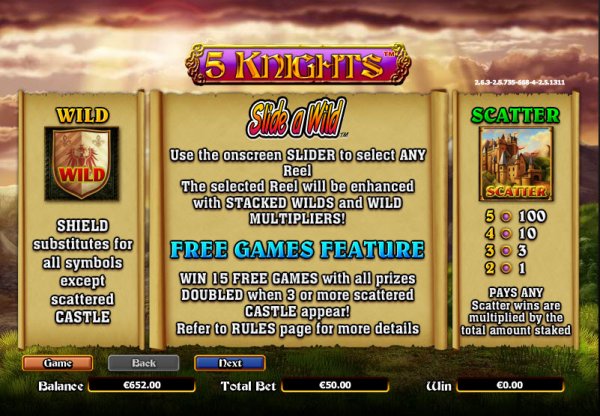 gevinstene i gamblingspillet.
Symbolene
Det er tre rader med symboler på hjulene, og symbolene består av både kortsymboler og unike symboler. De fleste symbolene gir bare gevinst for tre eller flere like på rad, men ridderen og den vakre kvinnen deler ut gevinster med bare to på rad. Ridderen gir en utbetaling på 500 mynter for fem like, mens man får 250 mynter for fem kvinner. De andre unike symbolene deler ut 150 mynter for fem like.
Smågevinstene blir delt ut av kortsymboler fra 9 til ess. Nierne og tierne gir de minste gevinstene, mens de andre kortsymbolene gir litt mer i gevinst. Alle gevinstene er oversiktlig listet opp i spillets gevinsttabell, og der blir også alle spesialsymbolene forklart.
Jokere
Jokerne i dette spillet er litt spesielle. Jokersymbolet viser et våpenskjold. Som vanlig, kan jokeren erstatte andre symboler for å fullføre vinnerkombinasjoner, men i dette spillet får man bare jokere på ett hjul, og det er spillerne selv som velger hvilket hjul de vil ha jokerne på. Avhengig av hvilket hjul man velger, gir jokerne inntil 6x multiplikator. Man velger hvor jokerne skal plasseres, gjennom å trykke på pilene over hjulene. Teksten Slide A Wild har en pil på hver side, som flytter jokerne bortover til et valgfritt hjul. På det første hjulet får man 2x multiplikator på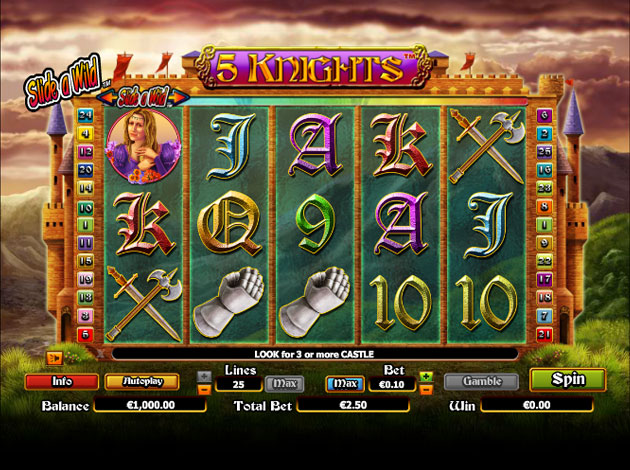 jokergevinster, på det andre hjulet får man 3x multiplikator, på det tredje hjulet får man 4x multiplikator, på det fjerde hjulet får man 5x multiplikator, og på det femte hjulet får man 6x multiplikator. Multiplikatoren blir bare aktivert når jokersymbolet inngår i en vinnerrekke. Spillerne kan altså velge om de vil ha høy multiplikator, men ha færre sjanser til å danne vinnerrekker med jokere, eller om de heller vil ha lavere multiplikator, og heller få vinnerrekker med joker litt oftere.
Gratisspinn
Man kan vinne15 gratisspinn i 5 Knights. Slottet er spillets scatter, og deler både ut bonuser og gratisspinn. For to slott på skjermen får man bare en gevinst, mens tre eller flere slott gir gratisspinn i tillegg til en gevinst. Gratisspinnene kan ikke gjenutløses mens man spiller med gratisspinn, men alle gratisspinn gir dobbel gevinst.
Alt i alt
5 Knights er et spill med riddertema, og spillerne har sjansen til å velge hvor de vil ha jokersymbolene. Plasseringen av jokerne avgjør hvor stor multiplikator de gir.