Tema og utseende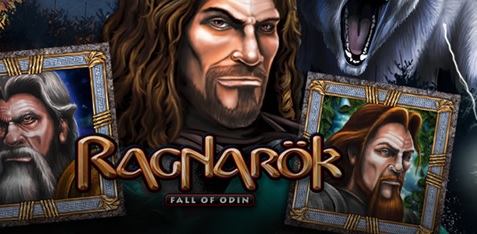 De som husker religionstimene på skolen vil sikkert straks komme på hva Ragnarok er i norrøn mytologi. Det er selve apokalypsen, enden av verden slik vi kjenner den. Når Ragnarok kommer, vil et gigantisk slag settes i gang. Et slag der alle de store norrøne gudene blir drept, inkludert selveste Odin. Deretter slår utallige naturkatastrofer inn, og verden vil senkes under vann. Deretter vil den dukke opp igjen, helt frisk og fin, fruktbar som aldri før. Det blir da opp til to mennesker som overlevde å sørge for at befolkningen vokser. Med et slikt tema forventet vi en kul, actionfylt spilleautomat. Siden det er Genesis Gaming som står bak denne maskinen, var det ingen tvil om at dette skulle bli en hit. Ragnarok ser vakker ut, med fine farger og flere små animasjoner som gjør den virkelighetstro og mystisk. Genesis har også inkludert vakker kormusikk i bakgrunnen og tilpassede lydeffekter som setter stemningen. Er du glad i spilleautomater med norsk tematikk, må du absolutt prøve ut Ragnarok, som finnes tilgjengelig hos flere norske nettcasino.
Grafikk og symboler
Selv om Ragnarok er en over ett år gammel spilleautomat, er den fortsatt veldig spennende å prøve ut. Grafisk sett mangler den 3D-grafikk til å begynne med, men når et bonusspill settes i gang blir det helt andre boller. Genesis Gaming konsentrerer seg om tematiske spilleautomater, og temaene de velger ut følges grundig fra topp til tå. Symbolene består av både tegnede detaljer fra norrøn mytologi, samt kjedelige kortverdier. Hvorfor Genesis ikke kunne bruke runer i stedet for latinske bokstaver og tall er helt uforståelig. De tegnede symbolene skildrer de tre hovedgudene fra vikingenes mytologi – Odin, Tor og Frøy, samt deres hellige bosted, gudenes by, selveste Vallhall. Livets tre, altså Yggdrasil, og Tors hammer er to andre symboler du får møte på spilleautomaten Ragnarok. Alt er vakkert skapt med grundige detaljer og små animasjoner.
Utbetalinger og spesielle funksjoner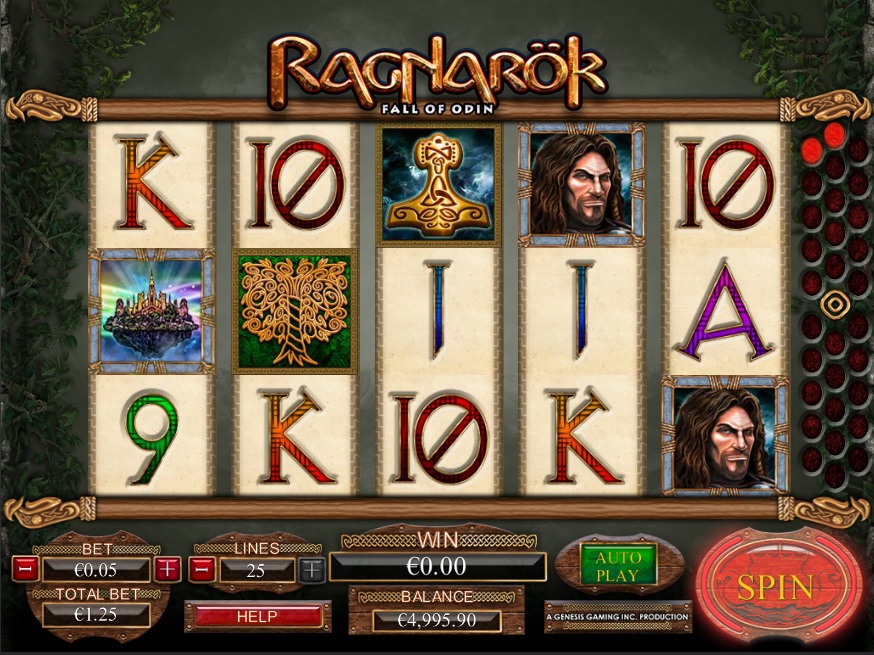 Ragnarok har 25 gevinstlinjer som er enkle å følge med på, samt en autospinnfunksjon som gjør det mulig å lene seg tilbake mens hjulene spinner automatisk. Innsatsmulighetene er veldig brede – her kan du satse alt fra et par kroner til flere hundre per spinn. Automaten er selvfølgelig også tilgjengelig for gratis spill på nett, og mobil casino. Dermed vil alle og enhver finne et nivå som passer lommeboken.
Kortverdiene gir de minste gevinstene, dette vet erfarne kasinospillere fra før. På det meste kan man vinne 250 ganger linjeinnsatsen på disse nominasjonene. Så har man Vallhall og de tre gudene – Odin gir selvfølgelig de høyeste utbetalingene, med 1000 ganger innsatsen i gevinst på det meste. Tors hammer er wildsymbolet, altså vil det magiske våpenet erstatte alle andre symboler og hjelpe deg med å treffe på diverse kombinasjoner langt oftere enn du tror. Ragnarok har også et scattersymbol som gir deg gevinster uansett hvor på skjermen symbolene dukker opp – det er Yggdrasil som er scatteren her.
Bonusspill og gratisspinn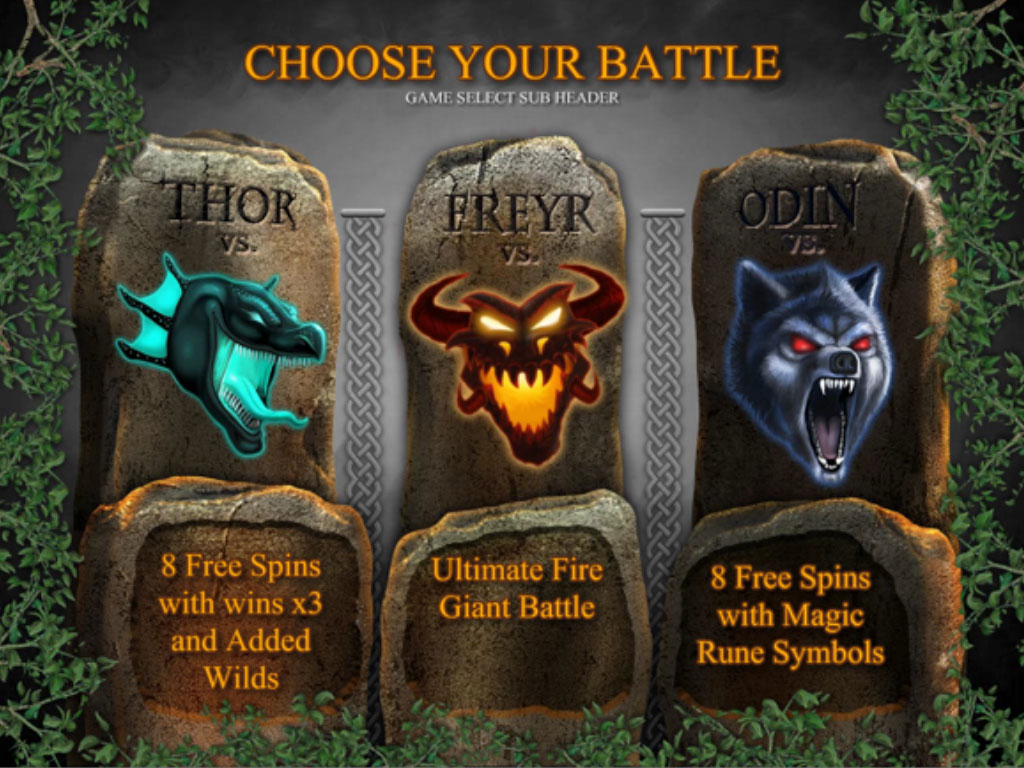 Genesis Gaming har lagd bonusspillene på Ragnarok veldig spesielle. Her har du nemlig ingen utvalgte symboler som setter i gang de ulike bonusfunksjonene. Etter hvert som du spiller vil røde runestener dukke opp på skjermen – derfra vil de fly til høyre og samles i spesielle lommer. Det meget spesielle her er at Ragnarok har hele tre ulike bonusspill som alle aktiveres etter hverandre, etter hvert som du samler inn disse runesteinene. Først har du Tor som kjemper mot Midgardsormen – åtte gratis spinn med ekstra høye gevinster settes i gang mens hele spillskjermen forandrer seg og den fæle ormen kommer til syne. Klarer du å bekjempe monsteret? Fortsett å samle inn runesteiner, så vil du aktivere den andre bonusrunden. Her må Frøy kjempe mot kjempen Surt. Klarer du å stoppe ildjetten fra å sette fyr på alle 9 verdener? Klikk på ulike deler av Surt for å påføre ham skade, mens gevinstene regner inn. Når du har fylt hele høyre side av skjermen med runesteiner, vil du bevitne Odins kamp mot Fenrisulven. Dette er også free spins, altså kan du lene deg tilbake mens slaget tar plass på skjermen foran deg. Når runesymboler dukker opp på skjermen vil du få ekstra høye gevinster. Nydelige bonusspill fra Genesis Gaming, her får du et ordentlig innblikk i norrøn mytologi. Som du sikkert har glemt det meste om.