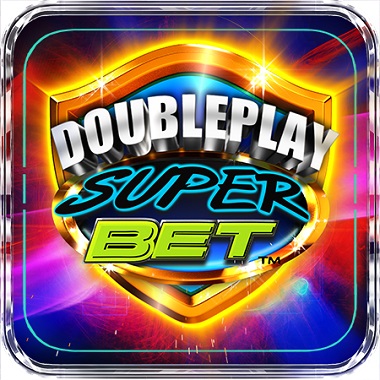 NextGen Gaming står bak spillet Doubleplay Super Bet. Dette er et spill der man kan få ekstra store gevinster dersom man satser ekstra mye per spinn. Man kan lese mer om dette her, eller lese spillets gevinsttabell for å få oversikten over ekstrainnsatser og ulike fordeler man kan kjøpe seg.
Spillets oppbygging
Spillet er enkelt og ukomplisert oppbygget, og musikken er avslappet og behagelig. Bakgrunnen er lilla, men endrer farge til blå når man vinner gratisspinn Når man spiller med gratisspinn endres også musikken, som blir litt livligere. Man kan gamble om gevinstene man vinner i Doubleplay Super Bet, for muligheten til å doble premien.
Symboler og gevinster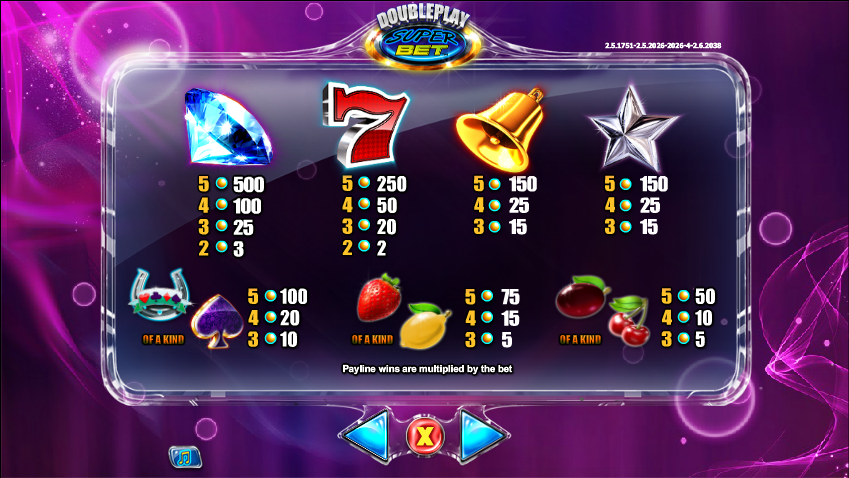 Symbolene i spillet er kjent fra mange andre spilleautomater, med bjeller, frukt, sjuere, sølvstjerner, hestesko og edelsteiner, samt kortsymbolet, jokere og spillets logo, som er en scatter. Spillet har ingen vanlige linjer på skjermen, men spilles som om det har 25 linjer. Det vil si at myntverdien ganges med 25 for å gi totalinnsatsen per spinn. Man velger myntverdi fra 0,01 til 2,00 euro, altså en totalinnsats fra 0,25 euro til 50 euro per spinn, dersom man spiller uten ekstrainnslagene. Diamantene gir 500x innsatsen for fem like, mens sjueren gir 250x innsatsen for fem like. Disse to symbolene gir også gevinst for 2 like, mens de andre symbolene bare gir gevinst dersom man klarer å få minst tre like på rad. Bjellene og stjernene gir 150x innsatsen for fem like, hestesko og spar gir 100x innsatsen for fem like, fem jordbær eller fem sitroner gir 75x innsatsen, mens fem plommer eller fem kirsebær gir 50x innsatsen. Jokersymbolet kan danne egne vinnerrekker, og gir utbetaling fra to like og oppover. Scattersymbolet gir også gevinst. To slike symboler gir 25x innsatsen, og fem scattere gir 2500x innsatsen.
Ekstrainnslag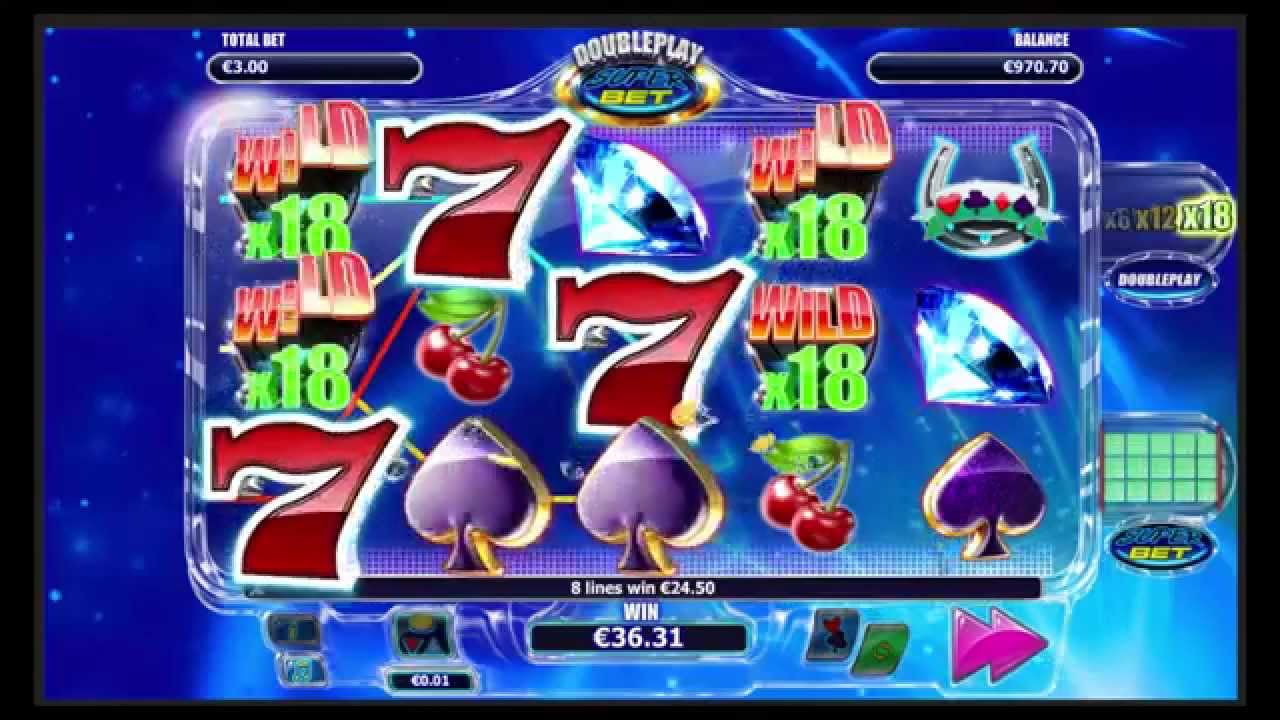 Ekstrainnslagene er veldig viktige i dette spillet, for det er spillerne selv som påvirker hvor mange jokere spillet skal ha og hvor stor jokermultiplikatoren er. Ekstrainnsatsene man kan kjøpe heter Doubleplay og Super Bet. Hvis man vil spille med Doubleplay, kan man vinne større jokermultiplikatorer. Hvis man vil spille med Super Bet, kan man vinne hjul med flere jokere og dermed få flere vinnersjanser, ettersom jokersymbolene kan erstatte andre symboler. I begge tilfeller koster det litt mer for hvert spinn. Både Doubleplay og Super Bet har tre ulike nivåer, slik at man kan velge hvor mye ekstra man er villig til å betale for å få disse innslagene. Superbet kan spilles på tre nivåer. Nivå én gir flere jokere på hjul 3, nivå to gir flere jokere på hjul 2, 3 og 4, og nivå tre gir flere jokere på alle hjul. Doubleplay har også tre nivåer. Nivå én gir en jokermultiplikator på 3x (6x under gratisspinn), nivå 2 gir 6x jokermultiplikator i grunnspillet (12x under gratisspinn) og nivå tre gir 9x multiplikator i grunnspillet (18x under gratisspinn). Det koster 25 mynter å spille på ekstranivå 1, 50 mynter å spille på ekstranivå 2 og 100 mynter å spille på ekstranivå 3. Disse myntene kommer i tillegg til den vanlige innsatsen på 25 mynter, og myntene har samme verdi som de vanlige innsatsmyntene.
Gratisspinn og autospinn
Man kan vinne 15 gratisspinn i spillet, og gratisspinnene kan også gjenutløses. Alle gevinster dobles under gratisspinnene. Hvis man spiller med ekstra stor multiplikator, vil denne dobles under gratisspinnene. Med Doubleplay nivå 3 får man hele 18x jokermultiplikator under gratisspinnene. Dersom man spiller mye, kan man velge inntil 100 autospinn i Doubleplay Super Bet. Da velger man innsats per spinn, samt om man vil ha ekstrainnslag. Så velger man antall automatiske spinn, og lener seg tilbake mens automaten gjør resten.
Oppsummering
Doubleplay Super Bet passer fint både for hobbyspillere og for spillere som ønsker å satse litt ekstra. Her kan man justere innsatsen både ved hjelp av myntverdi og ved å velge eventuelle ekstrainnsatser. Med en ekstrainnsats på 25, 50 eller 100 mynter per spinn, kan man sikre seg ekstra jokere eller ekstra store multiplikatorer.