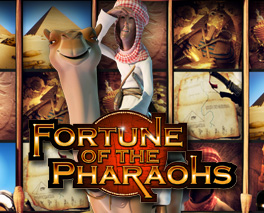 Fortune of the Pharaohs tar med spillerne ut på en spennende tur i ørkenen. Presentasjonen av spilleautomaten er utrolig flott. Blue Gem Gaming er spilleverandøren som står bak spilleautomaten, og de har nok en gang tatt i bruk en utrolig flott grafikk. De har blitt kjent for den flotte grafikken som de leverer i sine spilleautomater, og Fortune of the Pharaohs er enda et eksempel på det. Spilleskjermen er imponerende å se på, og spillerne har mer enn nok underholdning å få med seg i en spillerunde. Det er ikke bare spilleskjermen som skaper underholdning, men også de flotte bonusene som er lagt inn. Det hele kan oppleves så fort man har fått satt en innsats. Det gjøres på et par minutter, gjennom oppsettet som man ser på spilleskjermen.
Temaet
Egypt er et populært valg når det kommer til temaer. Fortune of the Pharaohs går inn i den kategorien. Spilleautomaten er langt i fra kjedelig selv om det er et tema som man har sett tidligere. Blue Gem Gaming har jobbet mye med å gjøre denne spilleautomaten unik, og det har de fått til. Som hovedkarakter har de satt inn en ung mann, som har begitt seg ut på en utrolig spennende reise. Det er han man får følge gjennom spillingen, og man skal ikke se bort i fra at han plukker med seg noen skatter på veien.
Spilleskjermen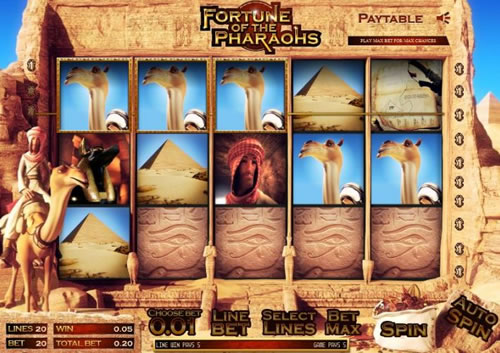 Spilleskjermen er tydelig preget av den gode grafikken. Det meste av effektene er laget i 3D, slik at de virkelig står frem på skjermen. Hovedkarakteren i temaet er selvfølgelig lagt inn på skjermen, og han kan man se på venstre side. Han er kledd riktig i forhold til det å reise gjennom ørkenen, og han har valgt en kamel som fremkomstmiddel. Til høyre for hovedkarakteren finner man hjulene i spilleautomaten. De er rammet inn av et gammelt egyptisk bygg, som er laget av stein. Fordelt over hjulene finner man de ulike bildesymbolene som er lagt inn. De er utrolig flotte og de viser ulike ting som hovedkarakteren ser på sin reisevei. Logoen er også bygget inn i rammen rundt hjulene. Den er plassert helt øverst. Den er formet av bokstaver i gull. Ser man på bakgrunnen som er lagt på, vil man først og fremst se en klar blå himmel, men man kan også skimte noen pyramider som stikker opp i det fjerne.
Oppsettet
Blue Gem Gaming har et tradisjonelt oppsett som de bruker i sine spilleautomater. De er satt sammen av fem hjul og tre rader. Det er dette oppsettet som brukes til å fordele symbolene i spilleautomaten også. Det er alltid plass til 15 symboler i oppsettet, og de spinner rundt og byttes ut etterhvert som spilleren spiller. Det er også lagt inn noen innsatslinjer, som er oppmerket på venstre og høyre side av hjulene. Den siste delen av oppsettet er knappene som man kan bruke til å tilpasse innsatsen. De er plassert på den nedre delen av skjermen.
Innsatser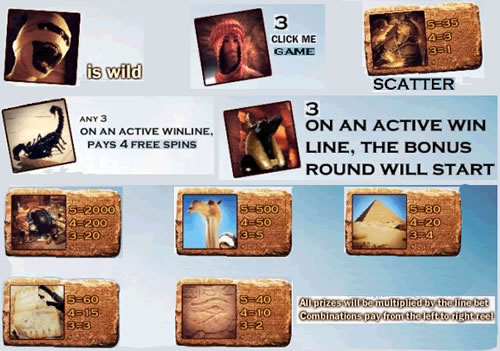 Innsatsene settes ved at spilleren bruker de tre ulike knappene som er lagt inn. Det er en myntverdi som skal settes, i tillegg til at spilleren skal bestemme hvor mange mynter som skal satses per innsatslinje. Det er også mulig å justere på innsatslinjene for de som ønsker det. Det er noen andre knapper som man kan bruke også. To av dem er knapper som er lagt inn for å gi spilleren en enda enklere spilleopplevelse. Den ene vil sette innsatsen kun ved et trykk, mens den andre vil gjøre at spilleautomaten går automatisk. Knappen som er merket med teksten Spin er den som setter i gang spilleautomaten på vanlig måte.
Bonuser
Bonusene aktiveres i løpet av en spillerunde. De gir ut ulike fordeler til spilleren, slik at sjansen for gevinster blir enda høyere. Det er tre bonuser totalt. Den ene er et wildsymbol som øker sjansen for vinnende kombinasjoner på hjulene. Den andre er et klikk og vinn bonus, men den tredje aktiveres med et scattersymbol, og den deler ut mange flotte gevinster.