Egypt i sikte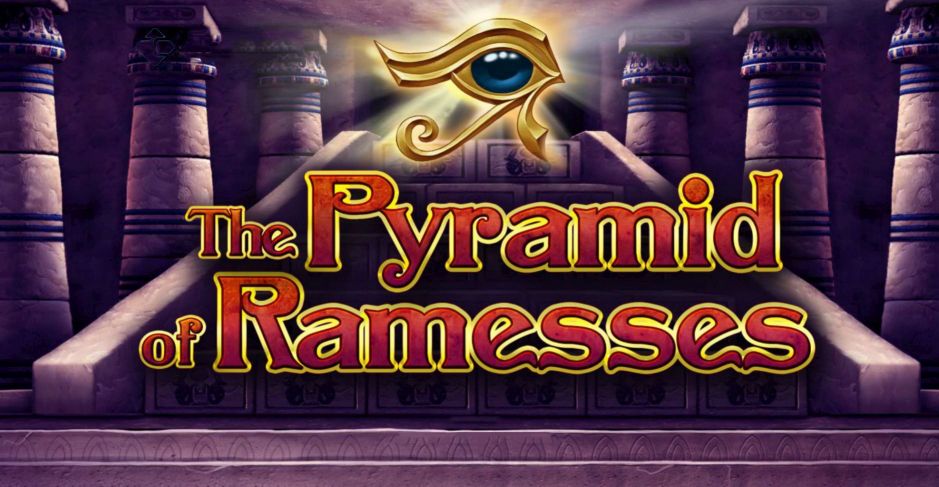 Pyramid of Ramesses er en av de nyere spilleautomatene der ute med fokus på oldtidens Egypt. Her får man et innblikk i egyptisk kultur og symbolisme, med tilpassede animasjoner og bakgrunnsmusikk. Det er den kjente spillutvikleren Playtech som står bak Pyramid of Ramesses, og dette bør være grunn nok for erfarne spillere å prøve ut spilleautomaten. Playtech har nemlig lansert en rekke tematiske spilleautomater gjennom sin lange karriere, og hver av dem har vært like god og spennende. Pyramid of Ramesses er et godt eksempel, for her får man kjenne seg som en del av den egyptiske verdenen fra start. Bakgrunnen er mørk og dyster, Ramses var tross alt en krigerkonge (farao) som bekjempet de fleste av sine fiender. Pyramid of Ramesses har 25 gevinstlinjer, et ganske standard antall for Playtech. Midt i mellom for få og for mange. Den har en rimelig høy utbetalingsrate, altså kan man spille lenge uten å merke noen særlig store forskjeller på spillekontoen. Annenhvert spinn vil du se en gevinst, selv om de fleste av dem er små. Innsatsmulighetene er brede, slik at alle kan finne et passende nivå å holde seg til. Når du har funnet et beløp du ønsker å spille for, er det bare å trykke på den tradisjonelle røde spinnknappen som aldri forandrer seg hos Playtech. Du finner Pyramid of Ramesses på de fleste norske nettcasino, altså kan du begynne å spinne hjulene på denne flotte automaten innen kort hvis du allerede har en konto online. Dog ingen grunn til å fortvile hvis du henger litt etter, nettcasinoene er åpne døgnet rundt og er tilgjengelige både på datamaskinen og fra mobile enheter (smarttelefoner, nettbrett). Pyramid of Ramesses vil ikke bli borte.
Bruk mulighetene og vinn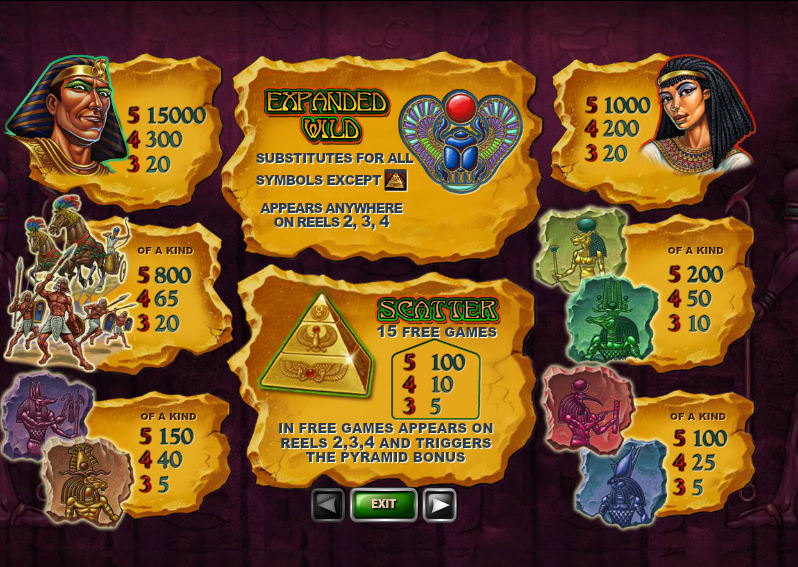 Nå om dagen er det nærmest endeløse muligheter til å tjene penger hjemmefra, så lenge du har bredbånd installert og en datamaskin tilgjengelig. Norske spillere er ofte priviligert på nettet, enkelte aktører er villige til å gi ut gratis casino penger uten innskudd så lenge du registrerer deg hos akkurat dem. Erfarne spillere foretrekker dog gratis spinn, siden man her får prøve de nyeste titlene helt uten kostnad, og vinne gode penger uten å se spillekontoen forandre seg i negativ retning i det hele tatt. Gratis spinn kan fås på mange ulike måter. Spiller du Pyramid of Ramesses, for eksempel, ser du bare etter pyramidesymbolet – dukker det opp tre eller flere av dem, hvor som helst på skjermen, vinner du 15 gratisspinn. Men for å spinne hjulene må du ha penger. Eller gratisspinn. Mange aktører gir ut free spins no deposit bonuser, der du får spinne hjulene på Pyramid of Ramesses eller andre automater som Mega Fortune (med progressiv jackpot) og Starburst i stedet. Vi vil hjelpe deg med å finne frem til enhver casino bonus Norge kan dra nytte av, og finkjemme markedet for de mest lukrative omsetningskravene. For hver bonus kommer med krav, ellers hadde det vært altfor enkelt for spillerne å melke casinoet. Ved å bruke de beste mulighetene du får av casinoindustrien på nettet, kan du tjene gode penger samtidig som du får i deg god, gammeldags action. Underholdning er vi jo glade i her i landet!
Gevinster på Pyramid of Ramesses
Gratis spinn som Pyramid of Ramesses deler ut har vi allerede nevnt ovenfor, men automaten har mange andre deilige utbetalinger. De ulike gudene avbildet på steinblokker gir ut alt fra 5 til 200 mynter per gevinstlinje, mens krigerne (på hestekjerre eller til fots) byr på opp til 800 mynter om gangen. Så har du faraoens kone – en kombinasjon av fem like gir deg 1000 mynter tilbake, noe som raskt kan bli til en liten formue om du satser maksimalt. Faraoen selv er dog selve jackpotten i spillet, med 15 000 mynter på det meste. Du har wildsymbolet i form av en skarabé-bille, som hjelper deg med å sette kombinasjonene. Dermed er vinnersjansene høye på Pyramid of Ramesses. Noe du vil straks merke når du setter i gang. Legg forresten merke til 3D-detaljene. Disse minner oss på at Playtech har holdt seg til tegneseriestilen med vilje.