Mystisk atmosfære fra Cryptologic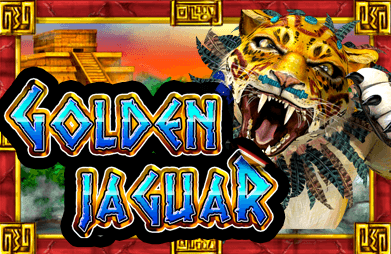 Golden Jaguar er en tematisk spilleautomat i tegnet stil fra Cryptologic, en av de større spillutviklerne på markedet. Cryptologic har en lang historie som dessverre gikk i stå etter mange år på toppen. Nå har utvikleren imidlertid blitt kjøpt opp av Amaya, et gigantisk spillkonsern som eier blant andre PokerStars, verdens største pokernettsted. Dette lover godt for det irske teamet av spillelskere som skaper de fargerike spillene vi stadig prøver ut. Golden Jaguar er et av disse, og et av de mest fargerike og vakre fra Cryptologic/Amaya. Golden Jaguar handler om inkaene, et folk som bodde i Sør-Amerika før spanjolene invaderte fra øst. Inkariket baserte seg på en sterk religion med ofringer til gudene og mange andre underlige tradisjoner. Et av deres hellige dyr var jaguaren, et mystisk dyr som tilbringer mesteparten av livet i den tette jungelen. Mange sagn og legender gikk om disse dyrene, og flere gullstatuer av jaguarer har blitt funnet av arkeologer. Spilleautomaten Golden Jaguar tar oss med til en lyseblå elv, omringet av hvit sand og tett jungel. Langt der bak kan man skimte indianernes pyramider, som er lette å kjenne igjen i forhold til egypternes pyramider. Spillatmosfæren blir straks tropisk og varm, inntil et spinn settes i gang og den tilpassede bakgrunnsmusikken setter i gang. Her har Cryptologic nemlig gjort det veldig bra – musikken ligner nesten på lydene fra Apocalypto, filmen av regissøren Mel Gibson, som også hadde latinamerikanske urfolk i hovedrollene.
Kjedelige symboler, spennende spill
Hvorfor Cryptologic inkluderte kortsymbolene blant kombinasjonene, er umulig å svare på. I hvert fall med tanke på de andre symbolene de tegnet. Simple, ganske ensfargede detaljer fra inkariket hadde vært strålende om spilleautomaten hadde vært fylt med dem. Litt slurv fra den kjente spillutvikleren kan vi dog tåle. Urner, mystiske bøker, masker og totempæler spinner forbi på skjermen, side om side med to indianere. Disse to er veldig fargerike og flotte, samtidig som de gir førti ganger pengene tilbake om man treffer fem like. Samtidig er alle de tegnede symbolene animerte, noe vi selvfølgelig setter stor pris på. Dette gjør maskinen mer levende og gir en god helhetsfølelse. Innsatsmulighetene på Golden Jaguar er brede og gode: Her kan alle finne sitt nivå, selv om storspillere kanskje vil bli skuffet av den maksimale grensen i form av 100 dollar per spinn. Det er jo ikke en tusenlapp engang! For oss vanlige dødelige mennesker er det mer enn nok med de innsatsmulighetene Cryptologic har gitt oss, og med hyppige utbetalinger er det morsomt å spinne hjulene. Golden Jaguar har femti gevinstlinjer, altså er det nok av muligheter til å sette ulike kombinasjoner med hvert spinn. Autospinn-knappen er forresten spesielt god å bruke her, samtidig som den er enkel å stille inn.
Wildsymboler og gratisspinn på Golden Jaguar
Nei, Golden Jaguar har ingen progressiv jackpot, til forskjell fra så mange andre maskiner Cryptologic har lansert de siste årene. Den har dog andre velkjente funksjoner vi er vant til, slike som wildsymboler, gratisspinn og bonusspill. Wildsymbolet kommer i form av jaguaren selv, i egen gylne person og med fargerike symboler i ansiktet. Fem wildsymbol spytter ut femti ganger pengene tilbake, mens selve symbolene vanligvis dukker opp i lange rader på skjermen. Så har man scattersymbolet, som er utformet som en gullmaske med ordene Bonus bak. Her blir du tatt med til et inkatempel der du må klikke deg frem til gratisspinn og mangedobling av gevinstene. Setter du i gang 10 gratisspinn på Golden Jaguar med en femdobling av alle gevinster, vil du sitte igjen med en saftig sum på spillkontoen når gratisspinnene er over. Dette er kanskje ikke en 3D-spilleautomat med virkelighetstro animasjoner og detaljer, men Golden Jaguar er en god maskin å prøve ut. Spesielt om man akkurat har krevd inn en innskuddsbonus og fått noen gratisspinn å kose seg med.