Mighty Trident er en spilleautomat som kommer fra spillutviklerselskapet Mazooma Interactive Games. Mazooma Interactive Games er et av mange spillutviklerselskap på markedet og de som mange andre jobber hele tiden for å kunne levere bra spilleautomater til sine spillere. Mazooma Interactive Games kommer trolig til å imponere mange med Mighty Trident. Det er en spilleautomat av høy standard, med et bra presentert tema og flere gode spesialfunksjoner som kan aktiveres underveis. Tema som er satt i spilleautomaten handler om Poseidon, som er den greske havguden. Han er spilleautomatens hovedkarakter og havet som forbindes med han er også representert. I tillegg til Poseidon er det også flere greske guder som er presentert i spilleautomaten. Mighty Trident har med andre ord et tema som kan fange mange, og stemningen som er satt i spilleautomaten er helt spesiell.
Grafikk og spilleskjermen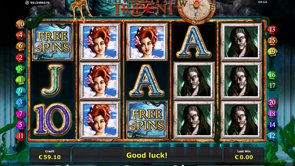 Spilleskjermen i Mighthy Trident er utrolig flott formet og bringer virkelig frem spilleautomatens tema. Det er mange mørke farger på spillskjermen, noe som skaper en litt dyster stemning, men i tillegg litt mystikk. Det er noe som passer utrolig godt til tema. Bakgrunnsbilde viser et gresk palass under vann og man ser blant annet de velkjente hvite pålene. De har tydelig vært under vann over lengre tid for det er sjøgress som har slynget seg rundt dem. Øverst på spilleskjermen går fargen over til svart og der ser man Poseidon selv. Han er plassert rett ved siden av spilleautomatens logo, som er formet i røde bokstaver. Ved siden av logoen har man et kompass. Midt på spilleskjermen ser man spilleautomatens hjul og symboler. Hjulene har en veldig mørk bakgrunn men nederst kan man skimte litt av bakgrunnsbilde. Symbolene i spilleautomaten er i to forskjellige former. Enten er de i form av bilder som er tilpasset tema, eller så er de i form av de høyeste symbolene fra en vanlig kortstokk. Nederst på spilleskjermen har man spilleautomatens knapper. De er nøytrale nok til og ikke ta noe oppmerksomhet fra resten av spilleskjermen mens man spiller.
Spesialfunksjoner i spilleautomaten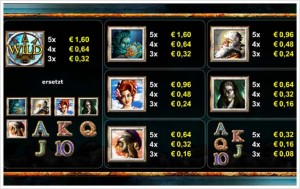 Det er flere gode spesialfunksjoner lagt inn i Mighty Trident. Noen av spesialfunksjonene vil bli aktivert ved hjelp av noen spesialsymboler, mens andre blir aktivert helt tilfeldig. Spilleautomaten har til sammen to spesialsymboler og det er wildsymbolet og scattersymbolet. Wildsymbolet er i form av Poseidons fiskespyd. Dette symbolet fungerer som spilleautomatens joker og den kan derfor erstatte andre vanlige symboler som dukker opp på hjulene. Det andre spesialsymbolet i spilleautomaten er scattersymbolet. Scattersymbolet er det symbolet som kan aktivere gratisspinnrundene i Mighty Trident. Man trenger minst tre scattere på hjulene samtidig for at funksjonen skal bli aktivert. Man vil da få tildelt fem gratisspinnrunder. Underveis i gratisspinnrundene kan det dukke opp stablede symboler. Den funksjonen som kan aktiveres helt tilfeldig i spilleautomaten er den som har blitt kalt Poseidon. Grunnen til det er at det er Poseidon selv som styrer denne funksjonen og det er spilleautomatens bonus. Bonusen går ut på at Poseidon kan når som helst slå fiskespydet sitt over hjulene og resultatet vil da være en ekstra gevinst til spilleren. Gevinsten kan være ekstra spinn, bonusgevinst, endring av rekkefølgen på hjulene eller endring av symbolene på hjulene.
Hvordan kommer man i gang
For å komme i gang med spilleautomaten Mighty Trident så må spilleren aller først se over de ulike justeringene. Innsatslinjene i spilleautomaten er lagt inn som faste så det er det ikke mulig å endre. Det spilleren derimot kan endre er myntverdien det skal spilles med. Man må da bruke tilhørende knapp nederst på spilleskjermen og da finne en myntverdi som man er fornøyd med å spille med. Myntverdien i Mighty Trident starter på 0,01 mynter. Når man er ferdig med å gjøre den justeringen så kan spilleautomaten settes i gang. Det gjøres enten ved at man bruker spinnknappen eller ved at man bruker autospinnknappen. Autospinnknappen vil da gjøre at spilleautomaten går av seg selv et bestemt antall runder.