Faraoene er udødelige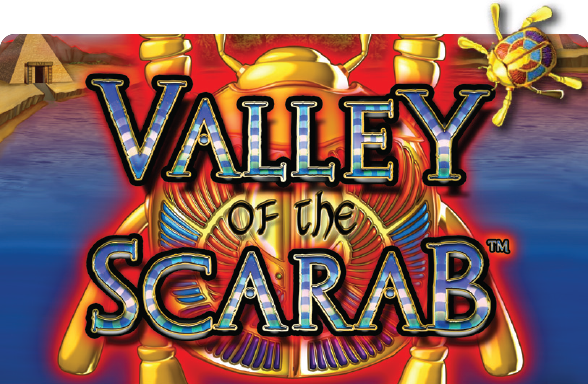 Selv om oldtidens Egypt og de gamle faraoene for lengst har gått inn i historiebøkene etter å ha forsvunnet fra det fysiske livet, lever de i beste velgående digitalt – hundrevis av ulike spill og spilleautomater har blitt lagd med Egypt i fokus. Valley of the Scarab er en av flere spilleautomater fra spillutvikleren Cryptologic som har Egypternes rike i sentrum, og dette er en av de finere maskinene av denne typen på markedet. Valley of the Scarab har én ting som virkelig skiller den fra andre lignende spilleautomater – musikken. Musikken som Cryptologic har valgt ut for Valley of the Scarab er helt fantastisk, selv om den kanskje ikke er helt passende. Her får man nemlig høre raske, vakre, arabiske melodier hver gang man setter i gang et spinn. Det er ikke ofte man hører så flott bakgrunnsmusikk – selv om araberne kom mye senere enn egypterne gir vi to tomler opp for denne. Valley of the Scarab tar oss med til Nilen, med vakre pyramider ved elvekanten. Denne spilleautomaten har blitt tegnet opp av Cryptologic, en kjent spillutvikler som ofte lager maskiner for hånd. Her finner man derfor ingen 3D-grafikk eller store animasjoner, ei heller noen interaktive bonusspill og lignende. Valley of the Scarab har fortsatt en genuin atmosfære, og de vakre symbolene understreker hvor mye tid Cryptologic har brukt på denne spilleautomaten. Kortsymbolene fra 10 til A gir smågevinster og er ment å være nærmest usynlige, mens sarkofagene, antikke bøkene, svarte kattene og gullbystene gir opp til 25 ganger pengene tilbake. Så har man de to faraoene, en mann og en kvinne, samt en skarabé-bille – sistnevnte var en hellig bille i oldtidens Egypt. Det er disse skarabé-billene denne spilleautomaten handler om, og det er derfor denne som gir størst gevinst – opp til 75 ganger innsatsen. Skarabé-billen er samtidig wildsymbolet i spillet, dermed er den ekstra viktig.
Wildsymboler og gratisspinn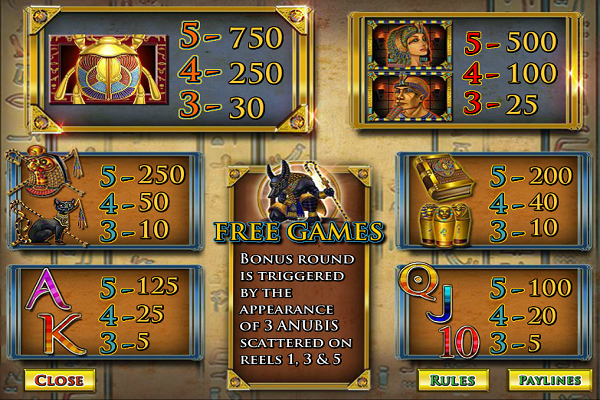 Valley of the Scarab er en spilleautomat med rimelig høy utbetalingsrate, altså kan man spille i flere timer uten noen særlige variasjoner. Nesten hvert eneste spinn vil utløse en gevinst, selv om de fleste utbetalingene så vidt dekker innsatsen. Med 100 gevinstlinjer er det nesten umulig å bomme på en kombinasjon, derfor må man satse på kun de beste symbolene for å vinne stort. Innsatsmulighetene er ekstremt brede – de fleste spillere vil ha null trøbbel med å finne et passende nivå. Skarabé-billen blir din beste venn, det er en grunn til at automaten heter Valley of the Scarab. Denne gir de høyeste gevinstene og hjelper til med å sette andre kombinasjoner – samtidig vil du legge merke til at billen ofte dukker opp i lange rader på de ulike gevinsthjulene. Dekker skarabé-billen et helt hjul vil du meget sikkert sette en deilig gevinst. Ellers er ikke Valley of the Scarabs noe særlig å skryte av når det kommer til funksjoner. Den viktigste og mest elskede er selvfølgelig gratisspinn. Tre Anubis-symboler (mannen med hundehode) vil sette i gang 7 gratisspinn, der en tilfeldig mangedobling av gevinsten vil fastsettes med hvert spinn. Med litt hjelp fra faraoene vil du kunne åttedoble gevinstene du samler inn under runden med de kostnadsfrie spinnene, eller utvide antallet gratisspinn ved å treffe på enda flere Anubis-symboler.
Jackpot i Valley of the Scarabs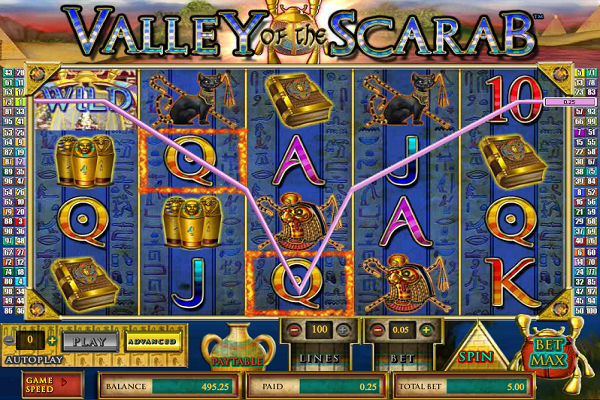 Selv om mange andre spilleautomater med fokus på Egypt har en progressiv jackpot å skryte av, valgte Cryptologic å ikke inkludere en slik en på Valley of the Scarabs. Dette er selvsagt sørgelig, men man kan ikke alltid få alt man ønsker. Cryptologic har satt en maksimal grense på 1 000 000 ganger innsatsen – dette er altså det meste man kan vinne på Valley of the Scarabs. Hvordan en slik sum skal være mulig å håve inn er vanskelig å si, siden det verken finnes noen innebygd jackpot eller en progressiv en. Vi anbefaler denne spilleautomaten for alle som har sansen for Egypt og arabisk musikk spesielt. Ellers er den rask og gir høye utbetalinger, men mangelen på jackpotter og bonusspill gjør den en smule kjedelig etter en drøy halvtime spilt.