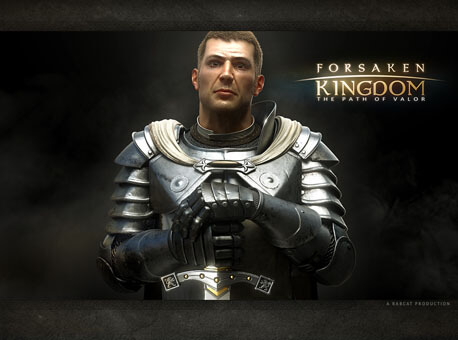 I dette spillet kan spillerne glede seg til en utrolig spenningsfylt tid, hvor det finnes en storm som nærmer seg med stormskritt. Her må spillerne samle seg sammen rundt det runde bord sammen med ridderne, og slippe ut kreftene til Excalibur. Dette er for at spillerne skal bekjempe mørket og selvfølgelig redde alle deres kjære som venter. Dersom man føler at dette kan bli litt skummelt eller at man er redd for det hele, kan nok dette stemme og man bør absolutt være nervøs. Dette spennende spillet er det spillutviklerne hos Rabcat som står bak, og det er et spill som har blitt satt opp med totalt fem spinnende hjul, tre rader med symboler og hele 20 spillelinjer. Spillet har fått et utrolig spenningsfylt og samtidig dystert tema som har blitt basert på den verdensberømte Arthurian-legenden. Spillet vil sende spillerne avgårde på en heltemodig reise og kaste dem ut i et mørk og et ugjestmildt miljø. Som Kong Arthur vil man måtte stå ansikt til ansikt med alle de forskjellige utfordringene, samt dødelige trusler. Dette er med andre ord ikke et sted der man vil være den tapende part. Noe som er veldig tydelig i dette spillet er at spillutviklerne har fokusert utrolig mye på kvaliteten av grafikken. Grafikken i spillet er nemlig utrolig realistisk, fra begynnelse til slutt, og den vil nok imponere alle kasinospillere som klikker seg inn for å prøve seg på denne spilleautomaten.
Oppsettet og symbolene i spillet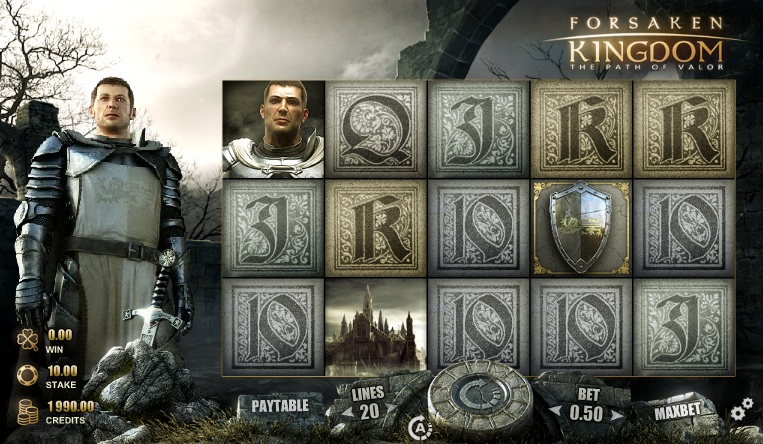 Når spillerne klikker seg inn på Forsaken Kingdom vil de bli møtt av et klassisk oppsett, noe som betyr at det finnes fem hjul, tre rader fylt opp med symboler og til sammen 20 spillelinjer. Spillets bakgrunn er like mørk og dyster som resten av spillets tema. Spillerne kan i tillegg se en grå himmel og et par trær i bakgrunnen, som ikke viser tegn til liv. På venstre siden av hjulene vil spillerne se spillets hovedkarakter, som vil være til stede under hele spillets gang. Spillets tittel har blitt designet i flotte bokstaver av gull og de er plassert i høyre hjørne, øverst på skjermen. Menyen i spillet er minst like stilig som resten av spillet, da alle innstillingene og funksjonene har blitt plassert på steiner som ligger på bakken. På hjulene i spillet kan spillerne se mange flotte symboler som har blitt designet med utrolig mye detaljer. På symbolene vil spillerne kunne se ulike ikoner fra kongeriket, som Kong Arthur, The Black Knight, et sverd som ble tatt ut av steinen av den unge Arthur og enda mye mer.
Spillernes innsatsalternativ og innstillinger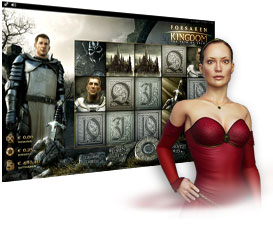 Når det kommer til de ulike innsatsalternativene i spillet, kan spillerne justere på to ulike ting her. Spillerne vil selv kunne justere på antallet aktiverte spillelinjer, og deretter hvor mye som skal satses per spillelinje. Etter at spilleren har bestemt hvor mange av spillets 20 spillelinjer som skal aktiveres, kan spilleren justere innsatsen fra 0,05 $ og opp til 1 $ per spillelinje. Spillerne vil i tillegg til dette finne en rekke andre praktiske funksjoner og knapper. Det finnes en oversikt over mulige gevinster i tillegg til de vanlige «max bet»- og «autoplay»-knappene.
Spesialsymboler og ekstrafunksjoner i Forsaken Kingdom the Path of Valor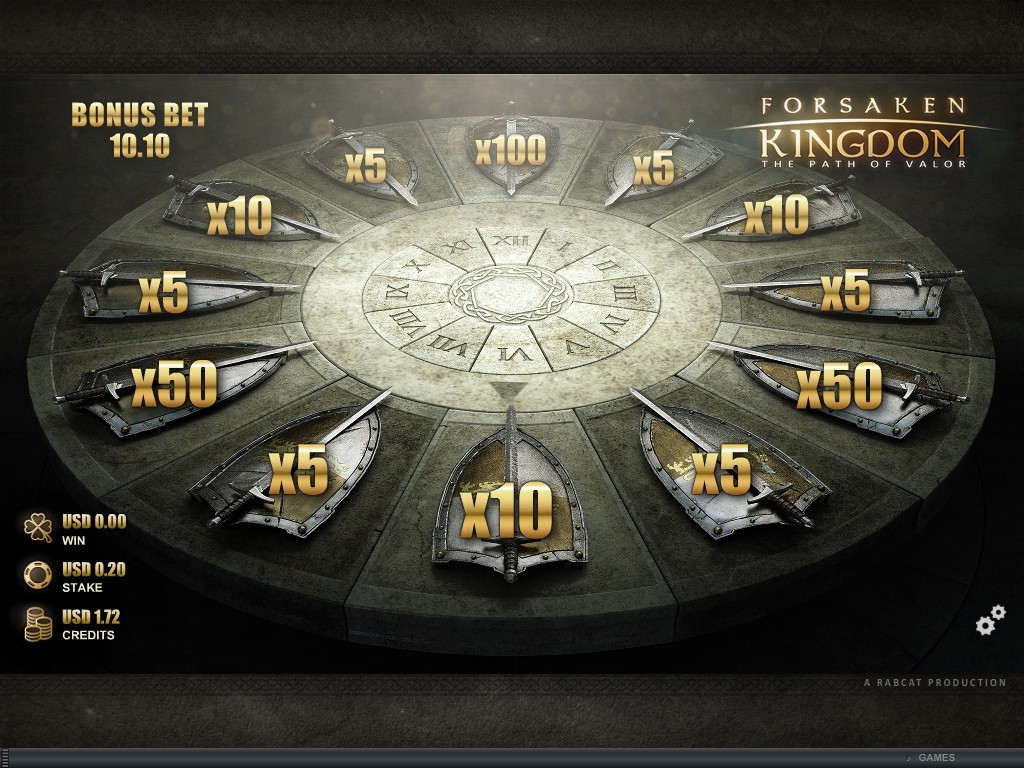 Det er absolutt ikke mangel på underholdning i dette spillet, og i tillegg til wildsymboler og scattersymboler kan spillerne se frem til tre ulike bonusrunder. Wildsymbolet i spillet kan dukke opp stablet på det tredje hjulet, og erstatter alle vanlige symboler i spillet. En av funksjonene i spillet er den romantiske Eternal Love-funksjonen, og den fantastiske Epic Battle-bonusen. Den førstnevnte er den som vil bli aktivert når Kong Arthur dukker opp ved siden av lady Guinevere på øverste rad i hjulene. Den andre blir aktivert når Kong Arthur dukker opp ved siden av en svart ridder på den øverste raden av hjulene. Begge disse to unike og flotte funksjonene vil belønne spillerne med en bonusgevinst, i tillegg til at noen underholdende videoer blir spilt av.