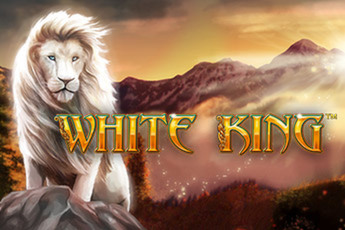 Playtech er det spillutviklerselskapet som står bak spilleautomaten White King. Playtech er et veldig kjent navn innen spillutvikling og de har flere gode spilleautomater ute på markedet allerede. Blant disse finner man nå spilleautomaten White King. Playtech viser seg virkelig fra sin beste side i White King, og det er gode sjanser for at denne spilleautomaten blir utrolig populær. Spillutviklerselskapet har klart å legge inn et ganske originalt tema og tema er virkelig presentert på en god måte. Det er mange gode detaljer og tema fanger virkelig oppmerksomheten til spilleren. I tillegg til det har man flere gode spesialfunksjoner lagt inn i spilleautomaten, og det er med på å gi spilleren enda bedre spilleopplevelser underveis. Alt i alt så er White King en god spilleautomat og Playtech har gjort en virkelig god jobb.
Spilleautomatens tema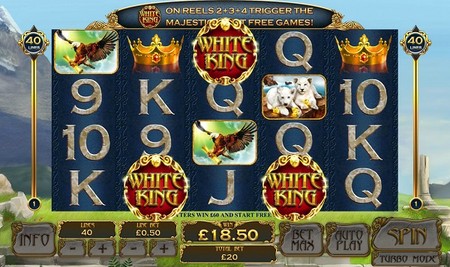 Tema som Playtech har valgt å sette inn i spilleautomaten er ganske original og viser at spillutviklerselskapet har tenkt mye på dette før de slapp ut spilleautomaten på markedet. Som hovedkarakter i spilleautomaten har man en løve som er hvit i pelsen og det er da altså han som er den hvite kongen. Det er denne hvite løven som er mest i fokus i spilleautomaten, men det er også tatt med flere eksotiske dyr fra naturen. På spilleskjermen har man tema ganske godt presentert. Det er brukt en veldig god grafikk på det hele, noe som gjør at bilder og detaljer kommer frem på en enda bedre måte. Bakgrunnsbildet på spilleskjermen viser tydelig at man befinner seg i naturen. På venstre side har man et flott høyt fjell, og man befinner seg da på nedsiden av fjellet. Der er det nydelig grønt gress som nesten skinner under solstrålene. Midt på spilleskjermen har man spilleautomatens hjul og symboler og de er også virkelig flotte. Hjulene har fått en mørkeblå ramme, noe som står flott til alle detaljene i gull som er på spilleskjermen. Symbolene på hjulene er i to forskjellige former, som da er bilder eller bokstaver. Bokstavene er i en steinaktig farge, mens bildene er flotte og fargerike og har en ramme av gull. spilleautomatens knapper har også fått samme ramme, slik at de også blir en tydelig del av spilleskjermen.
Innsats i spilleautomaten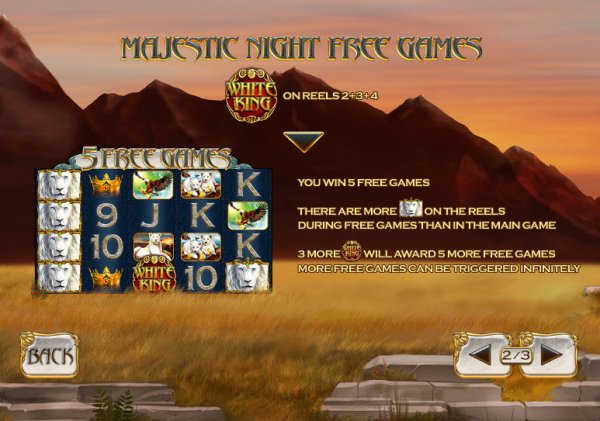 Før man setter i gang spilleautomaten er det greit å se over spilleskjermen og faktisk se hva slags oppsett man spiller med, og også hva slags innsatser man kan legge inn i spillerunden. I White King har man et oppsett som består av fem hjul og fire rader med symboler, og totalt har man 40 innsatslinjer. Nederst på spilleskjermen har man et oppsett med knapper, og det er to stykker av dem som skal brukes til å gjøre justeringer i forhold til innsatsen. Den ene knappen er til for å justere innsatslinjene. Innsatslinjene i spilleautomaten er ikke faste, så det er opp til spilleren å bestemme hvor mange som skal være aktive i en spillerunde. Den andre knappen er til for å bestemme innsatsen man skal ha per aktive innsatslinje. Det er også latt være opp til spilleren. Innsatsen per innsatslinje starter på 0,10 mynter. Justeringen på både innsatslinjene og innsatsen per innsatslinje gjøres ved å bruke en pluss og en minus knapp. Bet maks-knappen kan brukes til å spille med høyest mulig innsats helt automatisk.
Symbolene i spilleautomaten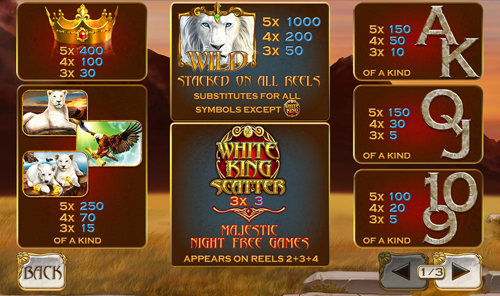 De vanlige symbolene i spilleautomaten vil gi ut kontantgevinster når man får en vinnende kombinasjon, men det er altså spesialsymbolene i spilleautomaten som har høyest verdi. De kan da både gi ut kontantgevinster, men også aktivere en form for spesialfunksjon i spilleautomaten. Et eksempel er wildsymbolet. Wildsymbolet fungerer som spilleautomatens joker og kan erstatte vanlige symboler på hjulene. I tillegg til det dukker den opp som stablet og den øker da sjansen for vinnende kombinasjoner på hjulene. Det andre spesialsymbolet er scattersymbolet. Den kan aktivere gratisspinnene som er lagt inn i spilleautomaten, i tillegg til å gi ut kontantgevinster.