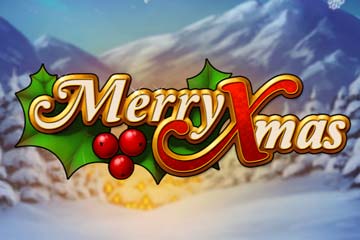 Merry Xmas er en spilleautomat fra spillutviklerselskapet Play'n GO. Play'n GO har mange gode spilleautomater ute på markedet allerede og Merry Xmas er blant dem. De viser gang på gang at de holder en høy standard på sine spilleautomater, og at de jobber med å sette gode temaer inn, slik at det er flere spillere som kan like de samme spilleautomater. Merry Xmas er en spilleautomater om har et veldig tydelig tema og det er så klart jul. Julen er en koselig tid for veldig mange og det er akkurat det man opplever i Merry Xmas, det er rett og slett en koselig stemning som oppstår. Play'n GO har gått litt tilbake i tid i Merry Xmas og de har valgt å sette frem tema slik at det ser litt gammeldags ut. For veldig mange vil det bare være med på å gjøre stemningen enda litt mer koselig. Merry Xmas er helt klart en spilleautomat som kommer til å være ekstra populær rundt juletider, men det er nok også mange som kommer til å ville spille på denne flotte spilleautomaten året rundt.
Grafikk og spilleskjermen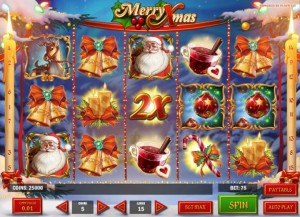 Spilleskjermen i Merry Xmas er rett og slett en glede å se på. Tema er så godt presentert og det er en helt unik stemning som kommer frem. Bakgrunnsbilde viser en tettvokst skog med mange flotte grønne trær som er dekket av snø. På hver side av spilleskjermen ser man et langt stearinlys som er tent og over hvert stearinlys er det en gren med snø og julelys. Nederst på spilleskjermen har man et oppsett med knapper. De er naturligvis satt i noen av julens farger, slik som rødt og grønt. Midt på spilleskjermen har man spilleautomatens hjul og symboler. Hjulene har ingen egen bakgrunn men er satt opp mot den flotte snødekte skogen. Hjulene er delt opp med noen røde lyslenker som da henger i en snor helt øverst. Symbolene på hjulene er alle i form av ulike bilder og bildene viser da mange ting som man forbinder med julen. Julenissen er på plass, i tillegg til juleklokker, gaveesker, julelys og noe form for varm juledrikk. Øverst på spilleskjermen har man spilleautomatens logo, som er formet i bokstaver som er i gull og rød og som er satt opp med en misteltein i bakgrunnen.
Spesialfunksjoner i spilleautomaten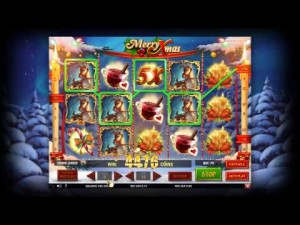 Det er flere gode spesialfunksjoner lagt inn i spilleautomaten og de blir da aktivert med forskjellige spesialsymboler. Det er til sammen to forskjellige spesialsymboler i Merry Xmas og det er wildsymbolet og bonussymbolet. Wildsymbolet fungerer først og fremst som spilleautomatens joker og den kan derfor erstatte alle andre vanlige symboler som dukker opp på hjulene. I tillegg til denne funksjonen, så kan wildsymbolet også aktivere en multiplikator i spilleautomaten. Multiplikatoren kan ligge på mellom to og opp til fem. Med tanke på at et vanlig symbol i Merry Xmas kan betale ut så mye som 2500 mynter, så kan det resultere i en ganske god gevinst. På hjulene kan det dukke opp tre ulike symboler som er i form av gaveesker og det er disse som er spilleautomatens bonussymboler. Når disse tre symbolene dukker opp på hjul en, tre og fem, vil man få aktivert spilleautomatens bonusspill. Bonusspillet er et plukk og vinn spill, som helt enkelt går ut på at spilleren trykker på forskjellige symboler, som da kan inneholde en gevinst.
Hvordan kommer man i gang
Spilleren i Merry Xmas har en del justeringer som kan gjøres innen man spinner i gang hjulene. Først og fremst er det mulig å justere på antall innsatslinjer, hvor man på det meste kan ha 15 stykker aktivert. I tillegg er det opp til spilleren å justere myntverdien det skal spilles med, og også hvor mange mynter man skal ha per aktive innsatslinje. Myntverdien starter på 0,01 mynter og går opp til 0,25 mynter, og man kan velge å ha mellom en og opp til fem mynter per innsatslinje.