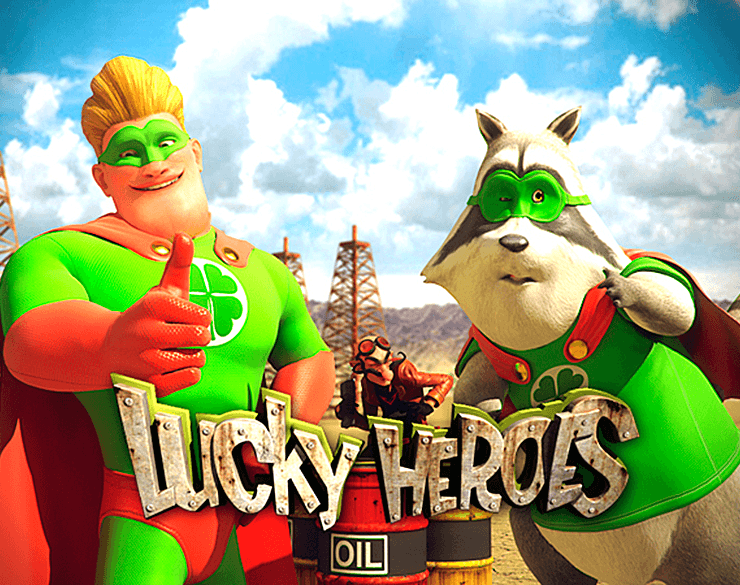 Lucky Heroes er en flott spilleautomat, som er satt opp med fokus på å bringe lykke til spilleren. Hva mer kan man egentlig be om når man skal spille på spilleautomater. Det er Blue Gem Gaming som står bak denne unike spilleautomaten. Spilleverandøren fortsetter i samme rekke som de har gjort tidligere, hvor de virkelig fokuserer på det å gi spilleren en best mulig spilleopplevelse. Førsteinntrykket som man får av denne spilleautomaten er veldig bra. Spilleskjermen er satt opp på en flott måte, og det er en klar fokus mot temaet. Brukervennligheten er også tatt med, og spillerne trenger ikke bruke lang tid på å sette innsatsen, slik at man faktisk kan begynne å spille. Underveis i spillingen kan man se frem til mange flotte bonuser.
Temaet
Superhelter som bringer lykke. Det høres for godt ut til å være sant, men det er faktisk det som er temaet i Lucky Heroes. Superhelter har blitt brukt mye innen spilleautomater, men ikke slik man finner i denne spilleautomaten. Det er kun en oppgave som er gitt til superheltene i Lucky Heroes, og det er å bringe lykke til spilleren. Det er to superhelter som er satt inn, og det er Mighty Mick og Ralph Raccoon. I tillegg til å bringe lykke, så vil de begge stå klare for å hjelpe til underveis i spillingen.
Spilleskjermen
Spilleskjermen i Lucky Heroes er klar når det kommer til grafikken. Det er mange detaljer som kommer frem, og bildesymbolene som er satt inn er veldig fine. Den ene superhelten er plassert på venstre side av skjermen. Han er kledd i grønn superheltdrakt og han ser ut til å være klar til å trå til der hvor det trengs. Til høyre for han finner man hjulene i spilleautomaten. De er plassert midt på skjermen, og de er dekket med ulike symboler. Alle symbolene er i bildeform, og de viser ulike deler av historien som følger med temaet. Bakgrunnen viser at man befinner seg på et forlatt industriområde. Det er blant annet satt inn noen tønner, og de er brukt som knappene i spilleautomaten. Alt på spilleskjermen henger godt sammen, og Blue Gem Gaming har virkelig klart å imponere igjen.
Oppsettet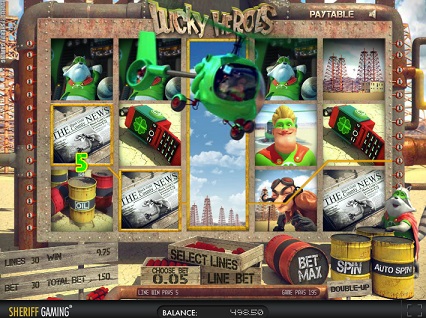 Spilleautomaten leveres med et fast oppsett, som består av hjul, rader og innsatslinjer. På midten av skjermen ser man hjulene og radene. Det er fem hjul og tre rader, og det er der man også ser 15 ulike symboler til enhver tid. Innsatslinjene er oppmerket på skjermen, på venstre og høyre side. Det er lagt inn 20 stykker. For de spillerne som ønsker å spille med et lavere antall, så er det også mulig, for Blue Gem Gaming har ikke satt dem inn som faste.
Innsatser
Det er spillerens oppgave å sette innsatsene for spillerunden. Innsatsen blir satt med tre ulike knapper, som er knyttet til de tre ulike delen av innsatsen. Som nevnt, så er innsatslinjene justerbare, og det er noe som spilleren eventuelt må justere på før man begynner å spille. På innsatsene skal det satses et antall mynter, og det er også spilleren som bestemmer verdien på de myntene. Verdien kan ligge på mellom 0,01 og 1 i kredit, mens antall mynter kan på det meste ligge på fem. Når spilleren har fått tilpasset innsatsen, så er det bare å trykke på spinnknappen, og det vil sette i gang hjulene.
Bonusene
Det er flere hjelpsomme bonuser som kan dukke opp i en spillerunde. De er alle knyttet opp til et bestemt symbol. Det første hjelpende symbolet er i form av en grønn helikopter. Det er spilleautomatens wildsymbol, og den kan kun dukke opp på hjul tre. Den fungerer som et ekspanderende symbol, som vil dekke hele hjulet. Det er to bonusspil å få aktivert også. Den ene av dem er veldig enkel og den fungerer som en klikk og vinn bonus. Den andre er litt mer komplisert, og har en handling som er knyttet opp til superheltene.