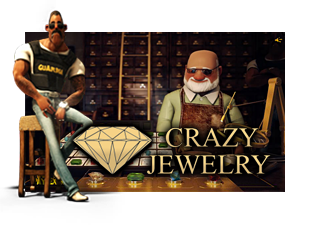 Crazy Jewelry er en flott og skinnende spilleautomat som leveres av Sheriff Gaming. Spilleautomaten har utrolig mye å by på. Den er satt opp med et flott tema, som virkelig er godt presentert på skjermen. Grafikken er av god kvalitet, og mange av effektene er i 3D. Spilleautomaten leveres også med et godt utvalg når det kommer til innsatser, og de er også veldig enkle å tilpasse for spilleren. Det er også mange gode bonuser i spilleautomaten og de gir spilleren noe ekstra å se frem til i en spillerunde. Spilleren trenger kun gå gjennom noen enkle steg for å sette i gang spilleautomaten, så det er bare å sette i gang.
Spilleautomatens oppsett
Oppsettet som man finner i Crazy Jewelry er fastsatt. Det vil si at hjulene og radene som er lagt inn er faste, og de kan ikke justeres på. Det er en del av oppsettet som er justerbart og det er innsatslinjene. Det er lagt inn fem hjul, og det finnes tre rader. Hjulene går fra venstre til høyre, mens radene er satt opp fra øverst på skjermen, til nederst. Innsatslinjene finner man oppmerket på skjermen, på venstre side av det første hjulet og høyre side av det femte hjulet. Det er tilsammen 20 innsatslinjer å spille på. Det er lagt inn ulike knapper i spilleautomaten også, og de finner man på nedre del av skjermen. Det er blant annet innsatslinjene og selve pengeinnsatsen som kan justeres der.
Innsatsene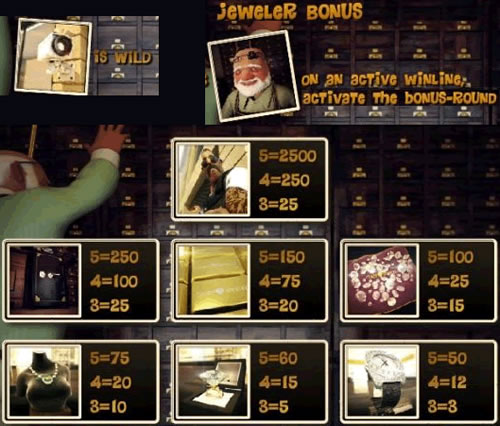 Nederst i høyre hjørne finner man et oppsett med forskjellige knapper. To av dem skal brukes til å tilpasse innsatsen. De 20 innsatslinjene kan justeres om til et lavere antall hvis spilleren ønsker det. Når spilleren har bestemt hvor mange innsatslinjer som skal være aktive, så er det pengeinnsatsen som skal settes. Den settes per innsatslinje, og den kan tilpasses opp eller ned, innenfor grensene som er satt. Spilleren har også muligheten til å automatisk spille med høyest mulig innsats, kun ved å trykke på en knapp. Det er den knappen som er merket med teksten 'bet max'. Hvis spilleren ønsker å spille mange spillerunder automatisk, så er det også mulig å gjøre, med knappen som er merket med teksten 'auto spin'. Den knappen som er merket med 'spin' er den som setter i gang spilleautomaten på vanlig måte.
Temaet og spilleskjermen
Det er smykker og juveler som er satt i fokus i Crazy Jewelry. Gjennom spilleskjermen så kommer det tydelig frem at man befinner seg inne hos en smykkehandler. Det er mange flotte symboler som er fordelt over hjulene, og det er gjennom dem at historien blir fortalt. Alle symbolene er laget i bildeform, og de viser blant annet et helt brett med diamanter, en utstillingsdukke med et flott halssmykke på, og man får også se sjefen av smykkehandleren. Det er ikke bare symbolene som er flotte, for Sheriff Gaming har også lagt inn andre detaljer rundt om på skjermen. 3D grafikken som er brukt gjør at disse detaljene kommer godt frem, og de får frem et godt inntrykk av temaet. Logoen for spilleautomaten er også flott. Den er enkel, men formet slik at den ser ut som et ekte skilt for en smykkehandler.
Bonuser
Bonusene som man kan få kommer med to ulike bonussymboler. Den ene fungerer som en joker, og den kan dermed erstatte andre symboler på hjulene. Denne bonusen er med på å gi spilleren høyere sjanser for å få vinnende kombinasjoner, og man vil dermed sitte igjen med flere gevinster. Den andre bonusen kommer med et bonussymbol, og den gir spilleren tilgang til et bonusspill. Bonusspillet er satt opp slik at spilleren skal velge ut ulike diamanter. Hvis spilleren velger en ekte diamant, så vil det deles ut en gevinst. Hvis spilleren velger ut fire ekte diamanter etter hverandre, så vil det deles ut en ekstra gevinst. Hvis spilleren velger ut tre falske diamanter etter hverandre, så vil bonusspillet avsluttes.