Oppfølgeren til Mad Scientist er her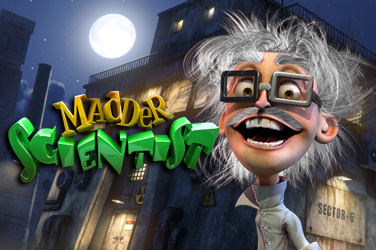 Enhver kjent låt må følges opp med en plate. Enhver filmhit må få en «del 2». Alt som elskes og verdsettes av mennesker må få en fortsettelse. Derfor var det ikke særlig overraskende at oppfølgeren til den ekstremt populære spilleautomaten Mad Scientist ville dukke opp. Mad Scientist var en av de mest populære spilleautomatene fra Betsoft Gaming i sin tid, med et spennende tema der en gal vitenskapsmann var i fokus. Denne gærningen er nå tilbake, i en oppdatert versjon av Mad Scientist. Den nye spilleautomaten med 3D-grafikk har fått navnet Madder Scientist. Der Mad betyr «gal» oversatt fra engelsk, betyr Madder nemlig «galere». Og ja, den nye spilleautomaten har en galere atmosfære, og den spennende introduksjonsvideoen er faktisk ganske skremmende og dyster. Den ellers snille, interessante vitenskapsmannen har mistet hodet helt, og forvandlet seg til en blanding av et menneske og et monster. Madder Scientist er en skikkelig oppgradering fra den forrige spilleautomaten. Betsoft har sørget for at grafikken er toppmoderne, med nydelige 3D-detaljer og mengder av små og store animasjoner. Madder Scientist er nesten som et spill i et spill. Symbolene består av ulike detaljer fra vitenskapsmannens verden. Skilt med advarsler, mikrober, kjemiske kolber, mikroskop, lamper, vitenskapsmannens to hjelpere (kaninen og jenta), samt galningen selv. Vitenskapsmannen og hans vakre kvinnelige hjelper står for de største utbetalingene i spillet, med 500 mynter på det maksimale for en kombinasjon av fem symboler på rad.
Kule bonusspill og uendelige gratisspinn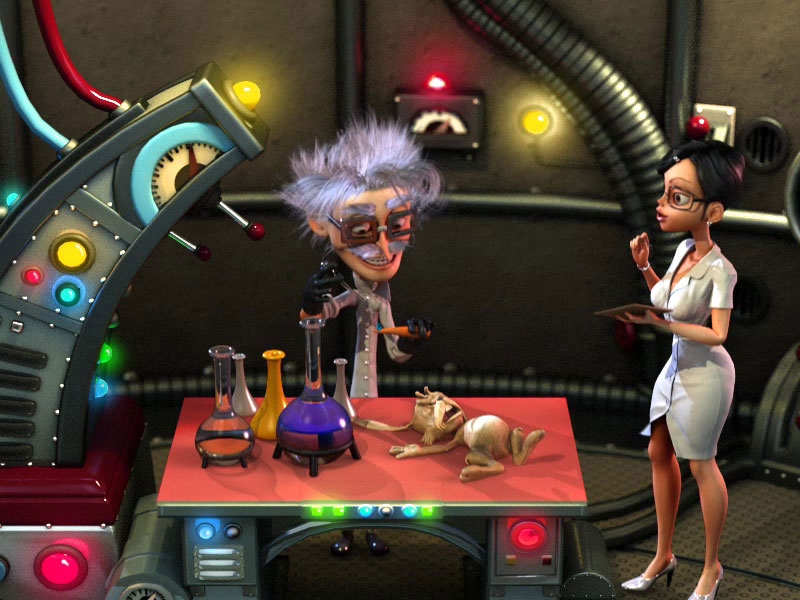 Madder Scientist har 30 gevinstlinjer, et ganske så vanlig antall for en spilleautomat fra Betsoft Gaming. Med 30 gevinstlinjer kan man regne med å sette kombinasjoner etter nesten hvert eneste spinn. Selv om de fleste kombinasjonene så vidt gir spilleren gevinster større enn innsatsen, vil mellomstore og store gevinster også dukke opp fra tid til annen. I mellomtiden har man også hele 4 bonusfunksjoner å kose seg med på Madder Scientist. Her finner man nemlig både wildsymboler, klikkbonuser, en bonusrunde og uendelige gratisspinn. Uendelige gratisspinn, ja, selv om de egentlig ikke er gratis. På Madder Scientist kan man nemlig spinne hvert enkelt gevinsthjul på nytt etter behov! Hver gang du er utrolig nære på å sette en saftig gevinst, men mangler ett eller to symboler, kan du spinne ett eller to av hjulene på nytt. Hvem vet, kanskje et ekstra spinn er alt du behøver? Re-spinn-funksjonen er veldig uvanlig for Betsoft Gaming, og den gjør spilleautomaten Madder Scientist til en unik maskin med store vinnersjanser. De tre andre bonusfunksjonene er også gode og fortjener skryt. Den første er klikkbonusen – her velger du rett og slett ulike kolber som skjuler gevinster. Jo flere du klarer å samle inn før ordet COLLECT dukker opp, desto mer penger vil du samle inn. Så har man wildsymbolet i form av en bryter. Tre slike symboler vil forvandle et av hjulene på Madder Scientist til wilds som setter seg fast på hjulet i et antall spinn. Disse to bonusene kommer veldig ofte opp på skjermen og sørger for å holde deg som spiller tilfredstilt og i godt humør. Den siste bonusen er dog den aller beste. Her får du ta på deg rollen som vitenskapsmann, og hjelpe den gale forskeren med å finne frem til en magisk formel. Bland sammen ulike kjemiske stoffer, og se forskeren bruke en gulrot som forsøkskanin. Med litt hell vil du klare å blande sammen den perfekte formelen og forvandle gulroten til gull – dette kan gi veldig høye gevinster.
Madder Scientist – en vitenskapelig spilleautomat
Denne nylanseringen fra Betsoft Gaming har tiltrukket seg veldig mye oppmerksomhet fra kasinospillere verden rundt. Den er fargerik og spennende, positiv og samtidig litt mørk, actionfylt og litt kjedelig. Den er så mye på en gang at man vil spille den på nytt og på nytt. Samtidig har man alltids muligheten til å spinne hvert enkelt hjul en gang til, noe som åpner for gigantiske utbetalinger. Mangelen på fullverdige gratisspinn kan være litt kjip, men de andre bonusspillene veier opp dette helt og holdent. Spillskjermen er detaljert som bare det, og 3D-grafikken er virkelig i en helt annen klasse enn hva Mad Scientist var. Madder Scientist er rett og slett en utrolig oppfølger, i motsetning til så mange andre «del 2» vi har sett.