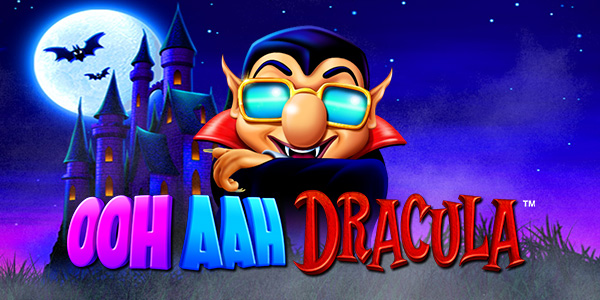 Spilleautomaten Ooh Aah Dracula må ikke forveksles med et annet spill som heter kun Dracula, selv om temaet kanskje er noe av det samme. I spilleautomaten møter vi på en litt annerledes Dracula og spillet er litt lystigere og humoristisk. Dracula er en kul karakter med solbriller og som ser ut til å sette stor pris på damer med store bryster, skal vi bedømme bonussymbolet. Dette er underholdning på høyt nivå. Og jammen meg dukker det ikke opp en ulv også, kjent fra tegnefilmen Roadrunner. Når man besøker et Dracula slott, vil man jo som helst rømme og løpe så raskt man bare kan. I dette spillet er det heller omvendt, man får ikke nok og man vil bare tilbake med en gang man har forlatt spillet.
Spillets historie
Oh Aah Dracula er utgitt av Barcrest, er en spilleautomat med 5 hjul og 10 gevinstlinjer. Har man reist mye i Storbritannia kan man ha kommet over en slik automat tidligere. Nå finnes den endelig online også, og du kan spille spillet enten på din PC, nettbrett eller mobil. Selv om spillet kan ha et litt uhyggelig tema som en blodsugende vampyr, er det gjort på en humoristisk måte. Dracula er bare hyggelig en hyggelig fyr, og forhåpentligvis vil han gi deg gode gevinster også. Spillet kan spilles fra 10p til £500 per spinn og har det noen funksjoner som vil gjøre at du vil komme tilbake på besøk til Dracula så raskt som mulig.
Spillets funksjoner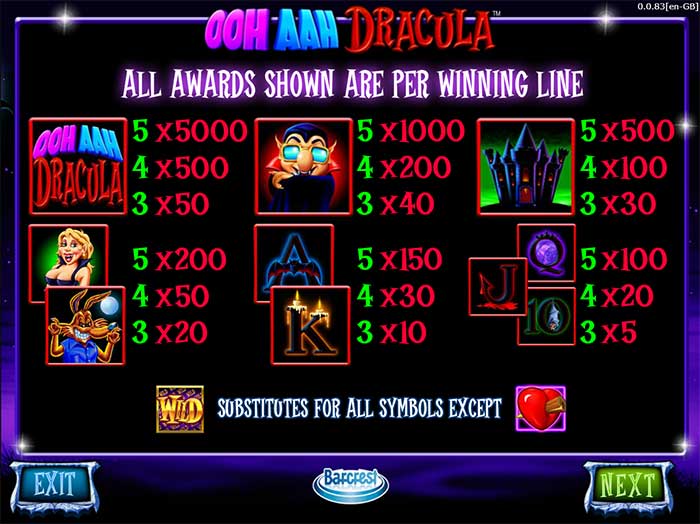 Det finnes en stor gratisspinn funksjon som blir utløst ved å få tre eller flere hjerte- scattersymboler hvor som helst på hjulene. Når du får 3 eller 4 hjertesymboler på hjulene, vil du bli belønnet med en bonus-respinn, kjent som the Heart-Attack-Bonus-funksjonen på de hjulene som bonussymbolet ikke vises. Du får nå en mulighet til å spinne de hjulene som ikke fikk dette symbolet, og forhåpentligvis får du nå fylt opp raden. Klarer du det, blir du nå fulgt videre til første runde av 15 gratis spinn med et aktivt wild-symbol. Hvis du har fått fire hjertesymboler, kan du velge å akseptere gevinster fra dine 15 gratisspinn eller satse dem i neste runde med 10 nye gratis spinn.
Nå håper vi du henger med her, for Oh Aah Dracula har så mange spennende funksjoner, at dette er et spill du vil drømme om når du ikke spiller. Hvis du nå fikk fem hjertesymboler, kan du velge å akseptere gevinsten fra den andre runden av gratisspinn eller satse dem på nytt igjen, for en tredje og siste runde!
Flere funksjoner enn vanlig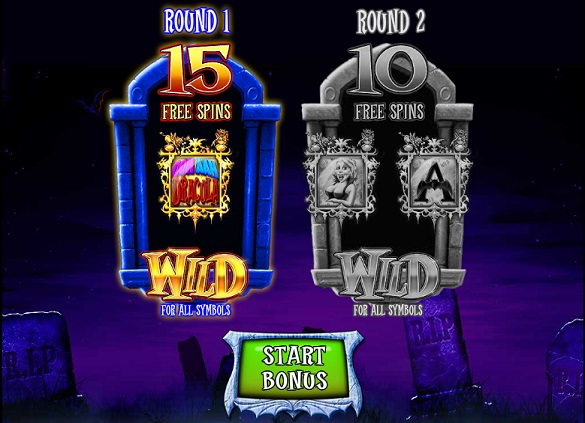 Oh Aah Dracula har flere funksjoner enn mange av konkurrentene sine, og det er det som gjør denne klassikeren av et spill til så stor underholdning også. For det finnes også nå en såkalt Best-Strategy, som vises i gratisspinn funksjonen, hvor det vil indikere om du bør beholde dine gevinster eller satse dem på nytt. Hvis pilen går mot seg mot venstre, bør du beholde gevinsten, men hvis det peker mot høyre, bør du fortsette. Men dette er bare en guide, så du må følge din egen magefølelse. Er Dracula virkelig til å stole på?
Det finnes også en Hi-Roller-funksjon, som er et eget spilltilbud. Hvis du velger denne, vil den automatisk koble 5 spinn for en høyere innsats. Denne funksjonen kan utløse en såkalt Graveyard og Super Graveyard Bonus. Nå snakker vi om de høyeste premiene, for dette er funksjonen for storspillerne. The Graveyard vil gi deg et utvalg av fem eller seks graver der du må plukke en av dem til å avsløre hvor mange sjeler graven har slukt. Disse sjelene avslører en pengeverdi. Nå må det også understrekes at tilbakebetalingsprosenten for spillet går helt opp til 99 prosent, hvis du spiller med denne funksjonen.
Konklusjon
Det er ingen tvil om at dette er spillet for deg som liker høye utbetalinger og mange spennende funksjoner. Ooh Aah Dracula kan kanskje oppfattes som litt vanskelig å forstå, men heldigvis kan man også forsøke seg helt gratis på nettet. Temaet er også moderne, med mye humor. Spillet anbefales på det varmeste.